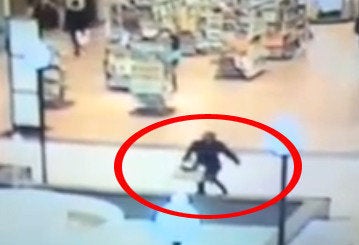 Cathy Cruz Marrero gained fame almost overnight, but not exactly how she wanted to.
Better known as "Fountain Girl" by the likes of Perez Hilton, the mall security video of Marrero tripping on a fountain and falling in while texting has already attracted almost 1.7 million views on YouTube.
But Marrero's not laughing. In fact, she may be suing.
"Instead of laughing, they should have said, 'Is she OK?' and been down there right away to check on me," she told Reading Eagle in her first interview since the video went viral. Marrero says security didn't respond until 20 minutes later, at which point she had already left the mall.
Her attorney, James M. Polyak of Reading, said he plans to conduct an investigation into what happened.

"We are troubled by the fact that anyone at the Berkshire Mall responsible for releasing this video would find humor in an employee injured on the premises," Polyak said. "We intend to hold the appropriate persons responsible.

"No one from that security office came to her aid in a timely manner."
Marrero says she'll never walk and text again.
Related
Popular in the Community