Co-authored by Ara Tucker, creator of the Vabeh Gregson Bennett Series.
E.V. Day, recipient of the 2016 Rome Prize, is a visionary artist with originality and a joie-de-vivre that isn't easily captured by words. So, on my most recent visit to her studio, I brought along Vabeh Gregson Bennett to get her perspective. Vabeh, almost 10 years old, is the founder of the Walk-In Gallery, a pop-up art gallery in a well-placed Brooklyn walk-in closet. Vabeh is also an accomplished painter of cats and a next generation entrepreneur who will certainly be on any number of soon-to-be released 10 under 10 lists. Here is Vabeh's report, as dictated to Ara Tucker.
Cats, Cherry Fizz and Color!
Studio Visit with E.V. Day
You can kind of invent yourself in a way if you're not too traumatized by the loss of things...it's all just about moving forward, go, do. - E.V. Day
Doing studio visits is important when you're a gallerist so you know where the best art is before everyone else does. Gus, my gallerina, does all of the studio visits for famous under 10s that we consider for the Walk-In. I do all of the studio visits for famous artists over 10 because I know what to ask and they don't try to pinch my cheeks. It's easy for me to talk to older artists because I share my studio with an over 10 who just happens to be my mom.
I recently visited E.V. Day's studio in Williamsburg. She's been in my Internet search history for a while. Mainly because of her work with cat skeletons. A little bit because of her work with wedding gowns. Day is glamorous with more than a handful of gracious. She took time to take me through her studio and answered all of my questions, including tough ones like, which is scarier, blow-torches or blow-outs. It was a visit full of sparkle and fizzy drinks and Day was kind enough to let me share some of my impressions of the day with you, my fellow appreciators of art, fashion and cats!

Day knows it's important to freshen the palate and palette: Day began our visit by offering delish snacks of freshly popped popcorn, papaya, pineapple and cheese. Thanks to the snacks, my stomach kept its opinions to itself. Grumbling is embarrassing and talking is thirsty work. The refills of cherry fizz, served in juice glasses with painted on pandas, kept my whistle wet for the entire visit.

Day makes the art, but the cats make the studio: Posey and Riley are enthusiastic studio cats, even though they don't go in the studio. They're good at knowing when it's time to take a break on the couch. Some of Day's work involves using cat skeletons. Day assured me that Posey and Riley don't mind. They don't pose for her like my cat Altonio does for me in my mom's studio. Still, having feline guides around made this studio visit less stressful. Cats just know where to look and I follow their gazes whenever I can.
Matisse had a Blue Nude, Picasso had a Blue Period and now, Day has Blue Legs: Day's blue seriographs were a creative trampoline for blue 3-D printed models in various states of fabrication. Day's selection of blue for these models creates figures that look so velvety smooth that I wanted my cheek to feel them. And E.V. let me. So much beautiful strong color reminded me that I need to come up with an accent color for my painting in progress, Cat on Barstool. Day recommended a trip to Kremer's.
Day + Giverny = Amazing: When Day heard that I'm going to a three-day overall shorts making residency at the House of Rothdult Faubourg, one of the hottest Couture Stars under 10 in Paris, she showed me the work she did in Giverny, France during her residency in the Munn Artists Program. Her photographs of the performance artist Kembra Pfahler's alter-ego Karen Black in the garden will make you take another look at Monet.

Magic Sparkle Meter Says: Once my moms hosted an 80s party for grown-ups where they played Twister and wore neon leotards. My Aunt Stoddard took photos and showed them at F-Stop as part of her Nostalgia is Nasty exhibit. Day's work is even more magical than the moment when I saw a hot pink leg cross over an electric yellow arm.

Studio Visit Lesson Learned: I'm a cat painter and a gallerist. Sometimes that takes more minutes than I have, especially with school and after school commitments. I used to take shortcuts with my paintings, like using construction paper where paint should go. But my visit with E.V. Day reminded me that Art Stars take their time to get it right, no matter how long it takes. I am going to ask my gallerina Gus to do an extra shift at the Walk-In Gallery while I finish Cat on Barstool.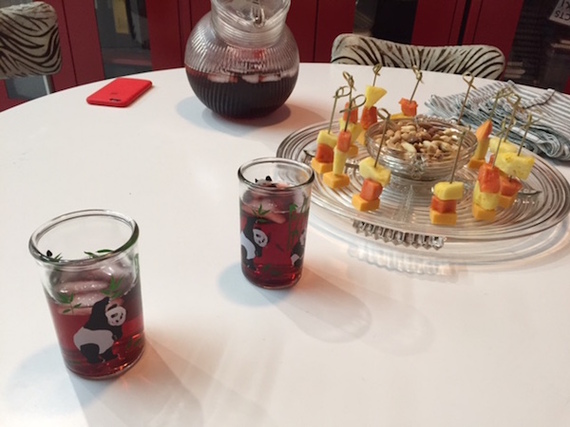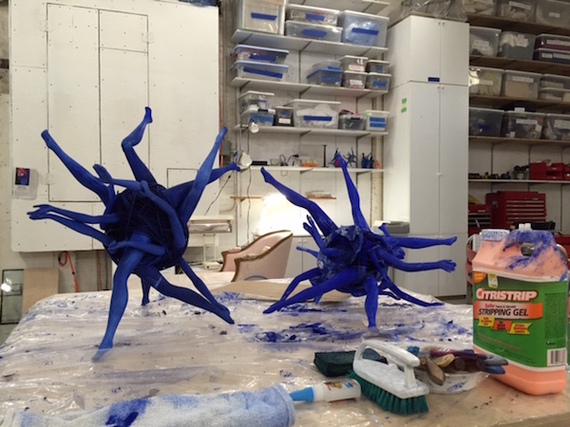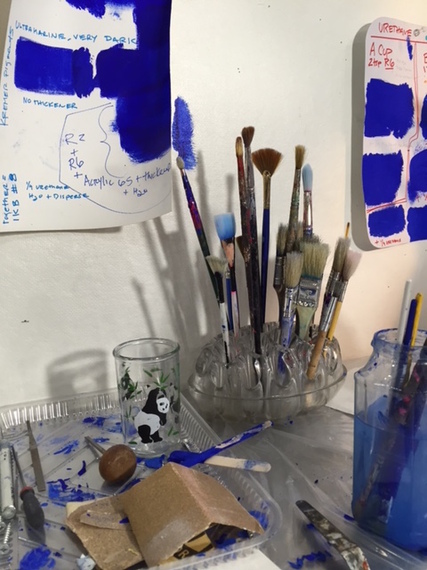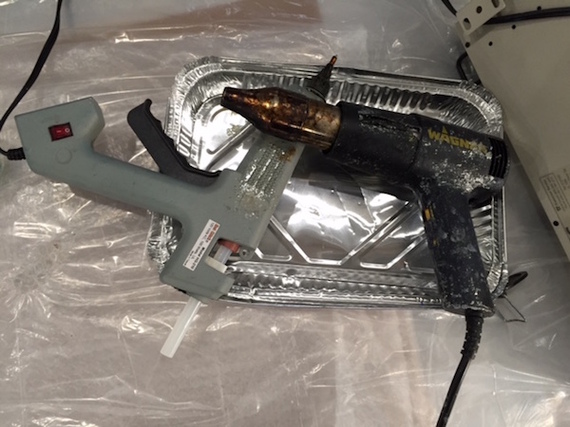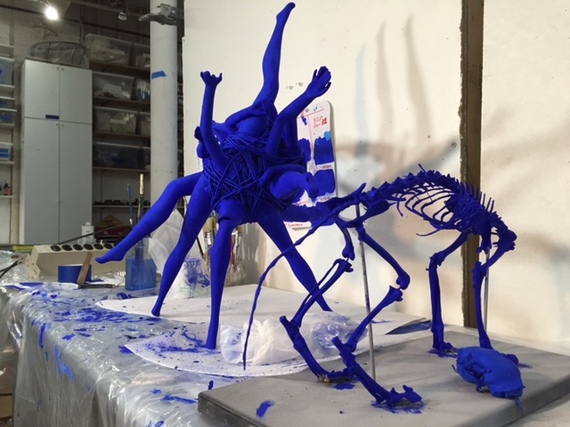 Studio visit pictures courtesy Vabeh Gregson Bennett and E.V. Day
REAL LIFE. REAL NEWS. REAL VOICES.
Help us tell more of the stories that matter from voices that too often remain unheard.