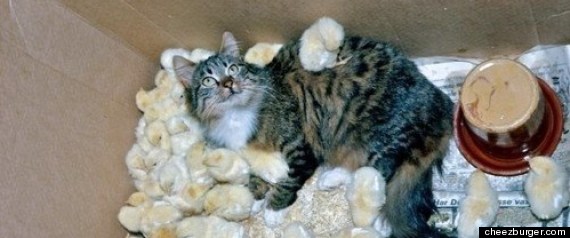 It's a confusingly cute picture: tabby cat lies in a box, partially buried in a pile of fluffy yellow chicks. The downy mob is crowded into a corner of the box and one chick is perched atop the cat's back.
Posted on Jezebel, the image raises some interesting questions. Namely, is this an adorable example of domesticated bliss between animals that in the wild would be natural enemies? Or is this the troubling "before" picture of a pending massacre?
To be fair, cat and chick friendships are far from unprecedented. In this video, viewed over 800,00 times since it was posted at the end of August, a ginger kitten is in a very similar situation -- buried in a pile of incredible fluffiness.
What's certainly not in dispute is that many cats, given the chance, would much rather kill these defenseless creatures than shelter them as Oscar does.
Oscar and his friends have clearly refused to bow to the pressures of popular social mores, and for that HuffPost salutes them. Who are we to say fur and feather can never flock together?
Check out a video of Oscar and his fluffy friends below:
Popular in the Community