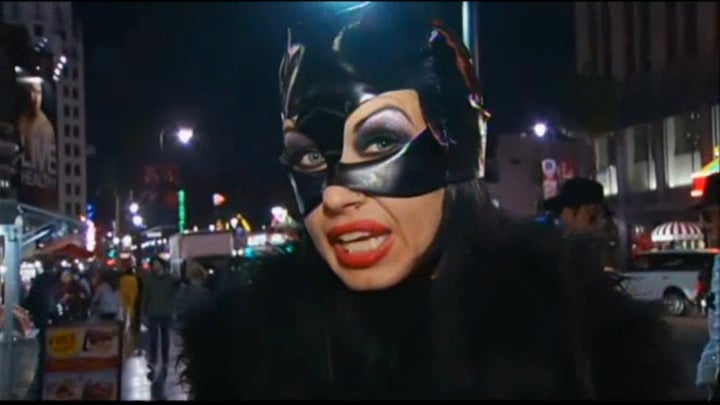 What happens when Catwoman, an alien and Ozzy Osbourne get into a fight? That's not a joke, but an ongoing only-in-Hollywood news story.
It all went down Thursday night on Hollywood Blvd. in front of the Kodak Theatre, where performers dressed as famous movie characters hang out and pose for photos with tourists for money. An Ozzy Osbourne impersonator got pepper-sprayed by Catwoman, who -- along with an alien and a Jack Sparrow -- then fled the scene. Initial reports said that the man who got pepper-sprayed was a Jack Sparrow impersonator. (Sorry to everyone tweeting about "Catwoman, an alien and a pirate.")
Police are presumably still looking for everyone involved, but NBC4 managed to get an interview with the Catwoman about the incident. She claimed the two other characters had been drinking and were harassing her all day. "He was antagonizing me to do so, so I did," she told the station. "I said, 'I'm giving you fair warning. If you do not get away from me I will spray you in the face.'" And so she did. And if this story didn't have enough Johnny Depp references, a Willy Wonka character confirmed Catwoman's story.
No arrests were made, but police are looking for witnesses, especially if anyone has photos or video of the incident.
In an effort to maintain peace among the costumed, LAPD at one point held a summit and instituted a temporary ban. Clearly, it's time to get the Justice League involved.
"We're just trying to entertain the public, take pictures with the tourists, make them happy, you know," Catwoman told the Times. "That's what we come out here for."
REAL LIFE. REAL NEWS. REAL VOICES.
Help us tell more of the stories that matter from voices that too often remain unheard.