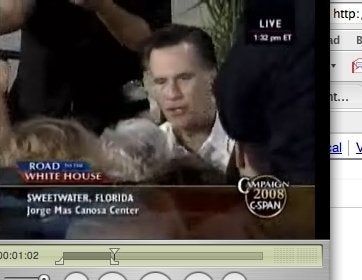 Mitt Romney was caught on tape Sunday saying his GOP rival John McCain was "lying" about his position on the Iraq war, before quickly telling a reporter he regretted his words. The Arizona senator was merely "dishonest," Romney said.
Appearing on the campaign trail in Florida, Romney was asked about the criticism, launched by McCain, that he has a timeline for withdrawing troops from Iraq.
"I don't have one, never had," Romney said.
"He says you do," chimed a reporter.
"Well, he's lying," replied the former governor, with a slight laugh. Within a second his tune changed. "He's dishonest [inaudible]. He's being dishonest about that. That's not accurate."
"Are you calling him a liar?" the reporter asked.
"No I'm not. I'm saying he made a dishonest comment. I misspoke."
With the Florida primary approaching the two Republican frontrunners have had a heated and, at-time, factually questionable back-and-forth over Iraq war policy. On Saturday night, the Arizona Republican declared: "Now, one of my opponents wanted to set a date for withdrawal that would have meant disaster."
Minutes later to reporters, McCain was a bit more direct. "If we surrender and wave a white flag, like Senator Clinton wants to do, and withdraw, as Governor Romney wanted to do, then there will be chaos, genocide, and the cost of American blood and treasure would be dramatically higher," he said.
Romney has never directly argued for the withdrawal of troops from Iraq. In an interview with ABC News, he said: "There's no question that the president and (Iraqi) Prime Minister al-Maliki have to have a series of timetables and milestones that they speak about. But those shouldn't be for public pronouncement. You don't want the enemy to understand how long they have to wait in the weeds until you're going to be gone."
Following McCain's comments on Saturday, the former Massachusetts governor urged his GOP rival to apologize, calling the remarks "simply wrong" and "dishonest." McCain responded with another set of criticisms. "The fact is," a memo from the McCain campaign read, "like on so many other issues, Governor Romney has hedged, equivocated, ducked and reversed himself."
On Sunday, Romney suggested that the reason McCain was harping on the withdrawal issue was to effectively change the political subject from economic matters.
"He is doing everything he can to try and divert the attention from his lack of understanding of the economy," said the Massachusetts Republican. "And there is no way somebody is going to lead our nation who doesn't understand how the economy works. And he's admitted he just doesn't."

Popular in the Community