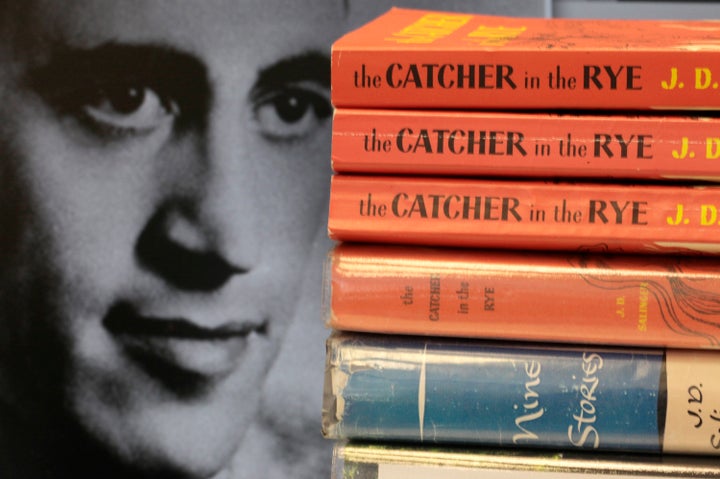 In my admittedly grandiose opinion, I have a literary bent... I am widely read and read widely. And I can't think of any book which has had a more powerful influence on my life and writing style than J.D. Salinger's Catcher in the Rye. The novel was published in 1951, when I was recently out of college and just entering the New York publicity world. I remember reading it in one weekend and carrying around a marked-up copy for months, extolling its virtues to anyone who would listen. I later carried that same battered copy in my backpack when I went off to Korea to fight in that unmentionable war. Something about the lead character Holden Caulfield's rebellious nature appealed to my free spirit. Later, as a studio executive and then independent film producer, I tried many times to option the film rights to the book... to no avail. When I co-produced Billy Wilder's last film, Buddy, Buddy, Billy told me of his desire to do it: "Wonderful book, I love it." We tried with Salinger's agent, Phyllis Westberg of the Harold Ober agency, again to no avail. She told me that Salinger said that he would not allow a film version "while he was alive." When he died last year, I again made my run on it, this time to an interesting silence... so stay tuned for a possible movie of Catcher In The Rye.
Naturally, I was attracted to and stunned to find a new restaurant had opened at the Thompson Hotel in Beverly Hills called Caufield's (9360 Wilshire Blvd, on the south side at Crescent Drive, valet parking in the narrow courtyard, (310) 388-6860). Recently, they held the book party there for Fred Hayman's awesome biography on the eatery's opening night. (You may recall that I wrote an extensive blog on that book and my friend's remarkable life.) I waited 'til the opening fuss quieted down and then went with my intrepid reviewing team for a review of the restaurant. I never expected to find one of the most interesting, casually elegant dining rooms in the city, and to have one of the best steaks I've eaten in a long while.
Penny McTaggart, David Rapoport and I settled into a back booth behind the buzzy, dark mahogany bar, and I was facing a mural which covers the back wall. It depicts an assemblage of famous writers, including many members of the infamous Hollywood Ten. (Surprised not to see Waldo Salt included; he wrote my first crack at Ernest Hemingway's biofilm, one of my abiding passions.) I remarked that it reminded me of the famous Round Table mural at Manhattan's Algonquin Hotel, the one with Robert Benchley and Dorothy Parker (she is also in this one.) That hotel was my New York hangout in days of yore, when Matilda the cat roamed the lobby and nuzzled the guests.
The owners of the new restaurant, a beautiful woman named Laurie Mulstay and a charming guy named Ron Marino, were dining at the next table and we got to talking. They have Hollywood's The Bar and Magnolia and Santa Monica's Bar Chloe. They told me that cooking in the kitchen is Executive Chef Cody Diegel, from their Magnolia. I mentioned that a subscriber to my newsletter had called to recommend the Tomahawk Rib-eye Steak, and we summoned our waiter, a robust professional named Salvatore, to order the massive bone-in beef chop, $95 for two. Yes, when later, David, Penny and I divvied up the thick slices on the large platter (as the oldest, I confiscated the bone), we all agreed that it was a superb, tender and delicious prime cut of meat which warranted the hefty price. My reader had also mentioned the mussels ($14), which David and I then ate (Penny doesn't eat seafood with a hinge. Or dine with people who are un-hinged.) The large New Zealand mussels had been steamed in a beer broth and were terrific. The smaller Prince Edward Island mussels have taken over menus 'round town, but I think these huge ones were more than their equal.
This is basic American cooking at its highest level. Open for breakfast and lunch as well as dinner, the dining room features bourbon maple syrup on their early morning brioche French toast as well as rosemary-smoked salmon and a hefty, juicy burger ($15) for lunch and dinner. There's a surprising Charcuterie Plate ($21) and Toad in a Hole ($15), which is smoked trout, with cornichons and horseradish crème. We scarfed up the Magnolia Mac 'n Cheese ($12) and remarked on its sweet goodness, then moved on to some pan-seared Crab Cakes ($19) served on planks of corn.
Yes, this was superb food... on which we concurred when each of us sampled the Short Rib Ravioli ($15) served in a parmesan broth. There are a half-dozen crisp, interesting salads ranging from $12 to $16 for the Roasted Beet one, with its pistachio-crusted goat cheese and navel orange vinaigrette. Yet to be tried is the Chicken Pot Pie ($19), but the Whole Branzino ($32) was beautifully cooked, grilled just to juicy perfection and served with grilled onions and tomatoes. No menu in this town would be complete without Short Ribs ($26), here the beefy bones were served with glazed carrots and English peas. Trout Almondine ($20) and Roasted Jidori Chicken ($23 for one, $45 for two) round out the menu. I must note that Chef Cody takes particular care with his veggie side dishes (all $7-8). His Brussel Sprouts were sautéed with bacon 'til charred wonderful, as was the Roasted Cauliflower and Planks of Corn. Desserts ($9) were all homemade and surprisingly well-done, from the luscious Key Lime Pie to the Banana Terrine, served with wafers, chocolate and rum custard. Of course, they have a whole menu of hand-crafted cocktails and craft beers, as does every other new place in town. Interesting was the 23-Year Old Fashioned, made with 23-year old rum and chocolate bitters. I still judge a bar by the way they make a classic martini, from the quality of the gin to the chill of the glass. Pay tribute to the book by catching a tumbler of rye. The 110-seat three room restaurant is comfortable without being ostentatious, and the owners tell me that they are planning a rooftop dining room adjunct this Spring. There is a smart private room in the front, and this evening we watched a dinner party for 40 being served here.
Any place which celebrates its literary side is going to be applauded by me, but to discover a warm, inviting tavern (yes, that's what it is) in the heart of Beverly Hills serving nostalgic American food is an unexpected bonus. And that literary mural is an amazing tribute to writers and freedom fighters long gone but not forgotten.
To subscribe to Jay Weston 's Restaurant Newsletter ($70 for twelve monthly issues), just email him at jayweston@sbcglobal.net
Popular in the Community