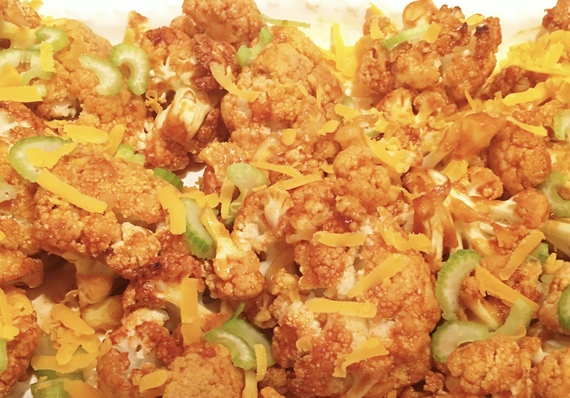 The crowd goes wild over these cauliflower buffalo bites. When we made them for the first time our family and friends thought they were helping themselves to boneless buffalo chicken wings. Score!
These cauliflower buffalo bites taste slightly sweet with the perfect amount of kick. Turmeric is a spicy game changer that is strong in antioxidants. Antioxidants help prevent free radicals from causing cell damage and inflammation which may lead to cancer and diabetes. When the power packed spice combines with cauliflower it provides our immune system with added protection.
Make a perfect play by tossing in some finely chopped celery and shredded cheddar (or vegan) cheese. We used one of our house staple cheeses, Mimolette. This subtly sweet and nutty tasting French cheese pairs exceptionally well with most vegetables.
Eating 1 cup of cooked cauliflower provides approximately 73% of our recommended daily serving of vitamin C. Get your cauliflower buffalo bites ready for the big game and stay healthy and strong all season long.
Ingredients
(approx. 4-6 servings)
1 cauliflower, washed and dried
2 tablespoons Avocado (Chosen Foods) or Olive oil
1 tablespoon white vinegar
1/4 c buffalo wing sauce (Frank's Redhot)
3/4 c honey barbecue sauce (Sweet Baby Ray's)
2 teaspoons sea salt
1/4 teaspoon turmeric
2 celery ribs, chopped
2 tablespoons mimolette cheese, shredded
1. Preheat oven to 450 degrees Fahrenheit.
2. Cut cauliflower into florets and place them in a medium bowl.
3. Add oil, vinegar, red hot and barbecue sauce to the cauliflower. Sprinkle in the sea salt and turmeric. Toss the cauliflower until evenly coated.
4. Cover the bowl with plastic wrap and allow the cauliflower to marinate at room temperature for 30-60 minutes (give the bowl a good shake every 10 minutes to keep the marinade working its tasty magic).
5. Line a baking sheet with parchment paper and lightly coat with cooking spray (we use Chosen Foods avocado oil spray). Then, spread the cauliflower bites on the parchment paper and bake for 20 minutes or until the buffalo cauliflower bites are tender.
6. Serve warm on a platter and garnish with celery and cheese.
Helen Agresti is Registered Dietitian and founder of Professional Nutrition Consulting, LLC and The 24_7 dietitian app. Through her private practice, she provides Personal Nutrition Coaching (in person, via email, and FaceTime), cooking demos, lunch & learns, and corporate wellness presentations.
Helen has educated the public on healthy eating for over 16 years. Her passion is to convey the importance of eating real food and exercising regularly. Her current initiative is encouraging families to bring healthy dinners back to the table while dispelling the myth that it is difficult and time consuming.