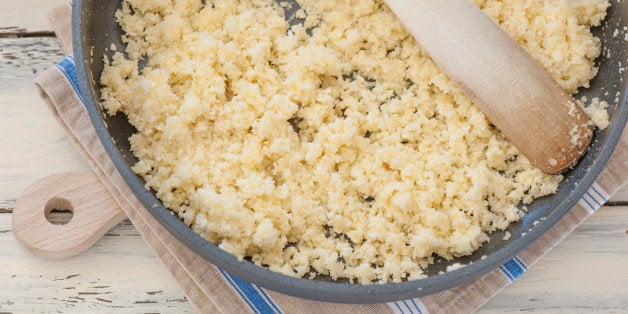 The past five decades have been witness to a great many interesting health food trends. They come and go like the changing tide. Most of the time we're happy when they go -- ahem, activated charcoal -- but in the case of cauliflower rice, we're so very happy that it's here.
Despite what it sounds like, cauliflower rice is not another spaghetti squash. Spaghetti squash makes us yearn for al dente noodles drowned in butter, and delivers us with nothing more than a mouthful of stringy squash. Trying to replace pasta is an impossible feat -- no cucurbita can compete with Italy's greatest gift to the world. That's not to say that cauliflower rice could pass as rice in a comparison taste test -- it is after all just finely grated cauliflower -- but it does not disappoint. Ever.
Cauliflower rice can be crunchy and toothsome when served raw in a salad, such as tabouleh, and it can be light and fluffy when cooked -- like couscous -- and tender and chewy like, well, rice. It's one of those things you have to just try in order to believe. Skeptical? You're not alone. Emma Christensen of The Kitchn was iffy at first, but quickly came around after giving it a try. In her exact words, cauliflower rice is "mind-blowing."
Not only is cauliflower rice a healthy addition to your dinner table, it's also really easy to make -- especially if you have a food processor. To make cauliflower rice you need to grate florets. You can achieve that by pulsing them in the food processor or using a box grater. At this stage, you've got raw cauliflower rice on hand, which is great in salads and such. If you cook the rice with a little butter in a pan for about five minutes, cauliflower rice takes on that light, fluffy, chewy quality that we love from real grains -- and it makes a great side dish, just like rice.
Related
Before You Go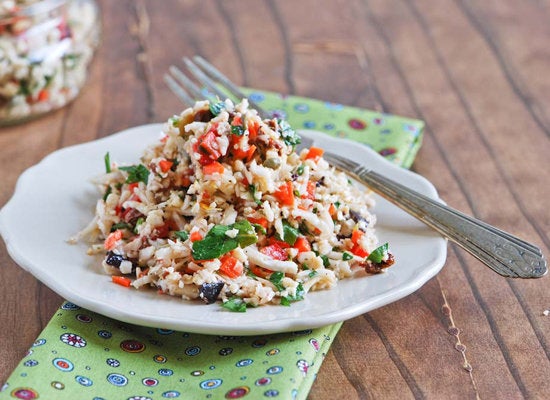 Cauliflower Recipes