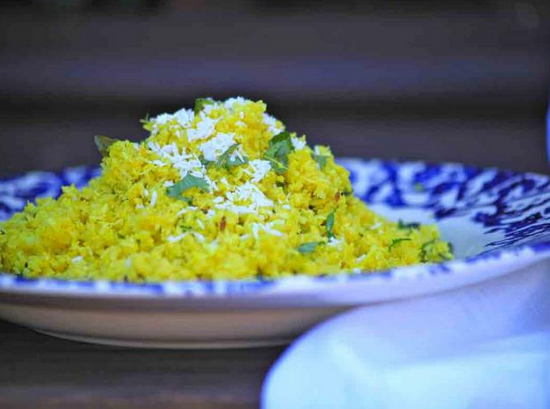 I can't say I eat cauliflower a lot, apart from the delicious spicy cauliflower curry that my mother makes now and again, but I've recently started experimenting with cauliflower 'rice', or rather what is meant to look like rice, only it's grated cauliflower! And it's incredible just how good it tastes. This particular stir-fry uses grated cauliflower with cumin seeds and coconut flakes, and a hint of turmeric.
So here, I've reinvented a classic favorite - a rice stir-fry called 'vagharela bhaat', but much healthier, cooked in coconut oil and with the addition of coconut flakes. This is a great alternative to rice as it still retains a similar taste and texture. It is the earthy aroma of cumin and turmeric coupled with the coconut flakes that gives this dish a light Indian flavor. And of course, the garnishing of coriander!
This recipe was featured in Women's Health.
1 cauliflower, shredded/ very finely chopped
1 tablespoon coconut oil
1 teaspoon cumin seeds
1 tablespoon ginger, garlic, chili paste or just freshly chopped ginger
10 curry leaves
½ teaspoon turmeric
½ teaspoon coriander powder, optional
½ teaspoon cumin powder, optional
2-3 tablespoons coconut flakes
handful coriander
Start by finely grating the cauliflower or using a food processor to evenly and finely chop. Place the oil and cumin seeds in a pan on low heat and wait until the cumin is brown. Now add the ginger, garlic and chilli paste. You can alternatively grate some fresh ginger - without garlic and chilli - if you prefer. Add the curry leaves and then the chopped cauliflower. Stir for a minute before adding the turmeric, coriander and cumin powders as well as the coconut flakes. Add the coriander leaves, mix thoroughly for another minute and serve with a sprinkle of coconut flakes.