Remember how you for some reason hated cauliflower when you were a kid? Well, hate no more. This wonderful member of the Brassicae-family is almost the ultimate ingredient in a blended soup such as this one -- with a combination of flavors that are destined to be perfect together.
First, the cauliflower. Creamy, smooth and round in itself, pimped into something even smoother in a steamy tête-à-tête with a cup of heavy cream. Then the smoked salmon, with its fatty, smoky taste and textures. And to top it off (literally), the earthy and peppery mineral flavors of the arugula. The result is a match made in heaven. Layers of flavors where one lead to the other, like a stairway to... well you get the idea.
If you have the time to make a homemade chicken stock -- I applaud you -- but here I have just used a bouillon cube from the supermarket. Works perfectly fine.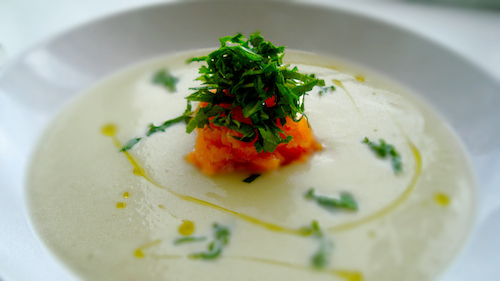 HOW TO

Serves 4

1 Cauliflower
1 Cup heavy cream
1/2 Cup white wine
6 Cups water
1 Chicken bouillon cube (or two tablespoons of bottled stock)
2 Tablespoons organic butter
4 0z Smoked salmon
1 Fistful of arugula
Salt & white pepper
Extra virgin olive oil for serving
1. Finely slice the salmon and arugula.
2. Rinse and chop the cauliflower into 10-15 pieces. Boil in lightly salted water for about 20 minutes or until the cauliflower is soft.
3. Remove the cauliflower - but keeping the water, add the bouillon and white wine. Bring back to a boil and reduce by half.
4. Return the cauliflower to the soup, and blend until completely smooth. Add the cream, bring back to a boil and simmer for 5 minutes, stirring occasionally. Season with salt (carefully, as the salmon is quite salty as well) and white pepper. Finish off by whisking in the butter for extra smoothness.
5. In the middle of a deep plate, pile up a generous amount of salmon. Add the cauliflower soup around the salmon, and top off the salmon with the arugula. Also sprinkle a small amount of arugula around the soup. Drizzle a little bit of olive oil for visual effect and an extra layer of flavor.
Bon Appetit!

Calling all HuffPost superfans!
Sign up for membership to become a founding member and help shape HuffPost's next chapter