Driven by a combination of natural climate variability, manmade global warming, and plain old bad luck, drought conditions are so widespread in the U.S. that it's possible to take a cross-country flight from Washington, D.C. to San Francisco — a distance of approximately 2,400 miles — without once overflying an unaffected area. With about 81 percent of the lower 48 states experiencing at least abnormally dry conditions, and 63 percent mired in moderate-to-exceptional drought, it's becoming harder and harder to find an oasis. And the dog days of August are yet to come.
The National Oceanic and Atmospheric Administration (NOAA) already ranks this drought as one of the worst on record, comparable to the drought events of the 1950s. The last time there were such widespread drought conditions in the corn-growing region of the country was in 1988, and that drought cost at least $40 billion.
Given this summer's punishing 1-2 punch of dry weather and heat, this drought is also being compared to the Dust Bowl era of the 1930s.
Seager's research has shown that La Niña is closely tied to many historical drought events in the U.S., since it shifts weather patterns in a way that favors a northern storm track, bypassing the southern tier of the country and depriving the already arid Southwest of much-needed moisture. Even though La Niña conditions are no longer present in the tropical Pacific — in fact, there is talk of a coming El Niño, with warmer sea surface temperatures — the weather pattern in the tropical Pacific is still behaving in a manner that is more consistent with La Niña. This may be giving the 2011-12 La Niña an extended lifespan in the U.S., Seager and other climate scientists said.
"La Niña conditions are perfect for getting drought in the southern parts of the U.S. There is absolutely no doubt that that has been a large part of what's been going on here," Seager said.
Seager and other experts noted that factors besides La Nina are also playing a part in this drought, however.
Unlike the droughts of the 1930s, this one is occurring in a much warmer climate, a byproduct of manmade global warming. Seager said that although it most likely didn't trigger the drought, it's possible that global warming is making this drought worse than it would otherwise be.
"I think what we're seeing is largely a naturally occurring event, but it's occurring against the background of a warming environment," Seager said.
Global warming may be affecting the feedbacks that take place between dry soils and the atmosphere. When soils dry, very little evaporation occurs and very little moisture is released from vegetation to the air. This can accelerate warming, making droughts hotter, and therefore even drier. Mark Svoboda, a climatologist at the National Drought Mitigation Center in Lincoln, Neb., said this phenomenon is known as drought "feeding on itself."
Such feedbacks have helped the current drought rapidly balloon in size, overtaking some regions so quickly that it's referred to as a "flash drought." At the start of the year, just 28 percent of the contiguous U.S. — mainly the southern tier — was in at least moderate drought. Between mid-April and mid-July, the moderate to exceptional drought area went from 37 percent to 63 percent, a clear indication of the toll that the hot, dry spring and summer have taken.
Kevin Trenberth, a senior scientist at the National Center for Atmospheric Research in Boulder, Colo., said global warming helps make droughts hotter, and therefore drier, than they would be without a human influence. Manmade global warming, he said via email, ". . . means more energy that has to go somewhere. In dry conditions it amplifies drying and goes into heating, creating heat waves. It is small on a day-to-day basis, but is always in one direction and it creates stronger, more intense, and longer-lasting drought. No doubt about it."
Seager pointed to the lack of snow cover from the 2011-12 winter as another key factor in the drought's expansion. In Colorado, for example, there was an unusually thin snowpack that melted earlier than average. This primed the state for destructive wildfires and record warm temperatures during June. The thin snow cover and early melt across the High Plains also may have helped dry soils in that region, and may have affected larger-scale weather patterns.
According to Svoboda, the below-average snowpack was one of the factors, along with a dry and warm spring, that made the U.S. more vulnerable to drought come early summer. "We had two strikes against us before even getting to the summer or the heat wave that would follow," he said in an email conversation.
"I don't attribute this drought to global warming, but we do see what increased temperatures can do to exacerbate droughts, and if higher temperatures become a more persistent feature in some regions not used to it, then this isn't a good combination," Svoboda said.
There is some evidence that this is already happening. A recent study found that global warming made the Texas drought and heatwave 20 times more likely to occur than under similar large-scale climate conditions 50 years ago. Other research shows that warming driven by human activities made the same heat wave and drought more severe than it otherwise would have been. As for whether global warming made the current drought more likely to occur, such "climate attribution" studies can take several months to complete, and the drought is still underway.
If indeed we're already seeing more intense droughts as a result of global warming, it doesn't bode well for the future, judging from what climate studies show. For example, climate research consistently shows the Southwest U.S. will become much drier as the climate continues to warm.
In other words, if you think this drought is bad . . . just wait.
Related
Before You Go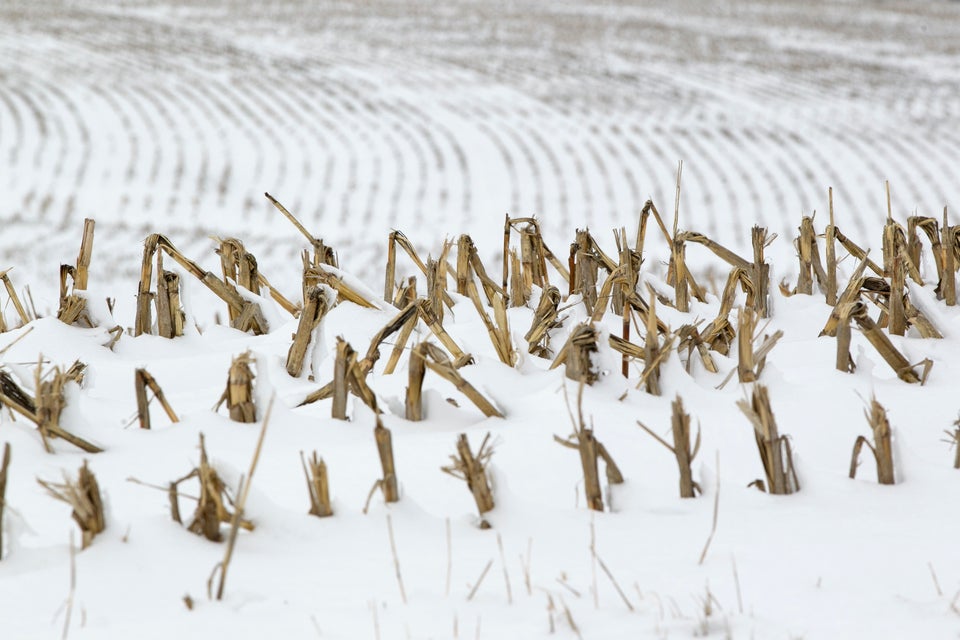 U.S. Drought 2012-2013
Popular in the Community