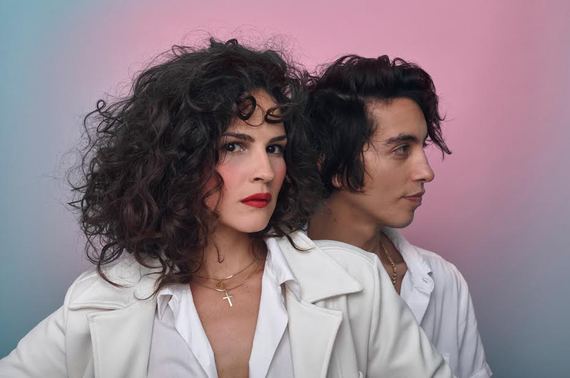 I found Buscabulla's music while studying abroad after searching for music from my island that I could show my English friends. Buscabulla -- which is slang for "troublemaker"-- is an experimental pop, Brooklyn-based band formed by Puerto Rican couple Raquel Berrios and Luis Alfredo Del Valle. Their sound is different from anything in the Latino indie scene, as it contains elements of funk, soul and electric music in it. Their lyrics are all in Spanish, paying homage to their roots, as both Raquel and Luis grew up in the island.
Besides standing out within Latin music for their sound, they also released a beautiful music video for Métele, which gives viewers a glimpse into the lives of trans women in the island. This is a side of Puerto Rican culture that not many have seen, yet is absolutely important.
I had the opportunity to chat with Raquel Berrios and learn about her musical influences, the story behind the band, and her involvement with Antonio Santini's documentary Mala Mala.
This interview was translated from Spanish to English.
Your music style is very different from other genres that predominate the island's musical culture, such as salsa and reggaeton. What inspired your interest in playing music that falls more into the category of electropop and soul?

I grew up in Puerto Rico and studied at UPR (Universidad de Puerto Rico) but left the island in 2005 to do my master's degree in Rhode Island at RISD (Rhode Island School of Design) to study textiles. I grew up in a very musical household. My dad was a musician. He didn't play in bands while I was growing up, but he played in a brass band when I was a child. He plays guitar, knows a lot about music and has an excellent record collection. My mother was also very into music. I've always had a nice mix of influences that are both Puerto Rican and Latin, while also some that are not. I think being exposed to music highly influenced my life, as I was a DJ at first and collected records. Many of those records were of Latin music, including salsa, because I thought those records were worth collecting.
I became fascinated with adding records to my collection that were Brazilian, Latin American, and Caribbean. Some weren't in Spanish but were somehow connected to my Caribbean roots, such as Jamaican records. When I began experimenting with my own music, I decided to sing in Spanish. I thought it was a refreshing take on the music I wanted to make. I had seen other bands in Puerto Rico create music in Spanish and I thought that it would help me stand out, as many popular bands sing in English. From the beginning, I wanted to have a good combination of things that have influenced me at the moment, from old funk records to Drake, Beyoncé and salsa. I think my music has a varied mix of elements but singing in Spanish allowed me to combine my island roots with other types of music that aren't typically played in Spanish.
Your lyrics in Métele are reminiscent to those used in reggaeton yet the context is different and it sort of seems like a feminist take on sexist lyrics. What message were you trying to create with that?

Before Luisfre and I joined together to create Buscabulla, my friends and I in New York had a band called N'Tetas (N'Tits). It was a punk/folk group and we wrote songs that were meant to poke fun at stuff. At that time, we were all single, so we would curse and sing about sex and drugs. We added themes from our lives and reality, but we also meant for the songs to be humorous takes on these aspects. Métele was a song that I wrote while I was in that group and met Luisfre. The song contains the lyrics "Métele bellaco" (which translates to "Give it to me hard" in a sexual context), which can be considered to be sexual, but can also mean to give it your all in your work and in life, so that's the story behind the song.
How did you and Luis form Buscabulla?
During the time that I was in N'Tetas, we wanted to create our own rehearsal space because we wanted to play instruments in the band. When I went to buy the drum kit, I sort of knew Luis already and I asked him if he would help me pick a drum kit. Coincidentally, he had been a drummer in Puerto Rico before moving to New York. I bought one part of the drum kit and he already had the other part I needed. We asked him if he would like to be the drummer for N'Tetas and he became involved with our band. I started showing him my own work and experiments during its beginning stages, which then became more serious. Eventually, I told him I wanted to form Buscabulla and he helped me out with the recording of my music and development of my songs, until we officially formed the project.
The music video for the song is absolutely stunning and very important, as it presents the life of trans people and drag queens in the island. How did you end up exploring this theme in the music video?
My friend Antonio Santini, who is also Puerto Rican, graduated from NYU and was making a documentary with his friend, Dan Sickles, which is called "Mala Mala." That documentary came out a year ago and premiered at the Tribeca Film Festival. He told me about the documentary and he had us involved in the soundtrack. He wanted us to to have a song in the opening credits, so we used Métele. After our involvement in the soundtrack, he told me that he was going to film some additional footage in the island and asked me if I wanted to make a music video for the song. It was a nice exchange. Toñi set up excellent footage and we used the editor from the film, whom is excellent as well.
The way that Toñi (Antonio) filmed that documentary was incredible because he had to gain the trust of the people in the drag and trans community in Puerto Rico. When he started filming, a lot of people did not want to be filmed, because they were questioning his intentions. After filming for two years, he managed to gain the trust and love from the community, which welcomed him and allowed him to see a very personal side of their lives. For us, it was an incredible experience because it allowed us to get involved in that subject in the way that Toñi and Dan Sickles did. We benefitted from it because it's a super underground side of Puerto Rico that not many people know about. I think there's something beautiful about revealing that side of the island that is both dark and fascinating.
Do you think you'll continue to explore themes of social issues in a way that is similar to your collaboration with Antonio Santini and Dan Sickles?
I've been thinking about the next round of songs I want to put out and I am brave enough to say that I am the one who writes all the lyrics and I do not take the literal approach when it comes to discussing topics about social issues in songs. However, I definitely do think that my music tries to break stereotypes. We are always trying to combine things that maybe don't go together and find a way of breaking preconceived notions. I think Mala Mala and our music video for Métele is trying to break the stereotypes and show that these people are not outcasts, but rather an important part of our society. There is nothing wrong with being a trans person. I think that Mala Mala shares the characteristic of breaking stereotypes with our music.
While the music scene in Puerto Rico is changing, it seems like it's still very patriarchal and women are often cast in the sidelines. Do you think that will ever change?
I am definitely noticing that there are more women involved in the music scene of the island. I'm not sure if they're involved in a way that is revolutionary, since women have always been involved in the music scene in Puerto Rico. What happens is that they fall more into genres that are a bit more traditional, rather than being iconoclasts. I think there's still a lot to be done in order to change this, same as there should be a change in Latin music in general. There have definitely been more talented women in the indie music scene in Europe and the US for years. I wouldn't necessarily say they're all feminists, but they do show some different angles of what it is like to be a woman in society and the way women's roles are changing. I am different from other female singers that you may have seen.
For me, the idea is to change that and I think it's not necessarily feminist, but it's a discourse that discusses being able to sing how I want, do what I want, look however I want, discuss whichever topic I want in my music without thinking "that'll be a hit." Yes, I am a woman. Yes, I may look pretty. Yes, I choose to appear in my videos. While there is plenty left to do to change the portrayal of women in the music industry, I think there are some young women in Puerto Rico exploring punk music and other forms of expressing themselves that have nothing to do with the typical singer/songwriter or sexualized women, especially within the stereotype of Latina artists.
There are two or three notable female performers who are starting out in the music scene in Puerto Rico and showing lots of promise. I think that in other Latin American countries, such as Argentina and Mexico, there are more notable women in music. Maybe there will be some women from Puerto Rico who can become popular and make a stronger statement internationally in the future.
Who are some female Puerto Rican artists who people outside of the island should know of?
I've always considered Yarimir Cabán (Mima) to be one of my biggest inspirations. Within the genre in which she belongs, she has always differentiated herself in, not only the way she presents herself, but rather her personality and the music she plays. She's taking that genre that is mostly dominated by men and she's starting to create her own music. It's exciting to know that she's making some great changes in music as an artist.
There's also another girl named Pequeña Vera, who used to be part of a band called Dada Berlín. She's incredible as a performer and she's like a gothic/punk Iris Chacón. She can be sensual and humorous in a moment, yet strong and rough in the next. I think she's in her early 20s. I see young women like her and it's exciting because I think it's great that she's so young and has such strong ideas. I like seeing young women with more confidence within themselves in their projects and art. Other notable women in the indie Puerto Rican music scene are Rebecca Kill and Laira Díaz from Los Manglers.
Popular in the Community