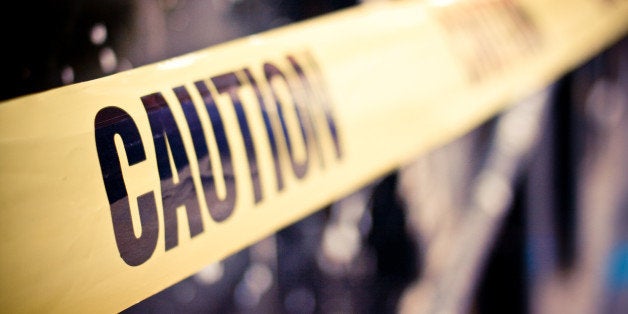 Co-authored by Timothy McHugh, Communications Consultant at Bank Information Center
On Friday morning, April 17th, a large crowd gathered directly in front of the World Bank headquarters and just a stone's throw from the International Monetary Fund building. The timing and location were not a coincidence. Late last week the Bank and IMF co-hosted their yearly Spring Meetings. And with the ongoing review of the World Bank's Environmental and Social Safeguards heading into the home stretch, the meetings were one of the last major forums to address the Bank's leaders and directors all under one roof. If civil society organizations (CSOs) were to make their next mark on the safeguards review, this was the place. And thankfully, they did not disappoint.
Last week the International Consortium of Investigative Journalists also released their long anticipated report on forced resettlement practices focused on Nigeria, Ethiopia, and India, among others. Just when the Bank, the IMF, and the CSO community at large were converging on DC, a bright light was shone on the Bank's human rights and forced resettlement record. And what the report showed was not good; certainly not what the Bank wanted to publicly reveal at the time. Reports of the Bank violating its own safeguards on resettlement policies and forcing over 3.4 million people from their homes and property over the past decade were a public relations nightmare for the Bank. And that was before Friday morning's demonstration.
Activists from Bank on Human Rights (BoHR) and others converged on the park that morning with signs, drums, loudspeakers, noise-makers, hand-outs, and most importantly, an agenda and cause that could no longer be ignored. Roughly a half dozen speakers - from such far-flung corners of the world as Egypt, South Africa, Guatemala, the Philippines, and Nigeria, among others - spoke to their personal experiences with Bank loans in their home countries. Some spoke of political prisoners. Some spoke on deep long-lasting environmental destruction. Still others touched upon the complete lack of consultations the Bank and its entities made to local populations in regard to land and natural resources use. They all painted a frightening similar picture: a global body drunk on its own power believing it can act with impunity all while negatively impacting millions of lives. Is this the human rights record the World Bank Group really wants to earn?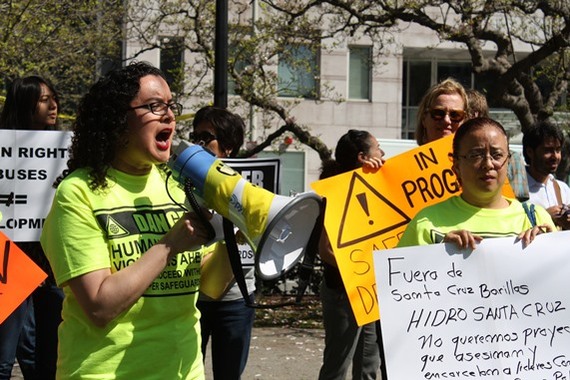 Earlier in the day, a protest was held in front of the World Bank concerning the reported corruption in Bank efforts to fight Ebola in Sierra Leone. This was quickly followed by the BoHR rally. And to top it all off - and to make sure Bank staff and representatives were not too comfortable - volunteers and CSO organizations held caution tape together in order to form a massive human chain around the World Bank headquarters building. Along with the mounted police escort, protesters marched around the building before having one last chant and demonstration at the front door for all to see. They demanded the Bank be more accountable on human rights abuses. They demanded all political prisoners be released. They demanded a stop to natural resource extraction that does nothing to benefit the local population. And lastly, they demanded a Bank that does not merely respond to these allegations and scandals; but rather a Bank that doesn't create them in the first place.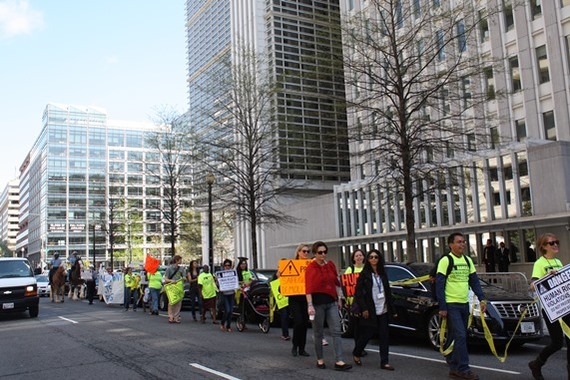 Only time will tell what, if anything, the Bank takes away from this protest - and all the protests - that took place during the course of the Spring Meetings. But there is success in getting the Bank to hear our common voices. There is success in letting the Bank know we will not be silenced and we are not going away. There is success in getting diverse groups and people to join together in addressing similar problems at their root the world over. And there is triumph in making Bank leaders - if only for a morning - treat your issues and concerns with respect as the whole world watches. These opportunities do not come very often. But the Bank should know - when they do, we will be there. And we are only getting louder.
Calling all HuffPost superfans!
Sign up for membership to become a founding member and help shape HuffPost's next chapter