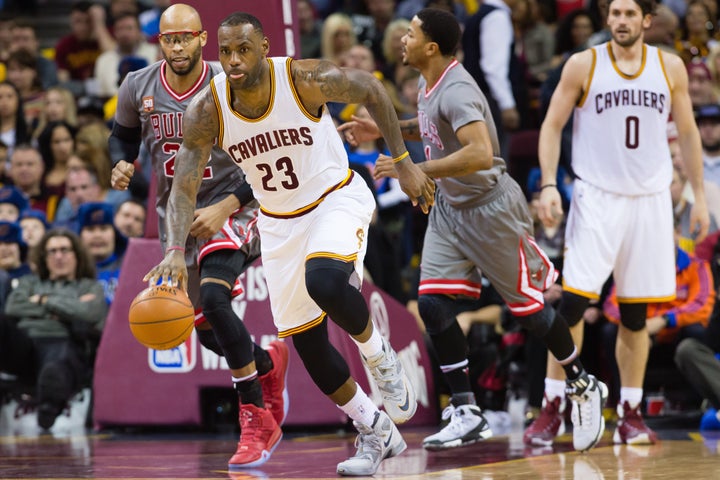 When you have LeBron James in your lineup, problems get overlooked. It may not be intentional, but the player's rare greatness masks things that should not happen. For the Cleveland Cavaliers, LeBron happens to mask significant issues -- problems that worsen with time, especially in the fourth-oldest roster in the league. It's what led to the firing of head coach David Blatt, despite the fact that he brought the team to the finals last season and had a 30-11 record this season. In fact, according to the Elias Sports Bureau, Blatt is the first head coach since conferences began in 1970-71 to be fired when his team has the best record in its conference.
The 31-year-old LeBron, who has reached a modern era record five consecutive NBA Finals, can only impose his will for so long without more problems coming to light. On the heels of defending world champion Golden State throttling the Cavs by 34 in their own building, let's look at why LeBron's window to bring a long-awaited title back to his home state is quickly disappearing: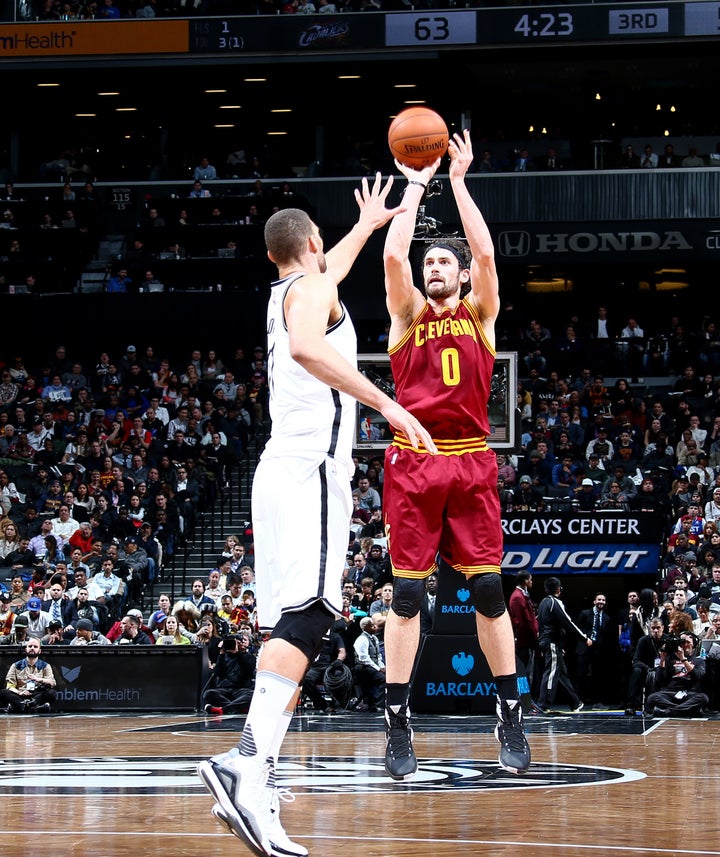 It may have come as a surprise to some when 27-year-old Kevin Love re-signed in a long-term deal with Cleveland last summer, but it shouldn't have: Love couldn't command max dollar anywhere else, and there wasn't another suitor offering a legitimate second option.
The issues with Love -- twice a Second-Team All-NBA selection -- in 2016 are the same issues from last year, only amplified. He has never quite figured out how to play second -- or even third -- fiddle to LeBron and All-Star point guard Kyrie Irving. Blatt, to his credit, tried to integrate Love into late-game situations, but the reality was simple: He was never a consistent weapon in his half-court attack throughout the course of a 48-minute game.
One of the beauties of Love's game is his ability to stretch the floor with his 3-point shooting. And yet, in Cleveland, the former UCLA standout has become overly reliant on the 3, often drifting away from the hoop and primarily into the role of pick-and-pop man. He's still shooting upwards of six triples per game, as he did in Minnesota. The difference is that his shots are skewed greatly towards the perimeter. Now you're taking your best rebounder and best interior passer away from the basket, where he becomes a jump-shooting big and not a playmaker.
This season, in addition to a miserable defensive rating, Love is shooting just 36 percent from distance and under 42 percent from the floor, the worst clip of his storied eight-year career. As a result, he's made the lowest number of free-throw attempts of his career, and has the lowest scoring output since 2010.
Whether Love gets dealt before the deadline remains to be seen, though it seems highly unlikely because of the $110 million commitment. Now, newly minted coach Tyronn Lue has to figure out how to further integrate Love into the offense.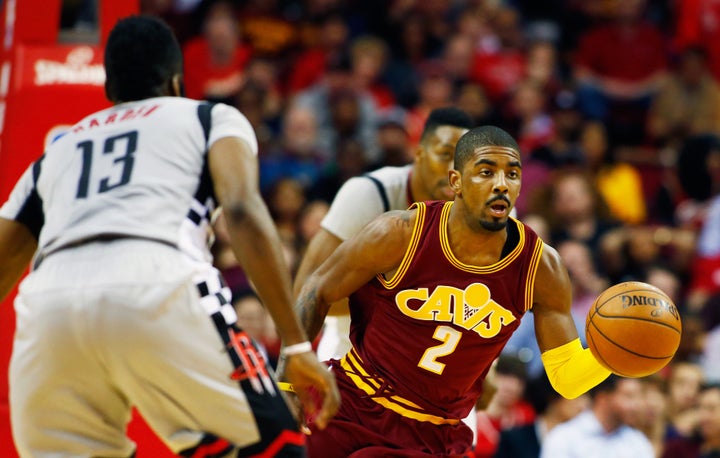 He may have been selected to play in another All-Star game, but 23-year-old point guard Kyrie Irving has not played like an All-Star. After missing 26 games recovering from a broken kneecap, Irving has played the worst basketball of his career. He's never shot a worse percentage (41 percent), and he's never been so anemic from 3-point territory, where his sub-30 percent clip is shocking for a guy known as a knockdown shooter.
"Personally, I don't feel like I deserve it," Irving said of not being chosen to start in the All-Star game, "just from the amount of games that I've played and the body of work."
In many ways, Irving -- the No. 1 overall pick in 2011 out of Duke and an All-NBA performer -- is the Cavs most important player. His creativity is undeniable, as is his unique ability in the pick-and-roll game. Few players are as dynamic and gifted from an offensive standpoint than Irving, whose prowess allows LeBron to play far more off the ball and not expend energy as a permanent point-forward. Make no mistake: LeBron is the focal point of the offense, but he doesn't always have to assume the lion's share of the responsibility.
When Irving struggles, LeBron is forced into a heavier usage role. It's something he considered in an interview with The Huffington Post before last season. The Cavs, as a result, rank just 10th in field goal percentage. To quantify that number, consider that San Antonio, Golden State and Oklahoma City -- widely viewed as the top tier of contenders -- make up the top three. Perhaps more important, this is hardly a knockdown shooting team -- an issue that is only exacerbated against elite competition. The Cavs are slotted 12th in the league from 3-point territory, an issue that's also made worse when dealing with double-digit deficits.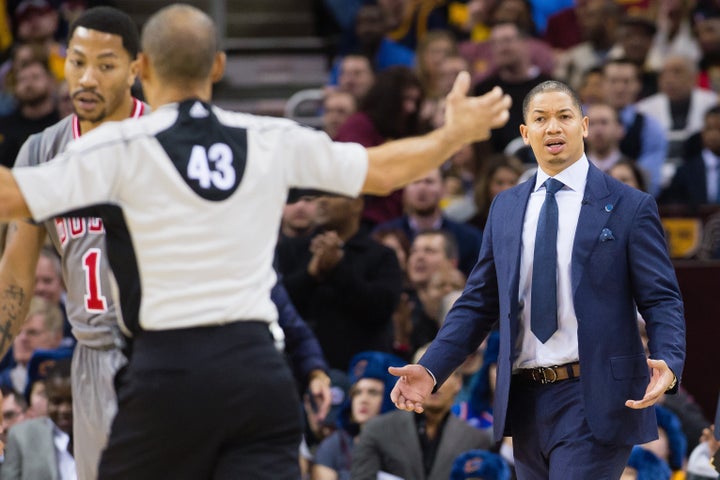 Perhaps just as important, the Cavs have not been able to generate consistent production from their ancillary parts, specifically on the perimeter. Wing stalwarts J.R. Smith and Iman Shumpert have been too inefficient, shooting a combined 41 percent from the floor. In addition, Mo Williams and Matthew Dellavedova have struggled as well -- particularly with erratic shooting, a no-no with passers like Lebron and Irving consistently creating quality looks. And Lue says both Williams and Dellavedova will earn more minutes now that he's at the helm.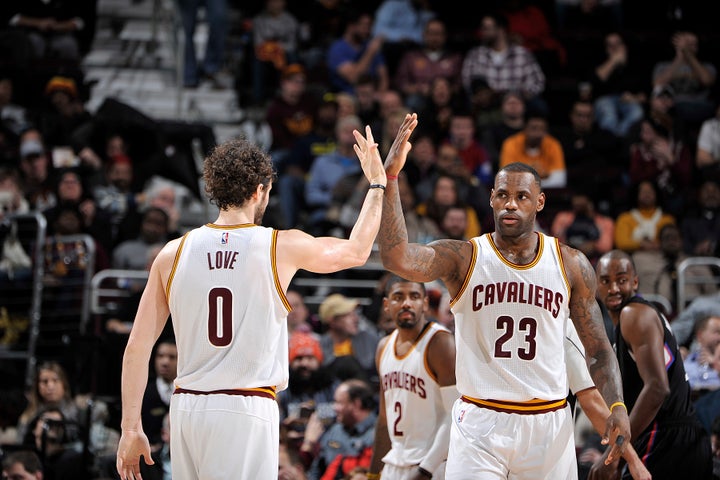 Easy offense is the best offense, especially come playoff time. The Cavs, for all of LeBron's greatness, simply do not generate enough easy offense to win a championship. We can discuss defense all we want, but to win a prolonged series in the NBA against a great team requires an assortment of easy buckets. Cleveland ranks a pedestrian 12th in assists and just 14th in fast-break points per game.
If you score at an elite clip in the half-court (like the Spurs, for example), a lack of transition offense can be overcome. If you don't (like the Cavs), the postseason becomes an arduous process. Lue has already implored his team to accelerate the pace of play, but learning how to run takes time.
Blatt either never understood the benefit of an uptempo attack or was never able to delegate responsibility for it to someone else. With all due respect to Cleveland's other bugs, this might be Lue's greatest responsibility in his new role.
Correction: A previous edition of this article stated that LeBron is the first player to ever reach five consecutive NBA Finals. It has since been corrected to reflect that he is the first player in the modern era to do so.
REAL LIFE. REAL NEWS. REAL VOICES.
Help us tell more of the stories that matter from voices that too often remain unheard.