When we heard the Cleveland Cavaliers pulled a controversial video they had made of a man tossing his girlfriend, we tried to have an open mind. Perhaps it was just a typically alarmist, knee-jerk Internet overreaction to something that wasn't that big of a deal. But then we watched. And it wasn't.
The video features a male Cavaliers fan and his girlfriend dancing in the kitchen. Then, she reveals she's wearing a Chicago Bulls T-shirt under her apron. Upon realizing which way his girlfriend's fandom leans, the boyfriend actively throws his girlfriend across the room instead of catching her à la Patrick Swayze and Jennifer Grey in "Dirty Dancing" -- "(I've Had) The Time of My Life" plays in the background -- or even passively letting her fall.
Yes. The Cleveland Cavaliers posted what assumedly would be a funny playoff skit of a man throwing his girlfriend across the room.
"Bulls fan? I didn't know you were a Bulls fan," the guy says before walking away.
Then, the young woman is shown on the floor as a Cavs logo is displayed and a voiceover says: "When it's playoff basketball time, you have to be all in. So don't make the same mistake she made."
But don't worry, all's good by the end of the skit, with the girlfriend donning her "All In" Cavaliers shirt. Oh, and an ice bag for her head.
Not surprisingly, the criticism for the video and its content was swift and harsh.
But the backlash is also justified, despite others claiming it's an overreaction.
Why? Because this video is completely tone deaf on its own. Then add the number of recent high-profile cases surrounding athletes and domestic violence. It was only this past Saturday when many were asking how Floyd Mayweather is still allowed to fight, despite his own long history of violence against women.
Consider when, in March, people questioned how the Dallas Cowboys could sign Greg Hardy after he had be convicted of assault threatening communication. Hardy since filed an appeal and the case was dropped. However, the NFL handed down a punishment of their own, suspending the player for the first 10 games of the upcoming season.
Earlier this month, Jameis Winston became the the No. 1 draft pick in the NFL, despite accusations of alleged rape and the media to continues to call it "off-the-field distractions."
The Huffington Post has reached out to the Cavs for comment on the video, but what should their next step be? We could not agree more with Matt Moore, an NBA Writer for CBSSports.com: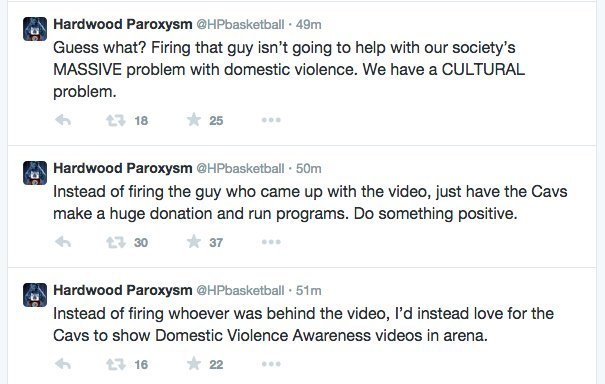 UPDATE (1:56 p.m. EST): The Cavaliers released a statement apologizing for the video, calling it "insensitive" and "a mistake to include content that made light of domestic violence."
The team's full statement below:
During a timeout at last night's Cavaliers vs. Bulls playoff game at The Q in Cleveland, we ran a 1-minute in-arena video that was intended to be a humorous spoof on a popular commercial centered on a song and dance from the classic movie 'Dirty Dancing.' While the video was not intended to be offensive, it was a mistake to include content that made light of domestic violence.

Domestic violence is a very serious matter and has no place in a parody video that plays in an entertainment venue. We sincerely apologize to those who have been affected by domestic violence for the obvious negative feelings caused by being exposed to this insensitive video.

The Cavaliers organization has a strong and lengthy track record of supporting domestic violence-related causes and efforts. We will continue to proudly work with our regional partners at the Domestic Violence & Child Advocacy Center in support of their numerous programs to end domestic violence in our country once and for all.
Popular in the Community