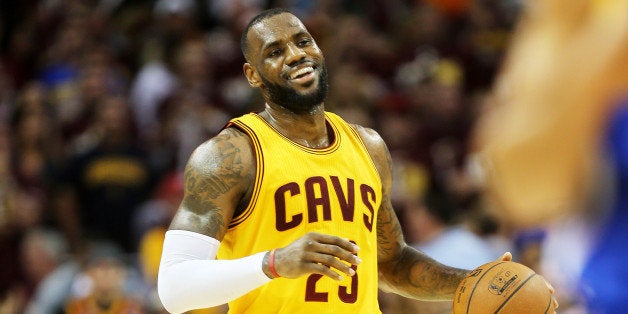 The doom and gloom of a Cleveland Cavaliers team without Kyrie Irving during the NBA Finals has officially been evaporated as LeBron James and the Cavs defeated the Golden State Warriors, 96-91 in Game 3 on Tuesday.
The series returned to Cleveland, where the home crowd was not disappointed by the Cavs, who dominated the court for the majority of the game.
On the other side, Steph Curry and the Warriors looked deflated and off. Golden State even failed to cross a 60-point threshold by the end of the third quarter. You know the last time that happened during their season? During their Game 2 loss to the Cavs. That makes this the only time this year it's happened in consecutive games for the team. Yikes.
Curry himself failed to break through. He scored 27 points in game, yet 24 of them were from just the second half. Not good.
Warriors coach Steve Kerr said in his post-game press conference that Curry "lost a little energy and I don't know, life."
"We need life from everybody. We need emotion from everybody," Kerr added.
Yet, the Warriors were not without their moments.
What once was as a 20-point lead for the Cavs, in the third quarter, was eventually chipped away by the Warriors, who found new life in the fourth quarter. Golden State managed to bring the game within one point with just over two minutes left in the game.
However, despite a number of turnovers, the Cavs could not be toppled with another strong game from Matthew Dellavedova and James, who connected for this alley oop...
The Cavs once again found their rhythm to extend their lead. And before we give too much credit to the Dellavedova guy (oh wait, not possible), let's remember, LeBron James was at the top of his game as well. James, in a historic night, posted 40 points, 12 rebounds, eight assists, four steals and two blocks. He has now scored the most points in the first three games of any NBA Finals ever.
The series, now with a 2-1 Cavs lead, will continue in Cleveland with Game 4 on Thursday.
REAL LIFE. REAL NEWS. REAL VOICES.
Help us tell more of the stories that matter from voices that too often remain unheard.