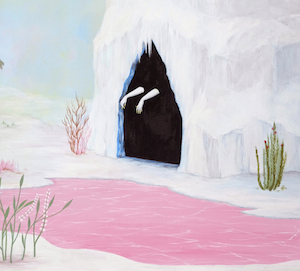 As a poet, I value and adore working with visual artists; collaborating across genre and medium often provides an instant jolt of inspiration. In my writing practice, I often write poems that have been sparked by an image. Last summer, I came across Rebecca Chaperon's work, and was stunned by its weird beauty. I wrote a poem inspired by one of her paintings, and she and I kept in touch, discussing our work. I'm thrilled to share with you a new collaboration that she and I have worked on, a pairing of poems and text that will appear in her new exhibit, Eccentric Gardens.
In Chaperon's paintings, the natural world becomes supernatural, hyperalive. There are glowing trees, dark caves, disembodied arms reaching out to feel the cold air, luminous pyramids from which rainbows spill. It's a bizarre place that Chaperon paints, but it's also benevolent. Her work simultaneously reminds me of spring gardens and the northern lights -- there are pinks, yellows, and greens alongside swaths of black. Snow and pastel flowers peacefully co-exist.
I am always thinking about place when I write, which speaks to why I'm so drawn to Chaperon's work. A poem is a place in which I can speak to a reader, and in which, together, we can be attentive to the pieces of the world that usually slip past us. In my recent poems, flowers want to speak, and caves, and paintings. Any action or object produces a ghost (usually friendly, but always carrying a story).
The poem/painting pairings are included below. These will be shown (alongside other paintings, installation, and a sound studio on opening night!) in Eccentric Gardens at Initial Gallery in Vancouver, BC. The show runs from October 24 to November 15.
NOTE: These images appear with the permission of the artist.
Ghost of a mirror
with a nail for a brain
Now that the weight of you is gone
what I want to ask you is this
Are you free or are you missing
or have you made a home in waiting
Figurative

Finding the figure in the painting isn't always easy.
Sometimes it's a human and others it's humanoid
and then there are others where there's a rock
with a contracting heart. Maybe no figures
at all at first look, and then the fence leaps
to life. Or the watery gray stripe that props up
the painting from within the painting, a tent pole,
wobbles. If you look and look, and see no figures,
keep looking. And if you still see no figures, you
will know that the painting is looking out
at you, the hero of this part of its story.
If the Cave Told the Story

A place fell away
and from that space I rose
I had always been there but was freed
I became a place of shelter
an animal could come in
Humans dragged in fire
brought me burnable things then
burned them up
Tree pieces
burned
plant pieces
burned
bodies of animals
burned
I would become heat for them
And hold them dry or cool
if that is what they asked with their bodies
From here I can see flowers
snow
The gift I have been given
is this spilling water
from it I learn of the far perimeter
what it holds
I press back
Related
Popular in the Community