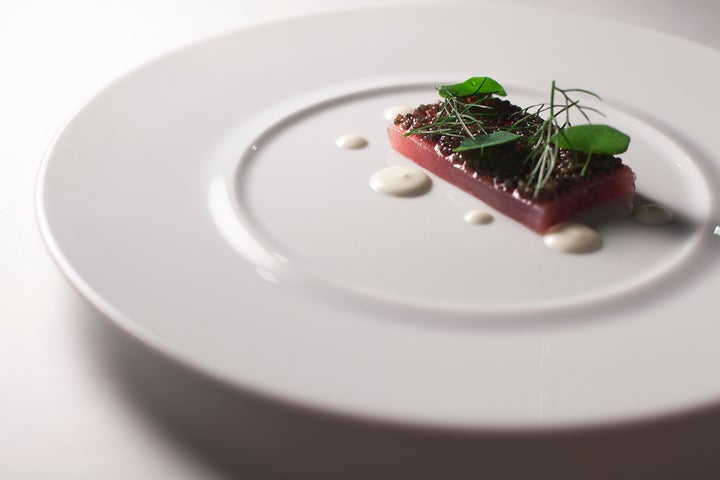 Caviar is one of the world's most lavish treasures. Since the shortage of sturgeon, the esteemed eggs are only becoming more desirable. However, there is still a generous amount of the population who are afraid of it. If there's one destination to face your fear it's Caviar Russe in Miami. Not to worry though, the Managing Director of Caviar Russe, Ilya Panchernikov wants people to know caviar and champagne do not bite. He too, didn't like the luxurious roe until his 20's but, since joining the family business the addiction has become real. There is now a special caviar lovers would dream over and the price is a little less frightening for beginners.
Oestra in the name of the game during power hour at Caviar Russe and it just happens to be their signature selection. Monday through Thursday, from 4-7 PM the gold plated decorated dining room is featuring a package inclusive of 50 grams of Oestra caviar with a bottle of Veuve Clicquot for $135 or the same amount of caviar with half a bottle of Billecart Salmon. Everyone knows about Veuve Clicquot but, they might want to know about Billecart Salmon which has evolved into a remarkable Chateau. The champagne has the same crisp and refreshing qualities of Veuve with a bit softer bubbles and complex flavors.
There is a reason behind this blessed bargain as Panchernikov shared, "Our goal is to further introduce Caviar Russe to Miami locals. This has become more of an outreach and educational event where people could really learn about caviar and champagne without mortgaging their homes." Oestra caviar eggs are a little firmer than Belluga and it's Caviar Russe's specialty. After every bite, a new depth of flavor is released.
So if some people say caviar and champagne are one of the most miraculous marriages, why aren't more people participating? Yes, it's expensive but, so are most shopping addictions. Panchernikov blames the stigma from it's media portray and the lack of understanding by hospitality professionals who have failed to explain to the consumer. This is where the new happy hour comes in.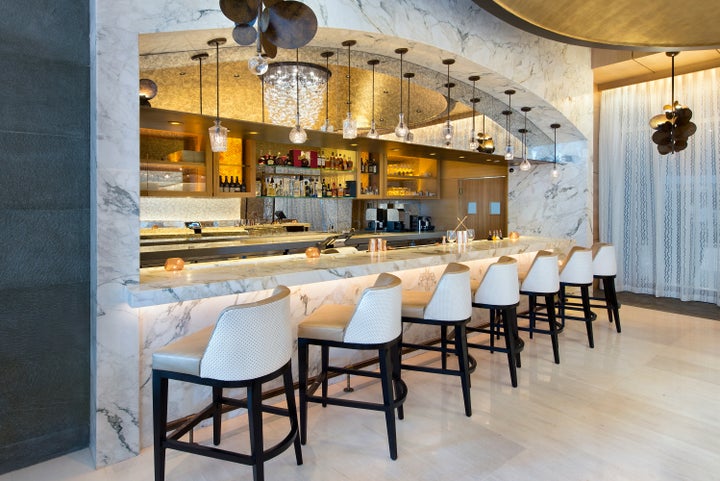 Another misconception could also be that Caviar Russe is just about fish eggs. The NYC restaurant has been a Michelin starred for the last four years while their sister in Miami offers a similar menu. Miami and NYC include familiar dishes that help customers explore the the entire menu. Panchernikov says, "We are all about growing together." Pasta is always made in house daily. By the looks of their kitchen, it may not seem like that either. The Miami "kitchen" sits just behind the bar which doesn't bestow a stove or commercial oven. All the cuisine is prepared either raw, cured, using a sous-vide technique or counter oven and induction burners.
During power hour bites are only $12 that showcase a homemade Cacio e Pepe Ravioli with black truffles and Meatball Polpettine made with wagyu beef while raw specialties reveal a stunning Blue-Fin Tuna Sashimi topped with caviar and a dozen Kusshi Oysters. For those looking for another experience order the Tagliatelle with King Crab and Uni Emulsion. Pair any of those dishes with a glass of wine like the La Gordonne Rose or a martini shaken with ZYR Russian vodka for a special price of $12.
Caviar Russe isn't just about caviar, it's about staying educated.
Caviar Russe is located at 1441 Brickell Avenue in the ground lobby of The Four Seasons Towers in Miami
Related
Popular in the Community