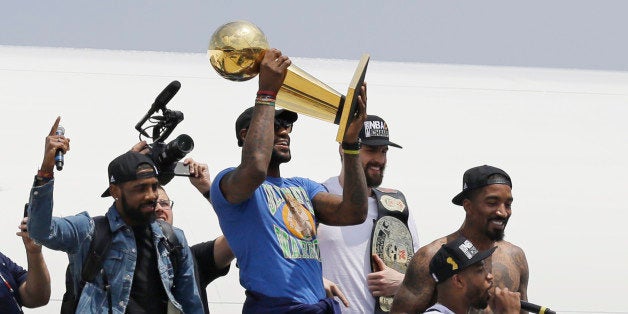 Growing up in Cleveland meant two things for me: I was destined from birth to become a diehard Cleveland sports fan and I understood, at a very young age, misery. I was no different from most kids who grew up in the Land. Over 50 years of suffering defeat, often in the most heartbreaking fashion, defined the childhood and adulthood of most Clevelanders.
Red Right 88, the Drive, the Fumble, the Defection, the 9th inning Collapse, the Shot, the Sweep, the Decision, the Kev and Kyrie Injuries. These are epitaphs of intense human suffering befitting Shakespearean tragedies -- or an ESPN 30 for 30.
Clevelanders are incredibly devoted sports fans, but they've experienced so much suffering they always expect something bad to happen, even when their team is winning a game. This foreboding isn't unjustified. Clevelanders know how defeat can be snatched from the jaws of victory. A second -- or a fumble or shot or interception -- is all that it takes. We know.
But 50 years of misery ended last Sunday. In an incredible moment, everything changed. That's when the curse ended.
LeBron James, who describes himself as "just a kid from Akron," led the Cavaliers to a historic NBA championship in Game 7. No NBA team had ever won a championship coming back from a 3-1 deficit in the finals. All the odds were stacked against the Cavs: not only were the Cavs down 3-1, they were up against the defending champion Golden State Warriors, who had two games remaining on their home court where they had lost only twice during the regular season and only once in the playoffs.
What were the chances of Golden State losing two home games to the Cavs? As ESPN commentator Stephen A. Smith vociferously proclaimed, "Zero."
But the Cavs and Cleveland fans never lost faith. Believeland is our moniker for a reason. We believe in supporting our sports teams through thick and thin, even against all odds. And King James made it much easier for all of us to believe. No athlete in the past 50 years has lifted our hopes of a championship more than King James. When he returned back to Cleveland in July 2014, people in Cleveland danced in the streets for a reason. The King has returned.
In his now famous Sports Illustrated article "I'm Coming Home," LeBron did not promise a championship. He knew from experience in Miami just how hard it is to win a championship. But LeBron said he was coming back to give Clevelanders "hope." And that's what he did.
In just two years, he took the Cavs to the NBA Finals twice. Last year, the Cavs lost to Golden State, but put up a valiant fight without two of their star players (Kevin Love and Kyrie Irving, both of whom suffered injuries during the playoffs). LeBron carried the team on his back and managed to help the Cavs win two games. Clevelanders were hopeful next year would be our year. Most Clevelanders thought with Kyrie and Kevin back, we could beat Golden State, a team that rarely faced the physical style of defense the Cavs were known for.
That feeling of confidence diminished somewhat during the regular season as Golden State won a historic 73 games (best ever in the NBA), while the Cavs had a topsy-turvy season, which included a coaching change and talk of a lack of chemistry among the Big 3.
But in the playoffs things gelled for the Cavs. It wasn't easy. Losing the first two games of the finals put the Cavs in a bind, and when they went down 3-1, things looked real dire. But Cleveland is a blue-collar town. As LeBron wrote in his SI article, "In Northeast Ohio, nothing is given. Everything is earned. You work for what you have." In order to win the championship, the Cavs would have to earn it. And that they did.
On Wednesday, Cleveland hosts its first championship parade in generations. It's a day I have been dreaming about ever since I was a kid. So have millions of others who grew up in Cleveland. But you don't have to be from Cleveland to share in the joy of a city in overcoming years of heartache (not to mention being the butt of other people's jokes). Believeland is about persevering, no matter what. Like LeBron James' signature chase down block of Andre Iguodala's layup in the closing minutes of Game 7, it's about pursuing your dreams. Believe.
Popular in the Community