Written with Ellen Dobbyn-Blackmore
In New York to finish the choreography for his new ballet, Sortijas, for Ballet Hispanico, Cayetano Soto spoke about how he uses his work to delve into his own psyche, mused upon where he's coming from, how he works, and where he's going.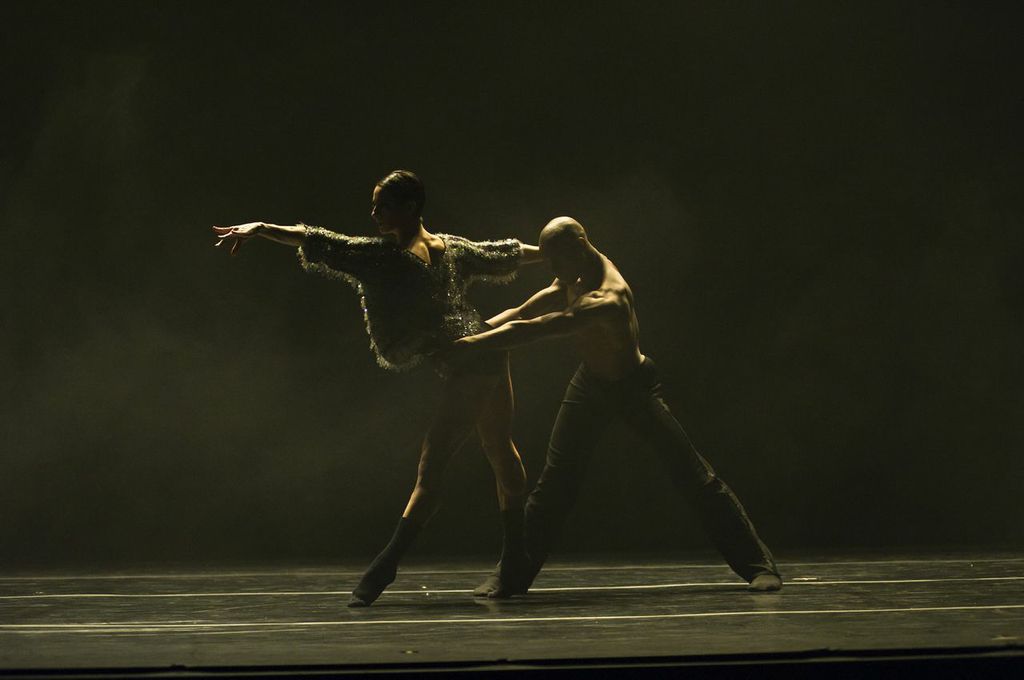 Sortijas, Ballet Hispanico, Lauren Alzamora and Jamal Rashann Callender
Choreography by Cayetano Soto, photo by Paula Lobo
Cayetano Soto is from Barcelona, the capital city of Catalonia, but had to leave home to find employment opportunities: "Actually there was not so much going on in Barcelona. That was the problem. Everything was centered in Madrid with Nacho (Nacho Duato, the legendary Spanish choreographer). Everything that was happening in Barcelona then was just independent projects. You couldn't find a career there if you wanted to be a dancer. I was thinking, the sooner I leave the better because living in Spain is very comfortable." Comfortable enough that he knew he had to leave Spain, just like Duato before him, and go to the Netherlands. Too much ease doesn't lead to much work getting done. He eventually landed in Munich and began to choreograph in 2002 with Plenilunio. With one exception, he hasn't really stopped since then.
Among the companies Soto has choreographed for so far are Ballet Hispanico, Munich Ballet Theater, the Bavarian State Ballet, Stuttgart Ballet, Augsburg Ballet, Dortmund Ballet, the Royal Ballet of Flanders, Aspen Santa Fe Ballet and Les Ballets Jazz de Montreal. The phone doesn't stop ringing now because he is in such high demand. That's a mixed blessing which indirectly led to the creation of Sortijas. He was supposed to have choreographed a piece for Ballet Hispanico a couple of years ago when he sustained a serious injury while choreographing in Aspen and had to delay the creation of a new ballet. "Sortijas is very much related to everything that's happening to me. I've been lucky but I have too much work to do. That's why I tore my Achilles tendon. I was in Aspen and I was working too hard. I had nine projects per year. I thought, this is killing me. It's good because the more I work, the more ideas come to me. People ask me if my ideas don't go dry - no, they don't - I get dry when I'm sitting at home doing nothing but when I'm working, everything comes easily. This ballet, Sortijas, is giving me the impulse for the next piece and I can't wait to start it - it's going to be for the Aspen Santa Fe Ballet. And I know already what's going to happen. My next piece is going to be called Beautiful Mistakes. Sometimes in the studio I discover beautiful things by mistake."
Soto then related how the rupture of his Achilles tendon led to Sortijas: "Lhasa de Sela's music came to me because of Aspen. It's great to be in demand and everyone's calling you but I was never at home. I felt that I didn't have a life. I felt uneven. Not grounded. When I was back home recovering from the surgery I picked a piece of music at random and it was Lhasa. I immediately said - this is the piece I'm doing next. It was like a song of Fate. After she did this song, she died. The song is called I'm Going In. She was writing this song about dying and six months later she died. It was a song of Fate. Sort of like she was writing her own destiny. I started with that music but it wasn't working out so I had to change it to another song of hers called What Kind of Heart."
Describing his unique dance vocabulary, Soto said, "To make choreography you have to be like an architect. I think you have to have a very strong structure. First you have to have an idea - what you want to talk about. To be really creative and at the same time be analyzing the thing you're working on, that doesn't go together. You can only analyze so much. Once the work is done, then you can start to analyze because one is scientific and the other, the creation, is emotional." His work carries heavy emotional weight and that's not by accident.
Relating his working process to Sortijas, his latest work for Ballet Hispanico, Soto said, "What I feel in the last few years, more and more, is that whatever is happening in my pieces is related to me. Meaning that I try to psychoanalyze myself and say what is happening to me in the moment." Sortijas is indeed full of emotional complexity. He came right out and said, "Yes, really you know, some people go to a shrink; I go to a studio. And I get paid for it. And I try to pass my demons to them (the dancers) so that they know how to deal with them."
Asked to explain the demons he was slaying in Sortijas, Soto was very clear: "There is a Fate in your life and even if you fight against it, in the end, it's going to happen. So, no matter if you go straight or in a circle, in the end you're going to have the same result. This is why I divided the ballet in three parts. You have the first section followed by a blackout and then a second section followed by a blackout. The third section has no blackout. I feel that no matter what the dancers are doing, they must end up going in this direction that I set and that's how I see myself."
When asked if he really feels the pull of fate, he said, "Yes. Sometimes you want to control things but it escapes from your hands. There are times you have plans and they just don't work out. For me they don't work because something is working outside me... but I don't know what it is." This is what he's trying to portray in movement with Sortijas.
In response to comments that his partnering was very difficult he admitted, "It's true because I love to choreograph partnering even more than solos. It's kind of like playing with Legos. The more complicated it gets, the more beautiful it becomes. I don't look for something to be completely pure in the beginning. Sort of like when you see a dog that is missing a leg - at first glance it might seem ugly but as you continue to look at it, in another way, it has something. And this is what I try to accomplish."
In Sortijas, which is a pas de deux, the difficulty of the steps is indicative of the internal toil, he said: "It's completely about the struggle. When you see some of the lifts, they are completely upside down and the dancers have difficulty controlling it. My partnering is not conventional partnering. Most of the time the women have a suspension of legs in the air which is very hard to control. And on top of that their arms are completely twisted, almost deformed."
The intense push-pull of the partnering in Sortijas is not, he clarified, about aggression: "When I see all these parts, it's like when you have something blocking you but you don't know what it is... you have a problem in your subconscious that you aren't aware of, this is what it is. It's not an aggression toward the other person. It's more inside, like maybe you're suffering from something, but then it becomes external. It's an internal feeling that you're reflecting outside. Some people misunderstand this and ask what I have against women. It's not that at all. I love women. They're beautiful."
Unlike most choreographers, Soto does not choreograph by numbers. He said, "I don't count the music. I did Le Sacre du Printemps (Stravinsky's Rite of Spring) for Portugal's national company and I didn't count. I know the counts but I'm against it. So I tell them not to ask me if it's on a three or a four, ask my assistant. I think that when you count, you lose the meaning. This is why I breathe with them in rehearsal. That way they know when to start and when to finish. I give them the material to work with but after that I give them freedom to see and feel what is good for them."
Soto's ultimate goal is not just therapy for himself, he also wants to enable the process of transformation for the dancers he works with. He explained, "What I like to show to the dancers is that I respect them for who they are and that I have an open mind. From the moment that you start to work with me, I want, if I can, to put you on another level so that when you see yourself dancing on video, you don't recognize yourself. If you can achieve this working with me, then I feel like my work as a choreographer was worth it. I try to be approachable but at the end of the day, it's what I say. They are the ones who are going to do my job. They are the ones going on stage."
There are three layers to Soto's creation of a new ballet: "I start by choreographing a phrase and then I teach it to them. Then I start to give notes as they do it and add more to it. I have four casts of this piece and then I watch them and see how they're doing it and sometimes they find ways of doing it that I didn't even think of and we add that. Once we've done that process, then I will finish choreographing on top of that. The choreography then happens on three levels: my original idea, the feedback I get from watching them and then what I put together from all of that. This is why I always ask for a lot of time to do my pieces."
So does he actually allow the dancers to give feedback when he's choreographing? "Yes, of course. At the end of the day, what they're going to do is going to be beautiful and it may not be exactly what I want because they don't understand me and then I give them more information."
Soto is uncommonly patient with his dancers and will talk through a problem three times and more if necessary: "I think that when I was a dancer I wanted the person who was in front of me to have the patience to give me an explanation, to make it clear, and it wasn't always like that. Sometimes I worked with choreographers who were amazing and some were sadistic bastards. As I explained to my assistant, Mikiko, if by the third time you explain the step to a dancer they still haven't gotten it, the problem isn't with them - it's with you. You either have to change your vocabulary or change your approach. This is why I have patience although in life I'm a very impatient person." This is real wisdom, understanding that the creation of art is an act of communication. Soto has an intense desire to communicate the depths of his psyche to the world through dance.
Asked to name a few of his influences, Soto insisted that he was influenced by everyone he has ever worked with. His teachers, other choreographers, the dancers he choreographs on, just everyone. But he does have a favorite choreographer: "Bob Fosse. I think he was the best choreographer ever. I especially loved his choreography for Cabaret and All That Jazz. He could say so much with so little movement. Sometimes you find yourself doing too much and you have to strip it down. Take away what isn't necessary. I admire a lot of people and I think they've all had an influence on me but for me, Bob Fosse is the top."
Cayetano Soto is one of the leading young choreographers of contemporary dance. His work is in demand all over the world and he has more big commissions coming up soon. He was not ready to divulge the names of the companies he will be working with because they have not yet been finalized. When they are done he will be making the transition to follow in the footsteps of his countryman, Nacho Duato, with some much higher profile companies. Growing up in Spain, outside of the dance mainstream, seems to have given him strongly independent ideas about the way he puts steps together. He fills his work with energy and passion and in the process creates work of stunning originality. This is penetrating work that goes directly to the human experience and what it means to be an artist in this world. It doesn't hurt that he's also a truly likeable individual.
Works choreographed by Cayetano Soto
Calling all HuffPost superfans!
Sign up for membership to become a founding member and help shape HuffPost's next chapter