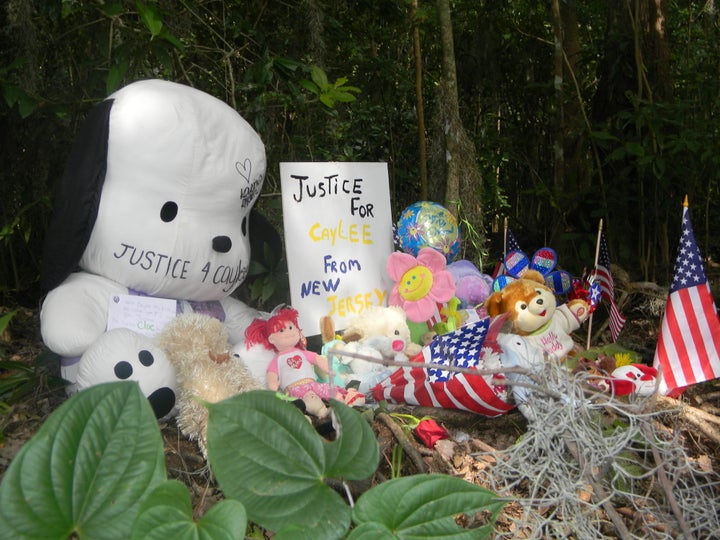 ORLANDO, Fla. -- Onlookers began arriving in droves Monday afternoon shortly after the jury began deliberations in the Casey Anthony murder trial. Small groups slowly gathered at the intersection of Hope Spring and Suburban Drives. Within hours, the dozens ballooned into hundreds, possibly thousands.
(SCROLL DOWN TO SEE EXCLUSIVE PHOTOS FROM THE SCENE)
The crowds drifted from Hope Spring Dr., where the Anthony family home sits, down to the place on Suburban Dr. where 2-year-old Caylee Anthony's skeletal remains were found in December 2008. The pile of stuffed animals marking the spot grew as onlookers passed by.
It was an impromptu gathering of people who came to bid Caylee a final farewell, as a jury debates whether her mother is guilty or innocent.
"We live in the area. It's in our backyard. It's sad. A little girl was murdered. We're here to go down to the gravesite to pay our respects," LuAnn Sepe of Orlando told The Huffington Post as she and her friend, Melanie Raddano, slowly made their way down Suburban Drive.
Just behind Sepe and Raddano was Luana Haijoob. She said she drove about 40 miles from her home near Daytona to pay her respects.
"The first time I laid eyes on Caylee my heart went out to her, and I've been following [the case] religiously ever since. She's a precious little baby," Haijoob said.
WATCH: (STORY CONTINUES BELOW VIDEO)
Asked why she thought Caylee's case was so gripping when so many other children are still missing, Haijoob replied, "We know so much about Caylee. The media took us there. We knew the family. We knew the baby. [The media] took our heart and put us in the middle of it."
Deliberations in the case ended at 6 p.m. Monday and will resume at 8:30 a.m. Tuesday. Everyone, it seems, is anxious for a verdict and for what they call "justice."
"We hope the verdict comes back guilty," Sepe said. If not, she warned, "People will go crazy. They'll be turning cars upside down and everything."
Only time will tell. In the meantime, the somber pilgrimage down Suburban Dr. continues.
PHOTO GALLERY
Caylee Anthony Impromptu Memorial
Calling all HuffPost superfans!
Sign up for membership to become a founding member and help shape HuffPost's next chapter