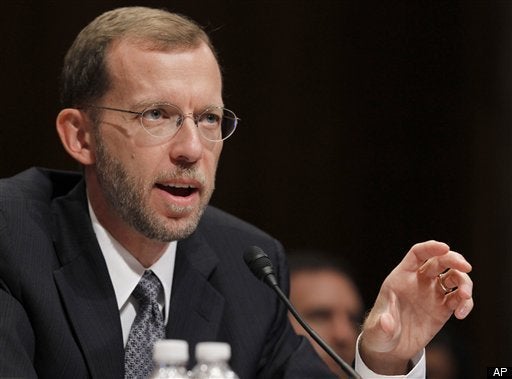 WASHINGTON -- Repealing health care reform will add $230 billion to the deficit over the next decade, leave 32 million fewer people with insurance and lead to higher costs for those who are covered, the Congressional Budget Office said in a letter to House Speaker John Boehner (R-Ohio) Thursday.
CBO Director Doug Elmendorf elaborated on the analysis in a blog post:
As a result of changes in direct spending and revenues, CBO expects that enacting H.R. 2 would probably increase federal budget deficits over the 2012-2019 period by a total of roughly $145 billion (on the basis of the original estimate), plus or minus the effects of technical and economic changes that CBO and JCT will include in the forthcoming estimate. Adding two more years (through 2021) brings the projected increase in deficits to something in the vicinity of $230 billion, plus or minus the effects of technical and economic changes.
House Democrats quickly pounced on the report. "The Congressional Budget [O]ffice confirms that just one day after taking over the House, the Republican rhetoric on fiscal discipline doesn't meet the reality test ..." Rep. Sander Levin (D-Mich.), the ranking Democrat on the House Ways and Means Committee, said in a statement.
The CBO has been touted by both major political parties as a key arbiter on the possible costs of major legislation -- as long as the office's conclusions bolster their case. During the health care debate that dominated nearly a full year of the last congressional session, then-House Minority Leader Eric Cantor (R-Va.) repeatedly invoked the budget office's figures in order to argue that health care reform was a bad idea.
"We have a better way," Cantor said in a Feb. 23 interview with ABC's "Good Morning America," referring to a GOP health care proposal. "We had a vote on our plan and it's a plan that is focused very squarely on bringing down costs and health care costs for the American people. ... Our House bill is validated by the Congressional Budget Office and will bring down health care insurance premiums."
In this case, however, Republicans took issue with the scoring, saying it didn't look at the full picture.
"There is no one that believes the Washington Democrats' job-killing healthcare law will lower costs, because it won't," said Boehner spokesman Michael Steel. "That's why we pledged to repeal it, and replace it with common-sense reforms that will actually work. As Budget Chairman Paul Ryan has noted, the CBO score excludes the $115 billion needed to implement the law. It double-counts $521 billion in Social Security payroll taxes, CLASS Act premiums, and Medicare cuts. It strips a costly doc-fix provision that was included in initial score. It measures 10 years of revenues to offset 6 years of new spending. Even the Administration's own actuaries have said it won't reduce the deficit."
Beyond 2019, the CBO estimates that repealing health care will continue to affect the federal deficit "by an amount that is in a broad range around one-half percent of GDP, plus or minus the effects of technical and economic changes that CBO and JCT will include in the forthcoming estimate." In the following decade, the office report concludes, "the effect of H.R. 2 on federal deficits as a share of the economy would probably be somewhat larger."
Repeal, which Republicans are planning to vote on Jan. 12, also carries bad news for the uninsured. Under the GOP's "Repealing the Job-Killing Health Care Law Act" (H.R. 2), the CBO estimates that 32 million fewer non-elderly Americans would have health insurance in 2019, resulting in a total of about 54 million non-elderly uninsured.
Premiums in the individual market may go down, the CBO acknowledged, but said that would be because "the average insurance policy in this market would cover a smaller share of enrollees' costs for health care and a slightly narrower range of benefits."
"Although premiums in the individual market would be lower, on average, under H.R. 2 than under current law, many people would end up paying more for health insurance -- because under current law, the majority of enrollees purchasing coverage in that market would receive subsidies via the insurance exchanges, and H.R. 2 would eliminate those subsidies," the office report added.
Premiums for employment-based coverage from large employers would also go up, the budget office concluded, while the effect on coverage from small employers is more unclear.
Ryan Grim contributed reporting.