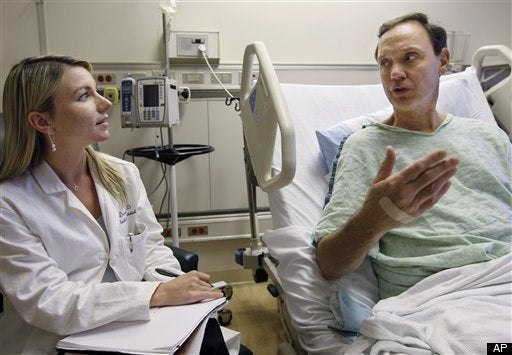 Comprehensive health care reform will cost the federal government $940 billion over a ten-year period, but will increase revenue and cut other costs by a greater amount, leading to a reduction of $138 billion in the federal deficit over the same period, according to an analysis by the Congressional Budget Office, a Democratic source tells HuffPost. It will cut the deficit by $1.2 trillion over the second ten year period.
The source said it also extends Medicare's solvency by at least nine years and reduces the rate of its growth by 1.4 percent, while closing the doughnut hole for seniors, meaning there will no longer be a gap in coverage of medication. The CBO also estimated it would extend coverage to 32 million additional people.
The CBO score is the last piece House Speaker Nancy Pelosi (D-Calif.) was waiting on before putting the puzzle together on the House floor. A contingent of Blue Dogs has been holding out support, insisting that the bill be fully paid for and not increase the deficit. The numbers give a major boost to Pelosi and her leadership team, which can now begin the whip count in earnest and can specifically point to the cost savings.
With the CBO score released, the Democratic whip team has a specific, thoroughly-analyzed bill to show to undeclared members who can no longer claim they are "waiting to see the language." Pelosi has very little room for error and needs to move nearly every undecided voter to a solid "yes."
Since the House last passed legislation in November, three Democrats who opposed it -- John Tanner and Bart Gordon of Tennessee and Brian Baird of Washington -- have announced their retirements, relieving them of some political pressure to oppose the bill. Pelosi may end up drawing on those exiting members for a cushion of support.
The reconciliation package that the CBO analyzed makes slight changes to the underlying bill. Subsidies for the uninsured to purchase insurance are increased and more funding is dedicated to community health centers. The excise tax on insurance premiums is scaled back so that it hits few families. The bill also demands a higher commitment from drugmakers, aiming to close the so-called "doughnut hole" -- the time that seniors must pay full price for medication. The pharmaceutical lobby has signed off on the increased commitment and will be running ads in Democratic districts in support of reform.
The reconciliation package, because of budget rules that limit its policy scope, does not deal with two contentious social issues: abortion or immigration. Anti-choice Democrats are threatening to kill the entire project over the abortion language in the Senate bill and Congressional Hispanic Caucus members are rebelling because of its draconian immigration provisions. The Senate language bars federal funds from paying for abortion, but doesn't go far enough, according to some Democrats. Undocumented workers would be barred from purchasing insurance -- even with their own money -- from private companies which operate within exchanges set up by reform.
The reconciliation package is headed for a Rules Committee vote on Thursday with a vote in the full House to follow. But before the House votes, it will require the commitment of 50-plus members of the Senate to agree to pass the identical bill. A Democratic Senator told HuffPost Tuesday night that Senate leadership had yet to begin whipping support for the bill because the language hadn't been finalized. Now it's been finalized.
The reform effort was jolted forward Wednesday morning, when Rep. Dennis Kucinich (D-Ohio), who was a firm no as of last week, announced that he would back the bill.
"This is a defining moment for whether or not we'll have any opportunity to move off square one on the issue of health care. And so even though I don't like the bill, I've made a decision to support it in the hopes that we can move towards a more comprehensive approach once this legislation is done," he said. "If I can vote for this bill, there's not many people who shouldn't be able to support it."
Anti-choice Democrats have begun to back away from their certain opposition over the last several days. Rep. Jim Oberstar (D-Minn.) has pledged to back the bill and Rep. Marcy Kaptur (D-Ohio), who opposes abortion rights, said on Tuesday evening that she is still considering voting for it. "That is one of the factors," she said of the Senate's abortion restrictions. "It is not the only factor."
It's not clear, though, what Kaptur's concern is. At one point Tuesday, she said that she didn't like the Senate language because it went too far beyond existing restrictions on federal funding of abortion. "The abortion issue is an issue for me in that I don't want to go beyond existing law," she said. "I view what was done in the Senate as going beyond existing law."
But at other times, she said that the Senate bill did not adequately ensure that federal money would not be spent on abortion and also cited federally-funded community health centers as a potential way such money could pay for abortions. HuffPost pointed out to her that such centers do not perform abortions. "Read the language," she insisted.
HuffPost asked Kaptur what the difference is between a federal subsidy of a private COBRA health care plan that covers abortion and a federal subsidy of a private plan under the proposed health care reform. In both cases, a consumer uses a mix of personal and federal money to purchase a private plan.
"Those are private choices [made by COBRA consumers] and the private plans that are out there, for instance federal health plans that we have: We've handled that separately. They can purchase it separately. They can purchase it separately. Keep the line as firm in the sand as you can and that makes me more comfortable," she said.
HuffPost noted that Kaptur had essentially just described the provisions of the Senate bill, which requires consumers to write separate, personal checks for abortion coverage. "I don't think what I've read in the Senate language is that," she said.
Kaptur, a social liberal, has a number of other concerns she said, including the absence of a public option. "When you take out the public option, when you take out the ability to negotiate prescription drugs, when you take out McCarran-Ferguson, when you take out the provision that I authored in the House in Title I to create regional, not-for-profit purchasing pools, where you can have hundreds of thousands of people aggregate and negotiate together on behalf of whatever their insurance plans are, you take the guts of that out."
UPDATE: The CBO score is here.
FULL TEXT OF THE BILL HERE:
Popular in the Community