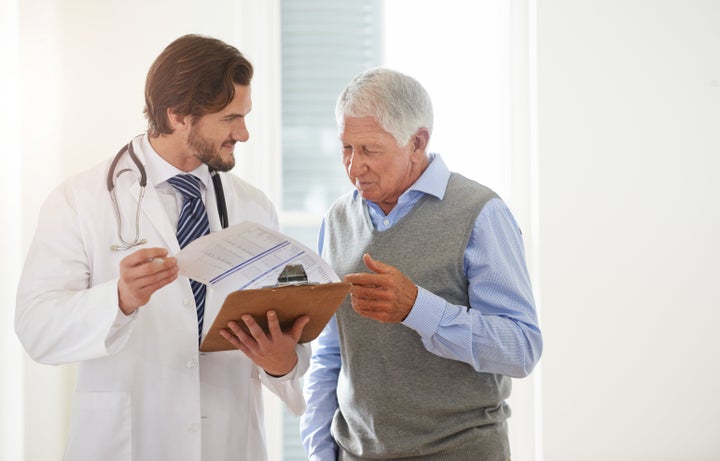 Sean Spicer said Russia and "some other countries" meddled with the U.S. election ― whether or not your country is on that list probably depends on how recently your ambassador was spotted in the lobby of Trump's Washington hotel. An animatronic Trump will deliver a speech in Disney's Hall of Presidents, making it the only time the guy has ever stuck to the script. And the CBO confirmed that the GOP health care plan is truly a job creator: By having to spend less time with all your recently deceased loved ones, you'll have more time to start a small business. This is HUFFPOST HILL for Monday, June 26th, 2017:
SOMETHING TERRIFIC - In the future, Americans will replace their insurance cards with pieces of paper that say FREEDOM on them... and then get tossed out of the ER. Jeffrey Young and Jonathan Cohn: "Twenty-two million fewer people would have health coverage over the next 10 years under legislation that Senate Republicans aim to bring to the floor for a vote this week, according to the Congressional Budget Office…. Senate Majority Leader Mitch McConnell (R-Ky.) wants the upper chamber to pass the bill, called the Better Care Reconciliation Act, as soon as Thursday. To date, five Republican senators have expressed opposition to the legislation." [HuffPost]
SCOTUS UPHOLDS TRAVEL BAND ― SORT OF - Willa Frej and Roque Planas: "The Supreme Court has agreed to review President Donald Trump's travel ban in October, allowing a limited version of the order to go into effect in the meantime. Individuals from the six Muslim-majority countries affected by the ban ― Iran, Libya, Somalia, Sudan, Syria and Yemen ― who have a bona fide relationship with the United States aren't blocked from entering the country. The court's order released Monday said a 'close familial relationship is required' for individuals who wish to live with or visit a family member. When the relationship is with an entity like a university, it must be 'formal, documented, and formed in the ordinary course, rather than for the purpose of evading' the executive order. As an example, they said, students and lecturers would have a formal relationship, as would someone who accepted employment with an American company. But it would not apply to someone who 'enters into a relationship simply to avoid' the executive order." [HuffPost]
The White House is now calling it a "travel suspension," as if foreign visitors merely have to wait a few days after a bench-clearing brawl: "President Donald Trump on Monday hailed the Supreme Court's decision to consider his travel ban as a 'clear victory' after the court said it will allow a watered-down version of the ban to stay in place until it hears the case in October. 'Today's unanimous Supreme Court decision is a clear victory for our national security. It allows the travel suspension for the six terror-prone countries and the refugee suspension to become largely effective,' Trump said in a statement. 'As President, I cannot allow people into our country who want to do us harm. I want people who can love the United States and all of its citizens, and who will be hardworking and productive.'" [HuffPost's Marina Fang]
Does somebody keep forwarding you this newsletter? Get your own copy. It's free! Sign up here. Send tips/stories/photos/events/fundraisers/job movement/juicy miscellanea to eliot@huffpost.com. Follow us on Twitter - @HuffPostHill
CRAPPY CHAIN STORE REALLY RUINING THINGS FOR LGBTQ AMERICANS - Thanks, Hobby Lobby! Adam Liptak: "The Supreme Court agreed on Monday to hear an appeal from a Colorado baker with religious objections to same-sex marriage who had lost a discrimination case for refusing to create a cake to celebrate such a union. The case will be a major test of a clash between laws that ban businesses open to the public from discriminating based on sexual orientation and claims of religious freedom. Around the nation, businesses like bakeries, florists and photography studios have said, so far with little success, that forcing them to serve gay couples violates their constitutional rights. The Supreme Court's decision, expected next year, will again take the justices into a heated battle in the culture wars. On one side are gay and lesbian couples who say they are entitled to equal treatment from businesses that choose to serve the general public. On the other are religious people and companies who say the government should not force them to choose between the requirements of their faiths and their livelihoods." [NYT]
WHITE HOUSE ADMITS FOREIGN MEDDLING IN ELECTION ― KIND OF - Hayley Miller: "White House press secretary Sean Spicer said Monday that President Donald Trump thinks Russia and 'some other countries' likely interfered in the 2016 presidential election. '[Trump] believes that Russia probably was involved,' Spicer said during an off-camera briefing. 'Potentially some other countries as well.' The statement, however, differs from the U.S. intelligence community's findings. Russian President Vladimir Putin was behind an influence campaign launched to tip the election in Trump's favor, according to a joint report that several intelligence agencies, including the CIA and FBI, issued in January. Spicer wouldn't say which countries Trump believes may have interfered alongside Russia and didn't offer evidence supporting the claim." [HuffPost]
HASC: PUT UP OR SHUT UP - Rebecca Kheel: "The House Armed Services Committee's version of the annual defense policy bill would require the president to give Congress his strategies for United States involvement in Afghanistan and Syria. The provisions in the National Defense Authorization Act (NDAA) are meant to ensure the administration follows through on its promise to give Congress an Afghanistan strategy and build off a previous bill's requirement that it give Congress a Syria strategy, a committee aide said Monday. For Afghanistan, Defense Secretary James Mattis has promised to deliver Congress a new strategy by mid-July that would include a troop increase of a few thousand to break what top generals have described as a stalemate." [The Hill]
CORKER RAISING A STINK OVER GULF ARM SALES - This will result in some fun FARA disclosures, no doubt. Elana Schor: "Senate Foreign Relations Chairman Bob Corker on Monday said he would block future U.S. arms sales to Saudi Arabia, Qatar and four other Gulf nations until a regional conflict is resolved. The Tennessee Republican announced his plans in a letter to Secretary of State Rex Tillerson Monday as the six-nation Gulf Cooperation Council remains wracked by internal disputes over anti-terrorism efforts and a Saudi-led blockade of Qatar…. The Senate voted 47-53 earlier this month against a bipartisan measure that would have blocked about $500 million in Trump administration weapons sales to Riyadh, with most Democrats and four Republicans registering concern over Saudi involvement in Yemen's bloody civil war." [Politico]
THINGS NOT GOING GREAT FOR REX TILLERSON - David E. Sanger, Gardiner Harris and Mark Landler: "Some in the White House say that the discord in the Qatar dispute is part of a broader struggle over who is in charge of Middle East policy — Mr. Tillerson or Jared Kushner, the president's son-in-law and a senior adviser — and that the secretary of state has a tin ear about the political realities of the Trump administration. Others say it is merely symptomatic of a dysfunctional State Department that, under Mr. Tillerson's uncertain leadership, does not yet have in place the senior political appointees who make the wheels of diplomacy turn. But criticism from Mr. Trump's aides is not Mr. Tillerson's only problem. In recent days, each of his top priorities has hit a wall. His effort to enlist China to force North Korea to give up its nuclear and ballistic missile programs has gone nowhere, as the president himself acknowledged last week. The Russians, angry about a congressional move to impose new sanctions, disinvited one of his top diplomats — leaving that crucial relationship at its lowest point since the Cold War.'" [NYT]
SOMETHING'S STINKY ABOUT RYAN ZINKE - Chris D'Angelo: "Interior Secretary Ryan Zinke has repeatedly stressed that when it comes to powering America, President Donald Trump's administration doesn't play favorites…. Indeed, Zinke's schedule and social media presence since assuming his new post hardly suggest he's giving everyone a fair shake. He's met privately with a slew of oil and gas executives, as well as spoken at industry conferences and a trade group's board meeting. On Twitter, he has posted often about fossil fuels. All this while virtually turning a cold shoulder to solar, wind and other renewables. 'Does anybody really believe the Trump administration isn't picking winners and losers?' asked Alex Taurel, deputy legislative director for the League of Conservation Voters. Like others in Trump's Cabinet, including Environmental Protection Agency chief Scott Pruitt, Zinke has shown 'a total pattern of favoring the dirty energy industry over the industries of the future,' Taurel told HuffPost." [HuffPost]
PRESIDENT TO SPEND EVEN MORE TIME IN FLORIDA - In a place that is even more out of touch with reality than he is. "Located in [Walt Disney World's] Liberty Square, the Hall of Presidents features animatronic robots of all previous U.S. presidents. Since Bill Clinton, every sitting president has recited a speech during the attraction. A report in May from Vice's Motherboard suggested that the Trump animatronic would be silent. However, Disney says it plans for Trump to speak. 'The same thing that we've done with other presidents, is the same plan we have for President Trump,' said Jacquee Wahler, vice president of communications. When asked if Trump would have a speaking role, Wahler said that he would. In May, during the opening of Pandora-The World of Avatar, Disney CEO Bob Iger told CNN that a script had been written for Trump's team to edit." [News 13]
Got something to add? Send tips/quotes/stories/photos/events/fundraisers/job movement/juicy miscellanea to Eliot Nelson (eliot@huffpost.com)
REAL LIFE. REAL NEWS. REAL VOICES.
Help us tell more of the stories that matter from voices that too often remain unheard.