When asked, "How do we begin to disrupt?" in a recent Entreleadership Podcast, Adam Grant quoted a line from his book, Originals: How Non-Conformists Move the World stating, "Every time we say, 'well this is the way we have always done it' …that becomes a huge barrier to creative disruption. Once you remember that these systems, rules and procedures were created by people, which means that they may not be the best way to organize things today, it gives you the curiosity and courage to ask, 'Is there a way that I could do this that is different and better?' That leads us to these moments that are the opposite of déjà vu. They are called 'vuja-de, or moments where we look at something that we have seen many times before, but suddenly we are seeing it with fresh eyes."
In continuation of a multi-month-long discussion about frustrations with the furniture buying process, on March 23, panelists reconvened at CBRE's Chicago office to seek this "vuja-de moment" as they looked at the contract furniture specification and purchase process that most in the room have been a part of their whole careers with fresh eyes. This session marked a key turning point in the process where the team shifted from defining and making sense of everyone's frustrations to figuring out what to do about it. It was no easy task.
Thoughtfully reinforcing why this change is needed, in a side conversation leading up to the mapping session, Heidi McClenahan, a Senior Project Manager with CBRE with a strong background in the architecture world said, "Architecture has changed, and furniture is trying to catch up. The way people work is fundamentally shifting. We still do traditional test fits to get the lease signed, but the space isn't being built from those anymore. We are now defining spaces 100 percent differently, and that is changing who needs to be involved in the process and when." Supporting this, dealer panelist Bernie Donaldson, President and Owner of Office Revolution said, "Today we are in a 60 percent ancillary world. That's a big shift from the 80-90 percent systems world our current processes were designed around."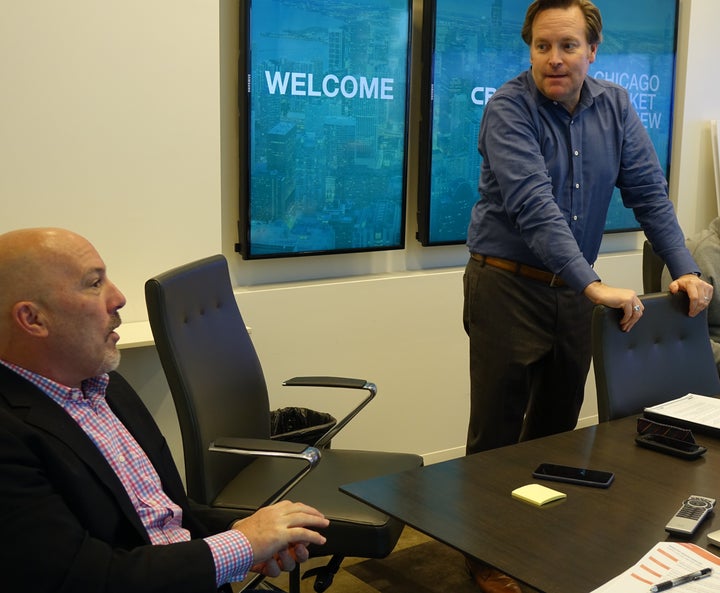 A few of the panelists had brainstormed in advance of the session and came with a map of a starting point for a proposed new process that the group could work from. This map was focused around an average size project that would be bid through an A&D firm. The first big change came from dealer panelist Russell Frees, EVP and Principal with Henricksen, who suggested we shift the name from a "new process" to "efficiency guidelines" saying, "No one wants to be told what to do, and frankly there is no requirement to take part in this. What we are brainstorming is simply a way we can be more efficient and optimize this process for our clients."
Frees added, "Having a growing office in New York for the past four years has given some perspective to the way different markets operate. And although many of the pain points are extremely similar, the guidelines for a more efficient solution may not be exactly the same for other markets." Julie Deignan, Director of CBRE Furniture advisory services noted, "Chicago has some of the lowest dealer margins and we hear that A&D fees here have been the slowest to recover since the downturn of 2008-2009 as well. It makes sense to start this process here in Chicago, but we fully expect that the end result will look different as we conduct this process mapping session in additional markets." CBRE plans to do the next session in Washington D.C. in the fall of 2017, followed by four additional markets in 2018.
Many described the first half of the meeting as "mayhem" and many wondered if the group realistically could get to anything meaningful at the end of the session, but as in many creative processes, by the end, some ideas began to congeal. These "efficiency guideline" solutions will be shared at the Furniture Form Panel Discussion on April 20. The team discovered that if they could fix the first half of the process map, including who was involved and when, the second half would flow much more seamlessly with very little change. Many compared the discoveries to changes that happened on the construction side of the industry decades ago. Christina Brown, Principal and Interior Designer with Eastlake Studio said, "We now bring Design, Engineering & General Contractors on board early to put all the necessary experts at the table. That onboarding process has adapted over time to become fair and competitive and I have to believe we figure out a way to make this work for the furniture scope, too."
As the session concluded, Scott Delano, Design Director with Wright Heerema said, "What has surprised me most about this whole process is that we all (A&D, Dealer, CRE and Manufacturers) really share the same core frustrations. I think that has helped us all 'check our egos at the door' to look for proactive ways to solve those frustrations by recommending changes to the process. It's not about me versus you, it's about our clients and how we can serve them better." Adding to that point, and recognizing that a) there is still work to do and b) there likely will be resistance to change, Jill Stewart, Director of Business Development with Haworth said, "We have to remember that these guidelines won't work for every RFP. As we present this, and test it on upcoming projects, we must focus on why this is better for our clients. If we can adapt to the changing world we live in and get stuff on time, to budget, with less wasted time and added cost in the process, it's a win for everyone."
The CBRE Furniture Forum: Unraveling Furniture Frustrations is sponsored by Bellow Press, publisher of Business of Furniture and Workplaces magazines; Allsteel, Knoll, Teknion, Herman Miller, Humanscale, and KI, and is facilitated by Contract Consulting Group.
This post originally published in Business of Furniture on April 4, 2017. It is republished here with permission.
About the author: Amanda Schneider, LEED AP is a trends researcher, blogger for the Huffington Post, and founder of Contract Consulting Group, a research-led strategy firm serving the Contract Interiors Industry.
As the author of this post, it is required that I disclose that Contract Consulting Group is facilitating the prep and process of CBRE's Furniture Forum event and is in a paid relationship with CBRE. The Furniture Forum is scheduled for April 20 in Chicago, Ill. and is by invite only.
Popular in the Community