What started as an industry-wide discussion in one market has extended, and the conversation is getting deeper and increasingly thought-provoking. But how do you drive change in an entire industry? One conversation at a time.
Survey results from the initial Chicago CBRE Furniture Forum indicated that more than 85 percent of attendees, which included Chicago's (and the industry's) best and brightest talent, said they learned something new, and 87.3 percent said they are likely or very likely to try something different in their own furniture process after this discussion. As a result, the facilitation team knew to press on to new markets.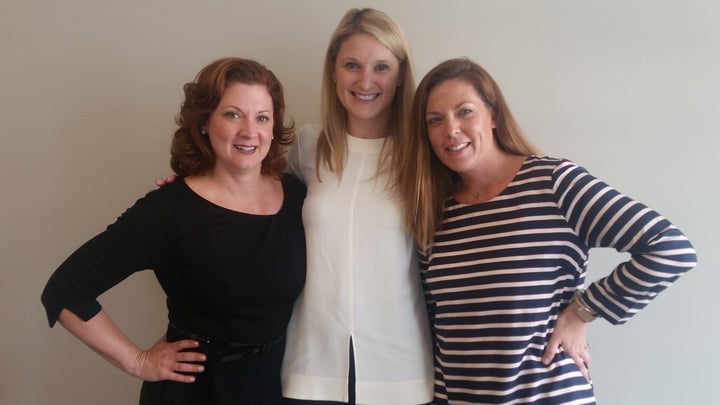 Today, the conversation is continuing with two additional events and extensive (anonymous) client interviews around THEIR pain points in the furniture buying process. Suzanne Maynard, partner with Contract Consulting Group (CCG) and key part of the client interview team said, "The client interviews are giving great data points to focus the discussion around new process ideas and solutions. We have been amazed to discover that the client struggle is not dissimilar to challenges expressed by our project teams and panelists."
Stemming from insights from these interviews, the CCG team has identified five key client pain points (so far) including:
CLIENT PAIN POINT 1: Pricing is confusing. Perhaps the biggest pain point is the idea that clients cannot compare apples to apples when it comes to pricing. Instead, they have to rely on 'industry experts' to know if they are getting a fair price. One client quipped, "Because of the volume of furniture and the amount of line items each piece entailed, there's no way I could verify our pricing was correct! I was at the hope and mercy of the dealer." Bob Fox with FOX Architects added, "If you go to a car dealership you go to look at the options, fully built. You don't get an invoice for four wheels, a frame, power this, power that, only to have to check each line item to be sure it's what you ordered. You just buy a model you like." While everyone recognizes the deep roots and history of the pricing model, it clearly is at the root of prevalent and extensive mistrust.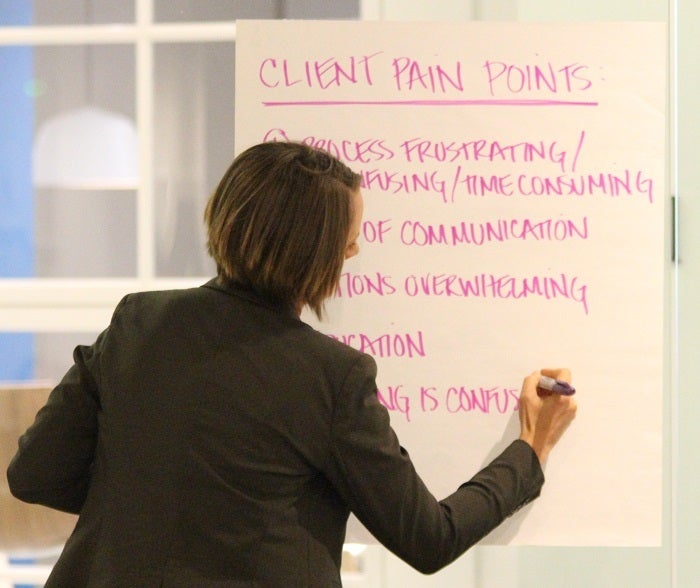 CLIENT PAIN POINT 2: The furniture process can be frustrating, confusing, or simply too time consuming. One client explained very simply, "I have a big job, of which furniture is only one part." While furniture may, by some measures, average out to be the second largest spend on a project, the data tells us it's proportionally much more time consuming than other elements of projects (at least today). Another client elaborated, "From what I have seen, furniture manufacturers often are brought in late in the process. They can't bring their best to the table when all they are doing is getting beat on price." The initial CBRE Chicago 2.0 discussions suggest that by partnering early, reconsidering the process for selecting our partners, and better defining team roles, we can make the buying process MUCH easier on our clients (and ourselves).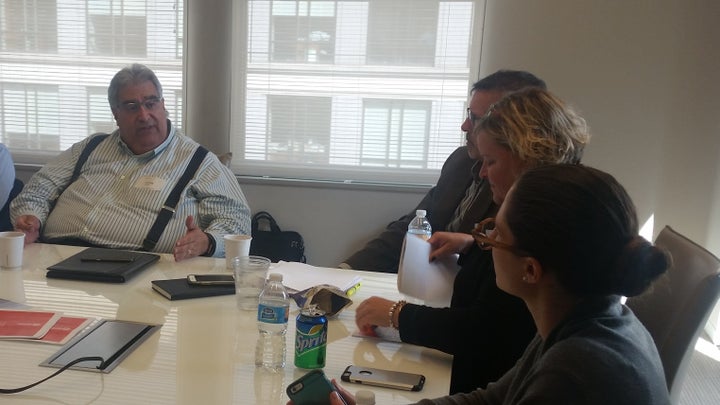 CLIENT PAIN POINT 3: There seems to be a lack of communication between those involved in the furniture process. Hearing that our clients see where breakdowns happen in our process has been a wake up call to many participating in the discussion. It leads us to the conclusion that we need to understand much more about one another. One client expressed his view as, "I have been asking myself where the process went wrong. The frustration is that no one can pinpoint an answer. There was a lack of communication between A&D, dealer, and the project manager. When I talk to others that [do this] regularly, it sounds like this is normal. It's not for me." Jud Buchanan, Principal at Washington Group Solutions, an aligned Teknion dealer said, "I, as a dealer/principal, am really impressed with the high-level discussions that this forum has produced. It was like a slap in the face when I learned how much we really didn't know about each other's disciplines. As a result, we have recommitted ourselves to our own internal processes and how they must be adapted to help provide the ultimate client experience."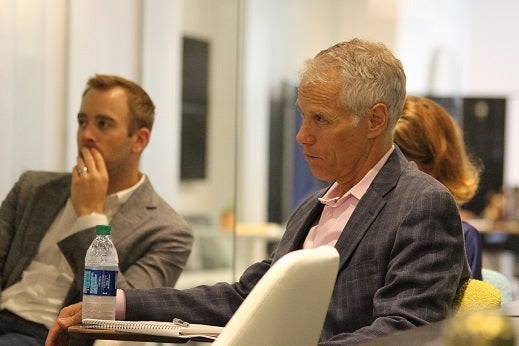 CLIENT PAIN POINT 4: The options can be overwhelming. As one client put it, "There is an infinite number of products and selections in contract furniture. In automotive, it stops somewhere. In furniture, it goes on forever." The challenge from a furniture standpoint is sharing those options, while not overwhelming our clients. Sybil Freedman, Project Manager at CBRE said, "People are very good at explaining what they have today, but not necessarily what they might really need. With so many options, how do we ask more questions to help our clients get the right solutions?" MUCH discussion in both groups centered around the furniture mock-up process and if, when, and how to leverage mock-ups to HELP the client select options, without confusing.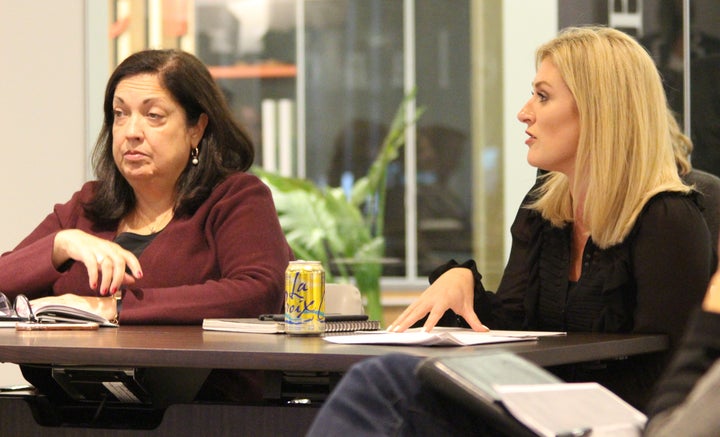 CLIENT PAIN POINT 5: I do not feel well educated. Many comments around this point seemed to stem from a compilation of issues related to the above-mentioned pain points. Many clients expressed their frustration with the feeling that they must have a certain level of industry knowledge and experience to understand furniture. With time for many projects seeming to get faster and faster, it is difficult to find the right balance of educating the client without (PAIN POINT 4) overwhelming them. Add to that (PAIN POINT 1) combined with mistrust around our industry-unique pricing model, and it has left many clients wondering what they may have done differently if they could do it all over again. David Corsones, Regional Sales Director with Herman Miller explains, "In my view, the industry is going to go one of two ways: Parts of it may continue to be further commoditized, but other clients will recognize that the interior environment plays a big role in the success of their business. It's our job to add value to their process and help them see the latter."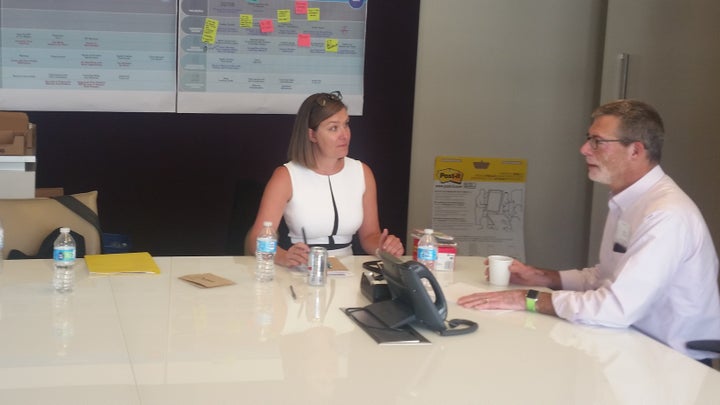 The CCG team is continuing to interview additional clients over the next few weeks. These client data points will drive the next two scheduled events, both of which will focus on ideas and solutions to improve the furniture buying process for our clients:
WASHINGTON D.C.; October 26, 2017 The first group to tackle these newly-defined client pain points will be a team of Washington D.C.'s movers and shakers, who already have begun the process with riveting discussions. While the Chicago team formulated their ideas into a map, the D.C. team is taking a much more direct problem-solution approach, and will be presenting these ideas on October 26, 2017 to a broad group of industry constituents.
CHICAGO "2.0" - November 9, 2017 Back by popular demand, Chicago is also hosting a "2.0 Discussion" on November 9. Attendees of the original panel discussion from April wanted to see new process ideas explored even further. Following the "1.0" event, forms were sent out requesting industry constituents of all walks, to try new elements of the efficiency opportunities presented. From those form submissions (and MANY side conversations), participants for a work session were selected to explore what's working, what's not and generate new ideas moving forward. Results of those discussions will be presented at the forum in November. Chicago 2.0 workshop participants included: Mel Kleve, Wright Heerema Architects Nathaniel (Nat) Porter & Theresa Williams, NELSON Diana Pisone, Ted Moudis Rick Joutras, Whitney Architects Jill Stewart, Haworth Lauri Bryck & Molly Ellingsen, Herman Miller Matt McCormick, OFS Brands Ashley Patel, Interiors for Business Bob King, Interior Investments Pat Turnbull, Kayhan Maura O'Mahoney Hart, Henricksen Heidi McClenahan, CBRE Sarah Goldsmith, CBRE Melissa Morris, CBRE
In summarizing both conversations, Julie Deignan, director of Furniture Advisory Services for CBRE said, "There are some things like dealer alignment and LIST pricing that are really at the root of many of the client (and our) pain points. While we strongly believe with shifts in the industry, it may be time to rethink those, we know this group can't change that. We are focused on changes we, as an industry CAN make. This will not be a prescriptive process that people are required to follow, rather, what it is becoming is a smorgasbord of options we can collectively learn from that will create a better client outcome."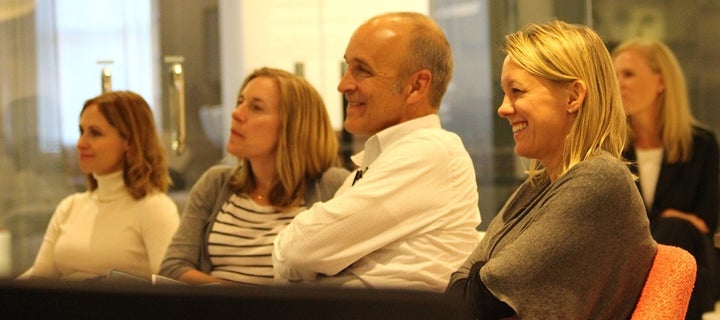 The CBRE Washington D.C. Furniture Forum: Creating a Better Client Outcome Gold Level sponsors include: Bellow Press, publisher of Business of Furniture and Workplaces magazines; KI, Knoll + MOI, OFS Brands, Teknion + Washington Group Solutions, and Allsteel + Staples and is facilitated by Contract Consulting Group.
The CBRE Chicago 2.0 Furniture Forum: Creating a Better Client Outcome Gold Level sponsors include: Bellow Press, publisher of Business of Furniture and Workplaces magazines; Knoll + Corporate Concepts, Teknion + Office Revolution, Haworth, KI, and OFS Brands and is facilitated by Contract Consulting Group.

Have you recently purchased contract office furniture? Or do you have a client who may be willing to do an anonymous interview with us? CCG is continuing to gather client data points and would love to speak with others about their experiences with the process. Rest assured that the data will be summarized anonymously and no names or details will be shared, not even with CBRE. Please email amanda@contractconsultinggroup.com to schedule your confidential interview.
This article originally published in The Business of Furniture, a division of Bellow Press, on October 11, 2017. It is republished here with permission.
About the author: Amanda Schneider, LEED AP is a researcher, blogger for the Huffington Post, and the founder of Contract Consulting Group, a research led strategy firm serving the contract interiors market.
Popular in the Community