After a year of studying the furniture bidding and buying process with cross-functional groups comprised of internal industry constituents in multiple cities and extensive client interviews, Julie Deignan, Director of CBRE's Furniture Advisory Services concluded, "It is clear that we have mastered the art of designing, producing, and delivering furniture, however, what we have not mastered is the client experience. That is where there is huge opportunity, and we, as an industry, can do better."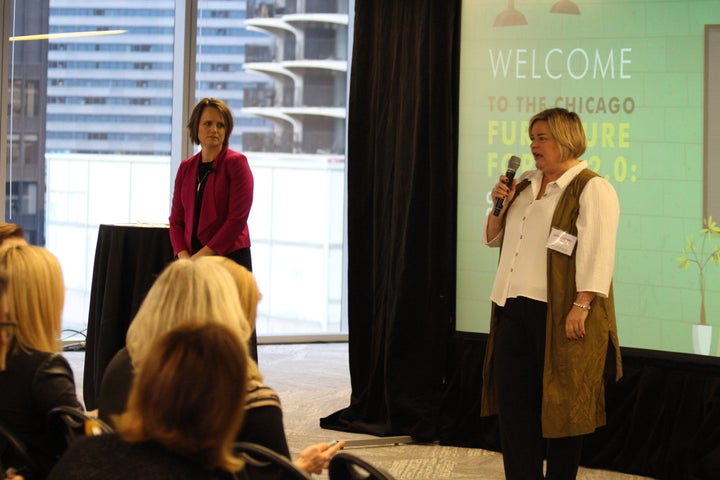 A mapping exercise in February of 2017 officially kicked off months of planning as cross-functional influential industry members in the Chicago market explored challenges with the current furniture buying process. The intent of the planning sessions was for the collective interiors industry to understand the pain points in the process and identify potential solutions. Their findings were presented to a group of 100+ key industry leadership on April 20, 2017 at the Chicago 1.0 Furniture Forum. More than 87 percent of attendees said they would try something new in their process, and many called for additional deeper exploration and discussion. So, due to popular demand, a second "Chicago 2.0" exploration was kicked off to expand on the findings with the intent of testing ideas and sharing best practices among a similar cross-functional group. Simultaneously, CBRE decided to explore another market, Washington, D.C. to determine if there were similarities in pain points and potential solutions. The answer was yes. While the discoveries of the initial Chicago group gave the D.C. group a great launch platform, the Washington D.C. group pushed the Chicago market to focus even more heavily on the client's perspective, advancing the understandings and ideas of both markets. The result was events in both Chicago and D.C. presenting a "toolbox" of ideas from which teams could select concepts that fit the needs for their unique client objectives.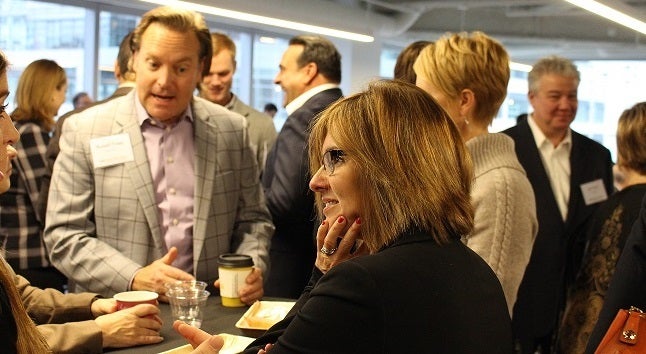 The Washington D.C. Forum on October 26 was comprised of 115 industry leaders representing project management, design, and furniture dealers and manufacturers.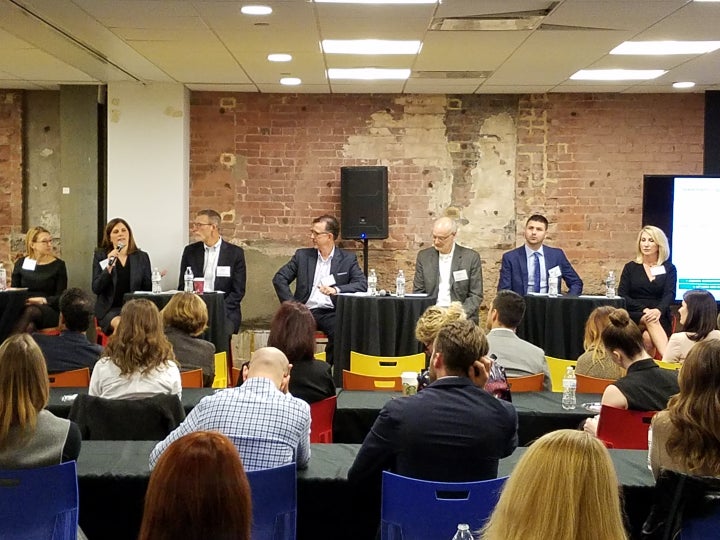 Panelist David Corsones with Herman Miller commented, "It occasionally can be difficult to get a room that packed in downtown Washington D.C. at 7:30 a.m. The crowd that was there demonstrates and emphasizes the interest in the topic." In a post-event survey 80 percent of respondents said they learned something new, while 87 percent said they would try something new in their own furniture process as a result of this discussion.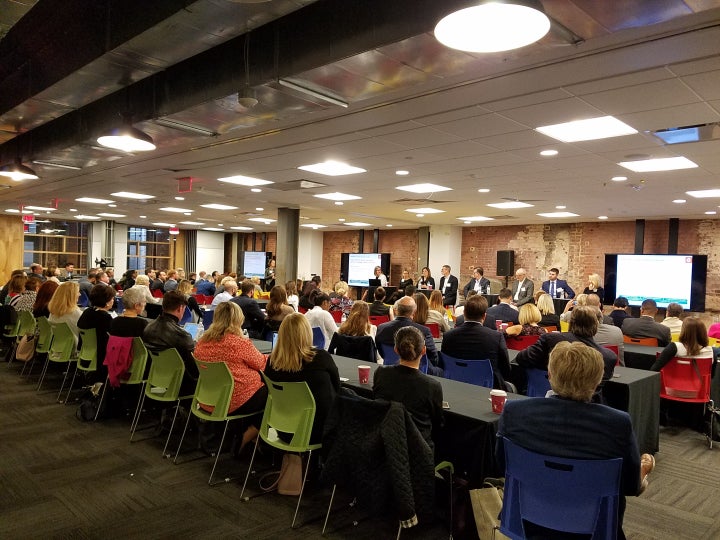 The ideas were presented not as a refined, prescriptive process, but rather as a "toolkit of ideas" from which each unique project team can select the options that make sense. Ideas were presented as a direct solution to each of five client pain points identified from extensive interviews from Contract Consulting Group's client interviews.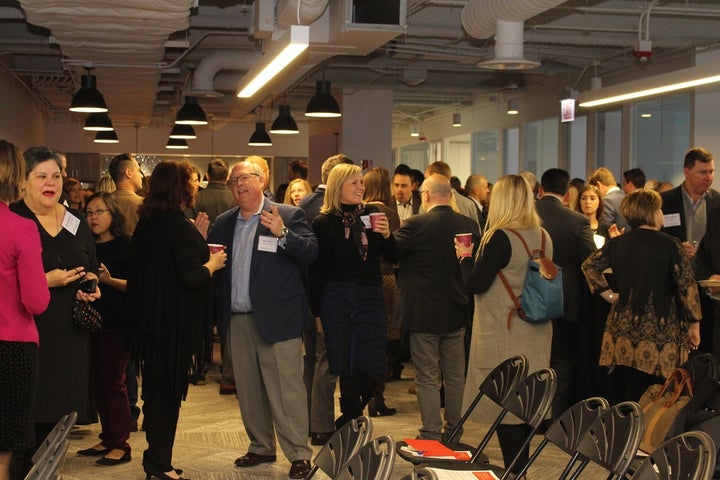 Ideas presented included:
- Communicate budget early. No one can hit a target if we don't know what we are aiming for.
- Provide a decision-making framework. Furniture is a complex process. We can do more to help our clients understand the scope and duration of decisions that will come as a part of this process.
- Onboard the dealer early (in Schematic Design). Consider a mini-RFP to reduce the number of bidders early, and thus the sheer amount of speculative work.
- Do a "people interview" based on chemistry. After all the other service providers leave, your dealer will still be there. It's important to find a service provider that a client connects with.
- Showroom tour post-initial interview/pricing. While showroom tours can be an overwhelming experience for most, by sharing pricing and people perspectives early, we can empower clients to make educated decisions.
- Replace mock-up with production mock-up. A production mock-up is done when products already are narrowed. This creates less waste, and can be leveraged to help the client make a decision instead of overwhelming them with early options that look the same.
- Dealer designer as "sub" to A&D firm. With complexity rising as ancillary becomes a larger piece of the floorplate while the "Amazon mindset" is shortening timeline expectations, an integral furniture expert is needed on the project team. It makes sense that this comes from the dealer.
- Speak in price per square foot. Common terms can help demystify a complex pricing system to give better context for decision making.
- Explore new pricing models. Learning from how the GC pricing model has evolved from project-based to cost plus, furniture could start exploring new options that place the value on transparency and service.
- Align team around key project objectives. We discovered that many individual players do "project charters" for their functional goals, it is rare that a cross-functional team creates a collective "charter" to align all players around client goals.
- Provide a menu of options (good, better, best). This can give context to the client for pricing decision and help narrow options efficiently.
- Empower the dealer to be a client advocate. By bringing the client in early and empowering them with information, the dealer can be a much better advocate for client needs.
- Present client goals directly to furniture teams. Often due to project hierarchies, furniture teams are kept at a distance and communication becomes a game of telephone.
- Leverage manufacturers to educate on trends. Enough said.
- Build shared perspective on industry roles. One of the biggest discoveries for most panelists in this process is just how little we know about one another's roles. By enhancing our knowledge on the whole process, we can elevate our value to our clients.
The full "toolkit" of ideas can be downloaded here.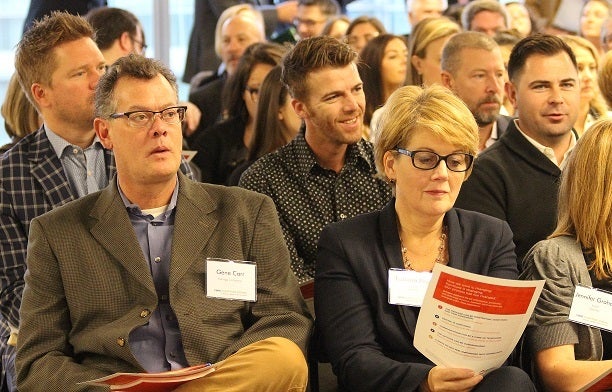 The goal of this conversation always was to drive conversation and open minds to how we can improve the process. To open the Chicago 2.0 discussion, Deignan began with a powerful exercise inviting those in the room to stand to indicate their involvement in the process. In a room of 200+ people including leadership from nearly every major furniture manufacturer, dealers, A&D firms, project managers, and two dozen clients, more than 95 percent of the room was standing. While D.C. presented many new ideas, the Chicago "2.0" group presented results of TESTING many of those ideas and subsequent results. Jill Stewart, Regional VP at Haworth, said, "It has been fascinating to watch the attitudes around this discuss change from resistance, to curiosity, to acceptance. We are still early on in our measurement of results, but my team has benchmarked six projects recently and found, on average, a 33 percent savings when leveraging some of these new techniques. This includes fewer changes and less rework to the product solution, tighter schedules, and measurable savings in time. While at first glance it seems like more time for the dealer if they are involved earlier, after digging in, we discovered that it's just more productive time up front and less speculative work. While we are still early on in our measurement of these changes, we believe that in the long run these shifts could help create tighter schedules and possibly even lower costs."
Scott Delano, Design Director with Wright Heerema adds, "With these techniques, we are able to truly empower our client to make better decisions. We have found that creating trust among teams leads to deeper thinking, ideation, and visioning, which gives the client a much better result." Pioneers of this process as part of the Chicago 2.0 exploration shared intermittent stories about specific projects where notable results were found by applying ideas from the toolkit. Presenters included Stewart & Delano, as well as Heidi McClenahan (CBRE project manager) and Theresa Williams (NELSON).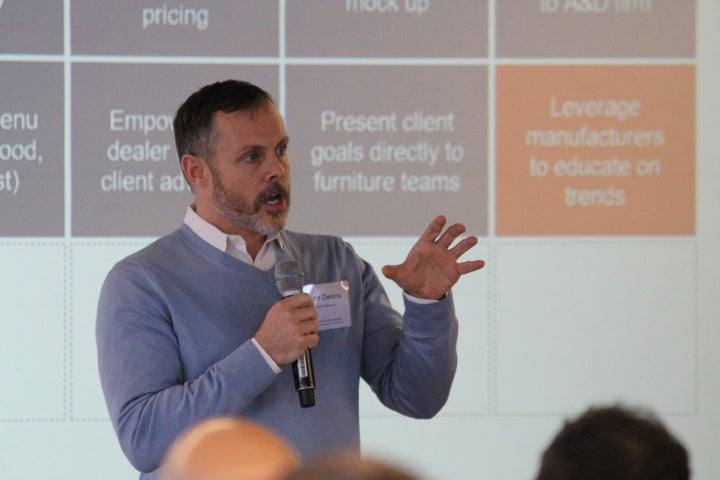 While initial survey results suggest that 98 percent of those who attended the "Chicago 2.0" discussion will try something new in their process, the creative thought can't stop here. Participants in both cities were prompted on the handout to add their ideas. We invite those of you reading this article to do the same. The things that really change the world, according to chaos theory, are the tiny things. A butterfly flaps its wings in the Amazonian jungle, and subsequently a storm ravages half of Europe. To quote author Kevin Michel, "Small shifts in your thinking, and small changes in your energy, can lead to massive alterations of your end result." We look forward to watching the change these conversations will drive on behalf of our clients and our industry.
This article originally published in The Business of Furniture, a division of Bellow Press, on November 15, 2017. It is republished here with permission.
We invite you to check out other publications who have recently written about the Forums, including Interior Design Magazine and Work Design Magazine.
About the author: Amanda Schneider, LEED AP is a researcher, blogger for the Huffington Post, and the founder of Contract Consulting Group, a research led strategy firm serving the contract interiors market.
Related
Popular in the Community