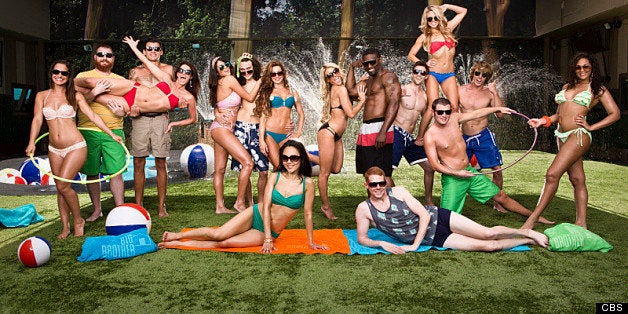 The full statement from CBS is below:
"'Big Brother' is a reality show about watching a group of people who have no privacy 24/7 -- and seeing every moment of their lives. At times, the Houseguests reveal prejudices and other beliefs that we do not condone. We certainly find the statements made by several of the Houseguests on the live Internet feed to be offensive. Any views or opinions expressed in personal commentary by a Houseguest appearing on 'Big Brother,' either on any live feed from the House or during the broadcast, are those of the individual(s) speaking and do not represent the views or opinions of CBS or the producers of the program."
Earlier this week, the "Big Brother" live feeds captured Season 15 contestants Aaryn Gries and GinaMarie Zimmerman making racist and homophobic comments about their competitors. "Dude, shut up, go make some rice," Aaryn said about Helen, an Asian-American contestant. Later, GinaMarie added, "Andy was like, 'I'm gonna punch her in the face,' and I was like, 'Maybe that'll make her eyes straight.'"
Speaking about Howard and Candice, two African-American contestants, the duo said: "Blacks stick together ... They're like tokens ... They're like black Barbie and Kens." The duo also said Howard and Candice's "blackness" was starting to come out.
They then worried aloud about Andy getting the MVP "because everybody loves the queers."
Former "Big Brother" contestant Ragan Fox has written an open letter to CBS calling on the network to air the racist statements on the show's CBS broadcast, to give viewers an accurate representation of their character. "What's the point of casting racial, ethnic, and sexual minorities if production's going to edit out the racism, ethnic discrimination, and homophobia that these people encounter inside the house?" he wrote.
"Big Brother 15" airs Sundays at 8 p.m. ET, Wednesdays at 8 p.m. ET and Thursdays at 9 p.m. ET on CBS.
PHOTO GALLERY
Summer TV Guide
Calling all HuffPost superfans!
Sign up for membership to become a founding member and help shape HuffPost's next chapter
BEFORE YOU GO