Even though CBS has been hitting home runs for years with prime-time shows starring straight white men, the network's entertainment chief admitted Wednesday that's not enough.
When it comes to diversity, "We need to do better and we know it," CBS Entertainment President Glenn Geller told writers at the Television Critics Association press tour in Beverly Hills.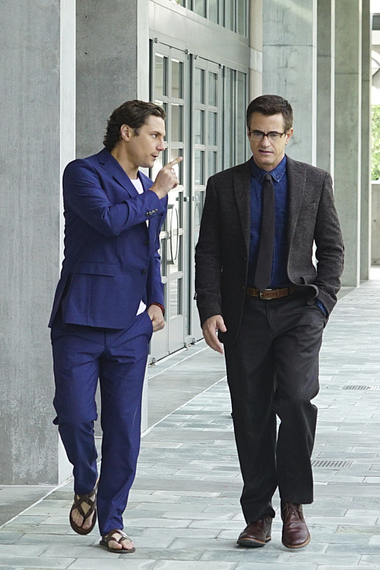 Geller came to the session with a familiar round of glowing statistics about the state of entertainment at CBS. It's the most-watched network, it was No. 1 last season among 18- to 49-year-olds, 2016-2017 advertising sales are "the strongest in years" and the network is rolling out new shows with stars like Joel McHale and Matt LeBlanc. (Above: Augustus Prew and Dermot Mulroney from the new Pure Genius.)
CBS is also jumping into the popular real-life crime retrospective genre with a six-hour series this fall on the murder of 6-year-old Jon Benet Ramsey 20 years ago.
But most of the questions Geller heard from TV writers centered on the fact that none of CBS's new prime-time shows has a lead character or a showrunner who isn't a white male.
Diversity is an issue that has reverberated through television in recent years, with NBC, ABC and Fox all touting their progress in representing people of color, women and LGBTQ characters.
"We're very mindful of diversity and inclusion," Geller said, and while he admitted "we are less diverse this year than last year" in lead characters, he said the network has made progress in its ensemble casting and in directors.
He said that of 16 new characters added to show casts since the network announced its fall schedule in May, "Eleven are diverse."
"You have to look both in front of the camera and behind," said Geller, saying that the progress in ensemble casting and directors shows that CBS takes the issue seriously.
But to a question whether CBS was actively looking for diverse representation, Geller said, "Sometimes our showrunners are diverse, sometimes they're not. We pick up the best pilots."
He noted that CBS has cast Justin Cornwell as the co-lead in the upcoming drama Training Day, which doesn't have a premiere date yet, and that more CBS shows have LGBT characters.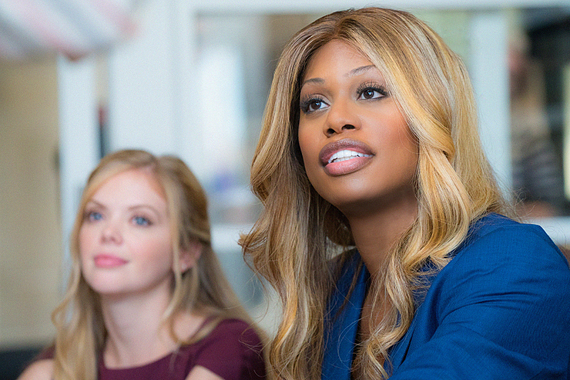 He particularly cited the drama Doubt, which will also premiere later this season with Laverne Cox (above) n its core cast.
"Laverne will be the first transgender performer to play a transgender regular," he said. "Things are shifting in terms of LGBT representation. There's more than ever before."
Elsewhere on CBS, the Jon Benet Ramsey series will premiere Sept. 18. It's described as a full re-examination of the sensational case in which the young beauty contest prodigy was killed. No charges have ever been filed.
The network also announced it has picked up Big Brother for two more summers, 2017 and 2018, and that it has renewed the summer series Zoo for 2017.
Geller declined to characterize negotiations for future seasons of The Big Bang Theory, but said, "We are very confident everyone will want more Big Bang Theory past year 10."
Big Bang anchors a growing comedy lineup on CBS, and Geller expressed confidence that three new sitcoms - Kevin Can Wait, The Great Indoors and Man With a Plan - will help rejuvenate comedy as a broadcast network force.
REAL LIFE. REAL NEWS. REAL VOICES.
Help us tell more of the stories that matter from voices that too often remain unheard.