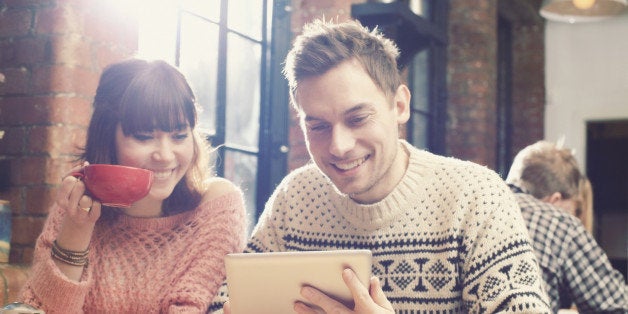 Your Facebook "likes" are about to do a lot more than just boost egos.
EcoMedia, a division of CBS, rolled out a new digital platform last Monday that lets viewers give funds to a host of reputable causes just by clicking through and sharing the site's uplifting content.
The disruptive model, called Viewers to Volunteers (V2V), works by channeling funds from its advertising partners to its nonprofit partners. The ad companies, in return, get an easy way to give back and a positive image boost, EcoMedia Founder Paul Polizzotto, who has spent nearly three decades in the nonprofit space, told The Huffington Post.
Polizzotto estimates that the initiative will bring in tens of millions of dollars for nonprofits annually -- without ever hosting a banner ad or a call to action.
"We engage in negative news, share negative news so much faster –- and what do we get? More negative news," he said. "Now, we're getting people accustomed to the simple idea: if you engage in positive content, you can make a positive impact in your local communities."
The concept appears to be a natural solution to the whole "slacktivism" issue. Millennials, mostly, have long been accused of just getting behind causes and hashtag movements from their screens, without actually making tangible contributions.
Currently in its beta phase, V2V launched in four U.S. markets and will initially support 11 well-known charities that address a number of pressing issues, including hunger, environmental issues and literacy.
Toyota's serving as its inaugural advertising partner.
The site will, however, feature videos about its corporate partners' charitable initiatives.
When the app launches nationally next month, viewers will be able to earn points, which will translate into donation dollars, just by watching and sharing the inspiring content that EcoMedia both curates and creates in-house.
The exact currency of each "like," click and tweet is still being determined.
And users will get a real-time dashboard that quantifies how their engagement is helping.
They'll find out, for example, how many meals they've just provided or how many guitars their involvement has brought kids involved in a music program.
It's also an opportunity to introduce young people who don't even get an allowance into the world of giving back.
"We'll be able to usher in the next generation of givers and philanthropists who might have their first giving experience as a result of this," Polizzotto added.
The most valuable points, Polizzotto said, will involve people getting up and volunteering with causes featured on the site.
While the content will be varied, Polizzotto noted, it will all zero in on community programs that have measurable impacts.
Now, for example, a video on the site profiles a former convict who got his first job ever baking bread through Homeboy Industries, an L.A.-based group that helps ex-gang members become functioning members of society.
Polizzotto is already in talks with other advertisers who are eager to get on board.
"The future of advertising is less about where they reach for you," Polizzotto said. "It's more about what they do for you when they do."
He plans on quickly expanding the nonprofit roster to include household names and grassroots community groups.
The goal is to get money to organizations that are a hair's breadth from completing critical projects and just need a bit more funding to close the gap.
The inspiration for this type of funding dates back to when Polizzotto first founded EcoMedia in 2001 and often saw struggling groups that needed as little as 10 percent more money to move forward.
"These projects were just sitting there," he said.
While the notion of giving users autonomy over how money is spent is a novel concept, EcoMedia has followed its model of donating a portion of its ad funds soon after its inception almost 15 years ago.
When he first launched EcoMedia as a nonprofit, Polizzotto would get frustrated when he had to "compete" with other organizations, with which he often had close relationships, for the same pool of grant money.
"I wanted to bring new money to the pie," he said, "not the same money divided up differently."
To take action on pressing poverty issues, check out the Global Citizen's widget below.
Related