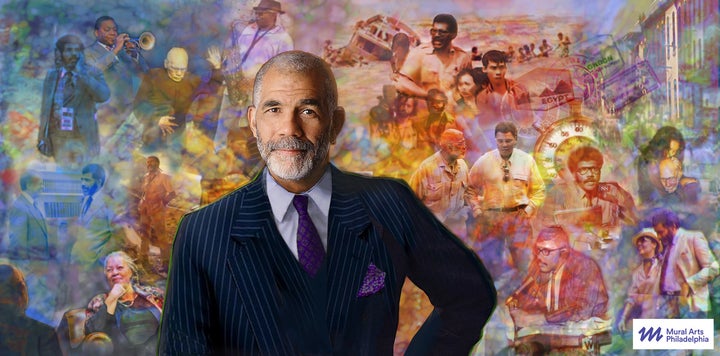 "Be prepared, work hard, and hope for a little luck. Recognize that the harder you work and the better prepared you are, the more luck you might have." - Edward Rudolph "Ed" Bradley, Jr.
I came across this quote while online preparing to write about noted journalists that attended an HBCU and are members of one of the "Divine Nine" fraternities or sororities. I had the quote stored in a drafted email of notes I compiled and it stood out in my memory recently as Bradley's spirit, life and legacy were celebrated throughout last week.
"He just had this integrity," 60 Minutes correspondent, Lesley Stahl, told CBS3's Don Bell at the CBS Broadcast Center in New York last week. "He wasn't going to be pushed around. If he objected to something it was always for the right reason," said Stahl, who also noted that Bradley "was really fun."
"He's as close to Walter Cronkite as you can get because he possessed a level of credibility that he earned over many years," 60 Minutes executive producer, Jeff Fager, told the students and members of the CBS 60 Minutes team assembled to help paint panels of Bradley's mural.
"Ed was an amazing man and a wonderful human being," Fager said.
I joined the Philadelphia Association of Black Journalists' contingent at the last minute, thankful I did. Along with CBS3, PABJ is a partner organization supporting Mural Arts Philadelphia, CBS Corporation and The Ed Bradley Family Foundation in honoring the legendary correspondent.
"I'm just an artist," Ernel Martinez told me once I settled into the window seat next to him and asked of his involvement. "I've been with Mural Arts for 15 years or so," Martinez said modestly.
After being welcomed aboard the bus by my father's colleague, Vernon Wade, Mural Arts' senior executive assistant and Central High School grad, Gaby Raczka, popped in a 60 Minutes special edition video remembering Bradley. I texted my pops about the irony and responded to texts from my Central High School classmate and friend, Nicole Fisher.
It dawned on me, and I informed Martinez, that there may be a connection between him and Fisher. Mural Arts has memorialized Dr. Shawn White, a HIV/AIDS advocate, hip-hop musician and the father of Fisher's son, Asa. Martinez humbly informed me that he and members of Mural Arts' Restorative Justice Program created the ASpire project and mural with White's close friend, Tariq "Black Thought" Trotter.
I began to pay more attention to the video, only to notice Ron Gault and Charlayne Hunter-Gault, a journalism trailblazer and pioneer based in South Africa, commenting on their relationship with Bradley. I chuckled as they spoke and another connection to Bradley was revealed.
"He was one of the biggest stars in the galaxy of journalists," Hunter-Gault said. "But Ed was still Ed, the guy we called Teddy, who performed with his tambourine with the Neville Brothers," she said about Bradley calling him "unassuming and a great, decent and caring friend who didn't wear the star status."
Altruistically going about his business, like the humanitarian he admired, I became aware of LeRoy McCarthy and his deeds shortly before we arrived in New York. The activist and brainchild behind honoring his fellow Cheyney University alum — Bradley was the keynote speaker at McCarthy's commencement ceremony in 1992 — I was eager to meet the Jamaica native and Brooklyn resident.
"I've always admired Mr. Bradley and respected him as a journalist and as a man," said McCarthy. Leading the effort to designate a portion of the road between Philadelphia's Monument Road and Presidential Boulevard as Ed Bradley Way, McCarthy "thought that there should be a marker stating that Ed Bradley was here."
Doggedly pursuing and securing support from Mural Arts, the Office of Pennsylvania State Senator Vincent Hughes, City Councilwoman Jannie Blackwell, Cheyney University Department of Fine Arts, Design & Liberal Studies and PABJ, McCarthy also received blessings from Patricia Blanchet, Bradley's widow.
"This is just great and a humbling experience," Blanchet said. Speaking with her during the New York trip, I told Blanchet I was fortunate to spend time with the Gaults in South Africa. She shared with me she was having dinner with them later that evening.
"This is truly a small world," said Blanchet, a photographer and active patron of the arts and education.
I pondered affirming Blanchet and letting her know how small the world truly is. While chatting with Martinez on the ride, I recognized a former Uber fare of mine. It was portrait painter and mural assistant, Kimberly Torres.
Dedicated to promoting "journalistic truth and integrity" through the mural and its ancillary educational programs, Blanchet aims to remind people of life virtues that guided Bradley: positive change, social justice and truth.
"Murals are really the autobiography of Philadelphia," said Jane Golden, Mural Arts' founder and executive director. At times joyfully jumping up and down with excitement and passion, while addressing the students and CBS brass at their office last week, Golden said "We need to honor our heroes in big, bold, tangible ways, and Ed Bradley is one of our heroes."
Over a series of community engagements led by Cathy Harris, Mural Arts' director of community murals, students and members of the public have painted six-by-six foot squares of parachute cloth that depict images and highlights from Bradley's life and career.
Celebrating the revered journalist's birthday over the weekend, the project's sponsors and partner organizations continued to prep for the unveiling of the mural which is scheduled to take place on the 11th anniversary of Bradley's passing later this year.
"When it's all said and done, it'll be so much more," said longtime PABJ member and the Philadelphia Police Department's director of strategic communications, Denise James. "The parts put together will have, as a whole, value that certainly goes beyond the stroke of any one brush."
Related
Popular in the Community