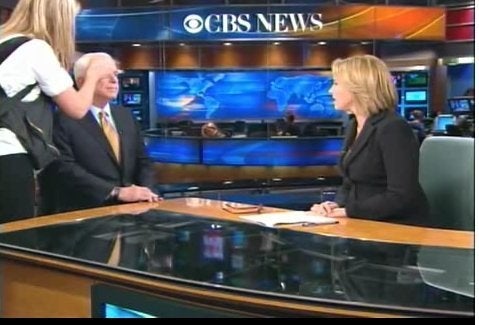 David Letterman vaulted himself into the headlines this week by mocking John McCain for canceling an appearance on his show only to show up on the CBS "Evening News" with Katie Couric. And in a classic stunt, Letterman showed the internal CBS News feed on his show to demonstrate McCain's hypocrisy.
The New York Post's Don Kaplan reports that trick didn't go over so well with CBS News executives:
Asked if CBS officials had a problem with Letterman using the internal news feed, a spokeswoman for "The Evening News" refused to address the issue.

But several CBS News executives - who asked not to be identified - said that the stunt did not go down well within the news division.

"If we had done something like that to him, someone around here would end up getting fired," one said.

News officials found out Letterman was using the internal feed shortly after it showed up on an internal CBS feed carrying the "Late Show" taping.

"They were pretty aggravated," a CBS News source told The Post.

"But they were not about to start a fight with Letterman," the source said. "We're in the middle of a heavy, heavy news cycle and Letterman is Letterman.

"He does whatever he wants and always has."
Letterman kept on McCain for a second night, saying Thursday, "I feel like an ugly date."
Support HuffPost
The Stakes Have Never Been Higher
Related
Popular in the Community