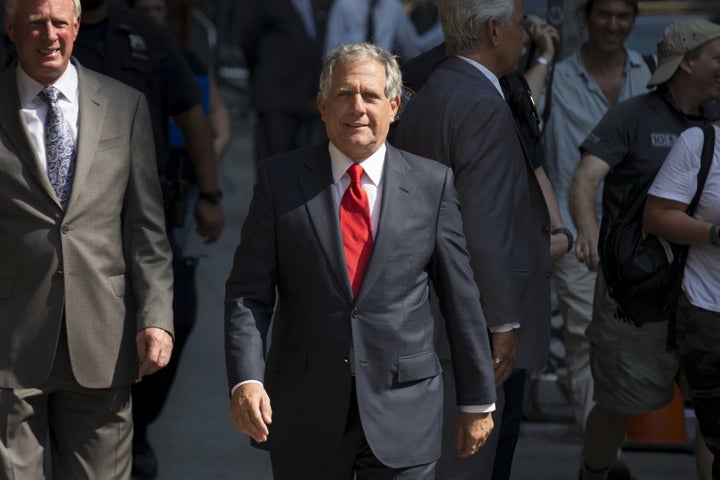 By Jessica Toonkel and Liana B. Baker
NEW YORK (Reuters) - CBS Corp's executives are talking to investment bankers about how their CEO and executive chairman, Les Moonves, can gain more control over the broadcaster after Sumner Redstone dies, or if he is declared mentally incompetent, said two sources familiar with the situation.
The New York-based company met with investment banks in recent months to discuss how it could buy CBS's voting shares from Redstone's National Amusements Inc, and collapse CBS's dual-class share structure, the sources told Reuters.
CBS and Viacom Inc both have dual-class share structures with 80 percent of their voting shares owned by National Amusements, a privately-held movie theater company controlled by the 92-year-old Redstone.
A seven-person trust, which includes Redstone's daughter Shari Redstone and Viacom CEO Philippe Dauman, will take over the voting shares owned by National Amusements when the ailing billionaire dies.
The trust may also take control if Redstone is declared mentally incompetent as a result of a lawsuit brought by his former girlfriend in California.
CBS, home to such shows as "The Big Bang Theory" and "The Good Wife" and premium TV channel Showtime, wants to review all of its options before the trust takes over, the sources said.
The discussions, which have not previously been reported, are preliminary and ongoing, said the two sources, who did not want to be identified because they are not permitted to speak to the media. Another person familiar with the situation said CBS has not formally hired an investment bank to review its options.
CBS declined to comment. A spokeswoman for Shari Redstone, who sits on the boards of CBS and National Amusements, also declined comment.
Uncertainty about Redstone's health has weighed on the shares of both CBS and Viacom. Redstone, who turns 93 next month, has not participated in a quarterly earnings call since 2014.
While Viacom's future and the drama surrounding the lawsuit have garnered more attention on Wall Street, CBS has been exploring its options for some time, the sources said.
CBS has had more serious conversations with bankers in recent months as concerns about Redstone's health have increased, they added.
Moonves became executive chairman of CBS in February, with the blessing of Shari Redstone.
A single-class share structure is believed to better reflect CBS's value, analysts and investors have said. But any offer CBS might make for the voting shares would have to be rich enough for National Amusements and other voting shareholders to accept.
"It would eliminate some of the uncertainty around the ownership and it gives Moonves greater control over his destiny," said one owner of voting shares of CBS, who asked to remain anonymous because he is not permitted to speak to the media. "I think it would trade better if it were one shareholder, one vote."
In September, Reuters Breakingviews estimated that ending the dual class structure at CBS could lift the U.S. broadcaster's value by a fifth
Whether voting shareholders of CBS would accept a deal to exchange their shares would depend on the terms, said Michael Cuggino, president and portfolio manager at San Francisco-based Permanent Portfolio of Family of Funds, which owns voting shares of CBS.
"I am open," Cuggino said. "I would be interested in seeing what the offer is."
The lawsuit by Redstone's former girlfriend, Manuela Herzer, questions his mental competence and claims Redstone is a "living ghost." It is set for trial on May 6.
Redstone's attorneys deny Herzer's claims and say she is seeking financial gain after Redstone revoked a part of his estate plan that would have given her a $70 million inheritance.
(Reporting By Jessica Toonkel and Liana B. Baker; Editing by Tiffany Wu)
Popular in the Community