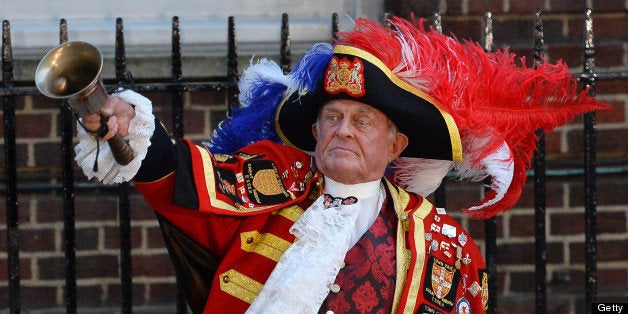 As the media frenzy surrounding the birth reached fever pitch, royal officials announced that they would follow tradition and hang an official birth notice on a gilded easel outside Buckingham Palace, which would reveal the baby's gender, weight and time of birth to the world. Networks had been planning for months, mulling over the best way to cover the birth notice leaving St. Mary's Hospital and traveling to the palace by car. Sky News had a helicopter on standby, and many networks had teams stationed outside St. Mary's Hospital and Buckingham Palace.
But shortly before 3:30 p.m. (EST) on Monday, plans quickly changed and news networks received a press release announcing that Kate Middleton had given birth to a baby boy about four hours earlier.
ABC News and NBC News interrupted their regular programming with special reports, while the cable news networks continued their ongoing royal baby watch coverage. Out of the broadcast and cable news networks, CBS News was the only network that did not break away from its regular programming to announce the birth of the royal heir.
NBC News announced special programming plans into the evening. The network will air a Dateline special titled, "A Little Prince" at 10:00 p.m. (EST), hosted by Natalie Morales, who has been stationed outside St. Mary's Hospital for days.

BEFORE YOU GO
PHOTO GALLERY
Kate Middleton's Pregnancy Style