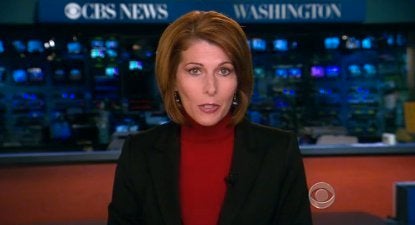 CBS News reporter Sharyl Attkisson did not attend Accuracy in Media's awards ceremony Thursday at CPAC, following days of questions from outlets like Politico and the Washington Post over her decision to accept an award from the conservative organization.
AIM editor Roger Aronoff, who described Attkisson's reporting on Fast and Furious as "courageous," informed attendees that she had been called away on assignment and couldn't accept the Reed Irvine award for Investigative Journalism in person. Attkisson was also scheduled to give remarks.
Media Matters, the liberal watchdog group, recently took aim at Attkisson for planning to accept the award from AIM, describing the group as a "widely discredited fringe organization." The organization called attention to anti-gay columns by AIM director Cliff Kincaid and sent sent a letter to CBS News president David Rhodes and Washington bureau chief Christopher Isham, advising them against having Attkisson attend.
"Indeed, CBS News can't control what another organization does or who it names as recipients of its awards, let alone a fringe group," Media Matters wrote. "But, CBS' decision to receive this award in person is troubling."
Isham apparently wasn't swayed by the letter. He accepted the award in Atkisson's honor and said that the network "is very proud of Sharyl's groundbreaking reporting."
Big Journalism editor-in-chief Dana Loesch, while accepting the Reed Irvine award for Grassroots Journalism, praised Attkisson, saying that "she told the truth."