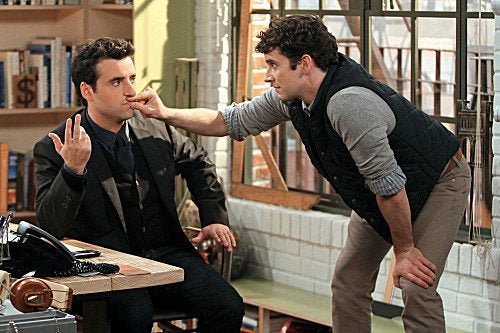 We've seen CBS's new fall pilots, and while they're not for review (things often change drastically before the shows are set to premiere), we do want to share our first reactions with you.
This quick guide is designed to get you excited for some new shows ... and to warn you to curb your enthusiasm for others. Just keep in mind that we'll have full reviews of the final pilots closer to airdate. For now, here are our snap judgments of all of CBS's new shows for the 2012-2013 TV season.
Here's how we broke them down:
Watch It - awesome show, can't wait for more
Skip It - it's either horrible or just totally not their thing
DVR It - there's potential, will give it a second chance
FALL 2012

"ELEMENTARY" Read more about "Elementary" and watch the trailer here Ryan: Skip It Once you've been Cumberbatched, you never go back.
Furlong: Watch It So I guess I just really love Sherlock Holmes. Love the movies, really love the BBC's "Sherlock" and I found this Americanized TV version pretty entertaining, though it's nowhere near as stylized or clever as its Brit TV predecessor. Note: I want more out of Lucy Liu. When you have a great actress in a lead, you should use her, dammit!
Etkin: DVR It Despite the fact that I struggled to understand a very fast-talking Jonny Lee Miller at times, he made for a wonderful Sherlock and his chemistry with Lucy Liu's Watson will probably bring me back for more.
Harnick: Skip It If "Monk" and "Law & Order: SVU" had a baby, it'd be the trope-filled "Elementary." I'd probably put this on as background while doing other stuff, just like I do with "SVU" marathons.
Moaba: DVR It Engaging and well-acted. Making Holmes a speedy recovering drug addict was a cool twist on an old story.
Weingus: Skip It Lucy Liu's character doesn't have any depth, and this show could use some ass-kicking.
"MADE IN JERSEY" Read more about "Made In Jersey" and watch the trailer here Ryan: DVR It It traffics in the ethnic and regional stereotypes that CBS loves so much (New Jersey women have big hair, didja know that?), but Janet Montgomery is charming and this legal drama is not bad. It's not necessarily my thing, but it's OK for what it is.
Furlong: DVR It We're being brutally honesty, so I'll admit that I probably won't be a regular "Made In Jersey" viewer. However. I found it surprisingly delightful once they got past the Jersey-ness of it all (oh really? Your sister's a manicurist so you know all about fake nails?), and I think Janet Montgomery is extremely watchable.
Etkin: DVR It This is "Legally Blonde" meets "Ugly Betty" and my head is still hurting from the horrible accents. I kind of enjoyed the case-of-the-week facet, but not enough to make it appointment viewing.
Harnick: Skip It With some retooling, this show could be watchable. Right now? I will happily avoid.
Moaba: Skip It Exceeded low expectations, just like the "Real Housewives"-looking main character does in the courtroom. (See what I did there?)
Weingus: DVR It "Made In Jersey" isn't great TV, but it's certainly a refreshing portrayal of Jersey-ites compared to "Jersey Shore."
"PARTNERS" Read more about "Partners" and watch the trailer here Ryan: Skip It Dearest Maggie, I must disagree with you about the THE WORST NEW SHOW OF THE SEASON. You picked the CW's "Cult," but in my humble opinion, this has to take the prize (yes, it's even more soul-killing than ABC's "The Neighbors"). I don't know whether I hate it more for its hacky, broad sitcom writing, for the way it aggressively traffics in stereotypes about gay men, or for Brandon Routh's wooden, anti-funny performance. I just know all of it makes me stabby.
Furlong: DVR It Holy hell my colleagues really don't like this one. Maybe I was tired when I watched (or, more likely, just emotionally beat down by all the other horrible shows in this new season's crop), but I laughed at a few things Michael Urie's character said, and that's more than I can say for some other upcoming "comedies."
Etkin: Skip It There is a running -- yes, running -- heart on/hard on joke. Enough said.
Harnick: Skip It A running joke has a character wearing a heart pin and saying he has a "heart on." Get it? Groan.
Moaba: Skip It Not as bad as some of the worst comedy pilots of the season, but it's a low bar. I appreciated the use of the word schmeckle, but that was about it.
Weingus: DVR It It's light, airy and very watchable if you're in the mood for some mindless TV.
"VEGAS" Read more about "Vegas" and watch the trailer here Ryan: DVR It I enjoyed this retro crime show more than I thought I would, and I might actually watch it again, given how good Michael Chiklis, Dennis Quaid, Carrie-Anne Moss and Jason O'Mara are together. It's certainly way better than last year's retro offerings, "Pan Am" and "Playboy Club," though I don't know if it'll have any more staying power than they did.
Furlong: Skip It Can someone explain to me why all of these actors signed on for this? I was so bored by all of it -- the mobster, the reluctant lawman, the random motorcyclists -- and it's not nearly retro enough to get swept up in the '60 Vegas-ness alone. Sad.
Harnick: Skip It Who knew there was so much scowling in Las Vegas in the 1960s? Not my cup of tea.
Moaba: Skip It Michael Chiklis as a mob boss was the best thing this pilot had going for it, but Dennis Quaid's bad impression of Tommy Lee Jones in "No Country For Old Men" got a lot more screen time.
Weingus: Skip It If cowboys are really your thing, then go for it. Otherwise, you're better off without "Vegas."
Tell us: Which of these new CBS shows are you excited to see for yourself?
Check out our snap judgments of other pilots here, by network:
Check out more info and watch previews of CBS's new 2012-2013 shows here:
PHOTO GALLERY
CBS 2012 Fall TV Trailers
Calling all HuffPost superfans!
Sign up for membership to become a founding member and help shape HuffPost's next chapter
BEFORE YOU GO