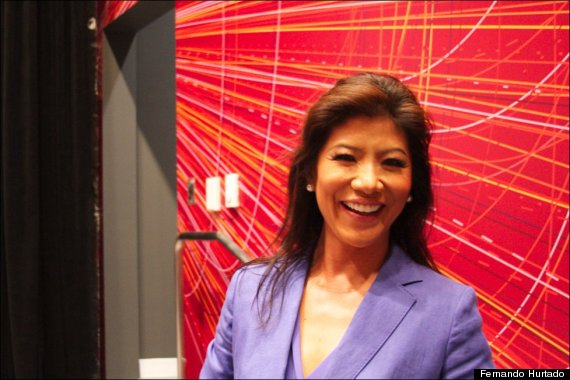 Julie Chen, one of the hosts of CBS' The Talk, the daytime talk show featuring only female panelists that surpassed ABC's "The View" in ratings for the first time ever this summer, visited her alma mater University of Southern California on Aug. 26 as part of a series of guest speakers inaugurating the start of classes at the Annenberg School for Communication and Journalism's Wallis Annenberg Hall.
When not hosting The Talk opposite Sharon Osbourne, Aisha Tyler, Sarah Gilbert and Sheryl Underwood, Chen is at Big Brother, also on CBS, which is now on its 16th season with Chen as the host.
Now a successful entertainment news personality, Chen talked about how far she's come from her Brooklyn roots and hard news background.
"My dream was always to host 60 Minutes," said Chen, referencing the Emmy-winning hour-long weekly newsmagazine known for its deep investigative journalism on CBS. "I always wanted to be journalist. If you had told me I was going to be a daytime talk show host in 20 years, I wouldn't have believed you."
After graduating from USC, Chen worked in production at KABC-TV in Los Angeles for four years before going to Dayton, Ohio to work as a reporter. She made the big move to the No. 1 market in the United States early on in her career when she was 27 years old, becoming a reporter for the CBS station in New York. Her career seemed to be heading in the direction of 60 Minutes until she got a call from CBS Entertainment.
A call from CBS executives ultimately "obliged" her to take on a job as host of the first season of Big Brother in 2000 while still working at WCBS. The thought of working simultaneously as a TV personality in hard news and reality TV host didn't sound easy, and it sure wasn't, says Chen.
"The first season was a mess," said Chen. "I was horrible. The show was horrible. None of us knew what we were doing." Critics started calling her out for blurring the line between entertainment and news and called to the president of CBS at the time to fire her from news and let her do entertainment for good.
That wasn't exactly how her entertainment news career kicked off. Chen continued to do both gigs in New York and California for awhile before going on maternity leave.
That's when the offer came to join CBS' answer to ABC's The View, a talk show that would feature celebrity moms' opinions on everything from Justin Bieber's latest snafu to rising milk prices. She accepted.
"I'm the only journalist on the panel," said Chen, now on her fourth season with the show. "And while my co-hosts do a great job as talk show hosts, I find that my newsroom experience really helped me. That's where I learned to be a good interviewer and listener."
"Be a good listener." That's the piece of advice she gave to aspiring journalists. "Know the first question you're asking [your subject] and then listen and respond. Don't go in with an agenda," said Chen.
And for aspiring talk show hosts and broadcasters, "go to acting school," she said. "The old people would kill me if they heard me saying this, but it's true. You learn about facial expressions, how to talk and how to present yourself."
Chen admitted that her years immediately following her graduation from USC were the toughest because she didn't have the confidence she should have had.
"I wish I would've had more confidence right after graduation," said Chen. "That's the piece of advice I would give you [students]. Be more confident. Dress up -- not down -- when going in for interviews, speak firmly and watch your posture. You've got to look like you belong in the No. 1 newsroom."
REAL LIFE. REAL NEWS. REAL VOICES.
Help us tell more of the stories that matter from voices that too often remain unheard.