NEW YORK -- Donald Trump did not appear Tuesday on "CBS This Morning" because the network wouldn't let him phone in for the interview, continuing a policy it's held on to for the entirety of the 2016 race.
Trump gave interviews Tuesday to four other TV news shows by phone, a strategy he's employed throughout the election cycle. It's a convenient way for Trump to blanket the networks, which, given his ratings prowess, tend to be accommodating. Trump also benefits in these settings from being able to talk over interviewers more easily than if sitting down face to face.
Executive Producer Chris Licht explained on Twitter that the show wouldn't similarly take the Republican candidate by phone.
Licht wasn't taking a stand Tuesday on a practice that's become routine this cycle when it comes to Trump. A network source pointed out that "CBS This Morning" has never taken Trump by phone.
Trump appeared in studio on "CBS This Morning" on Feb. 10 after winning the New Hampshire primary. He similarly visited the "Today" show set that morning, but appeared by phone on "Good Morning America," "Morning Joe," and CNN's "New Day."
On Tuesday, the Republican candidate appeared live on camera from Palm Beach for an interview on Fox 17, a local affiliate in western Michigan.
A CBS News spokesperson did not respond to a request for comment, and a Trump spokeswoman did not respond to a question about why Trump was unable to join the show by camera.
Trump spent 24 minutes across the four networks Tuesday, beginning at 7:07 a.m. on NBC and wrapping up around 7:40 a.m. on Fox News. He was scheduled to appear on CBS at 7:30 a.m.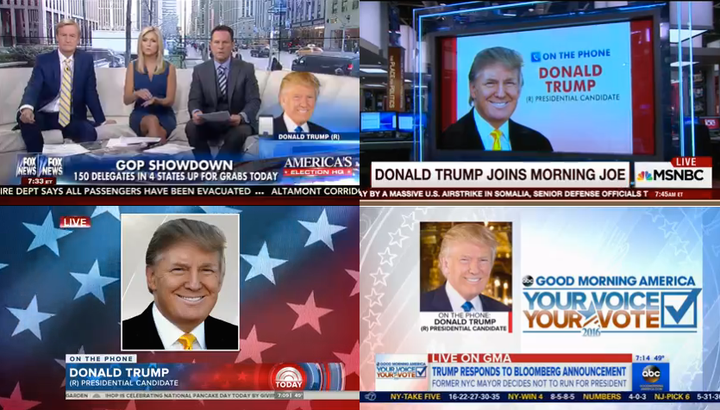 If Trump were calling from some far-flung part of the country, it would be one thing for the TV networks to take him however they could get him. But Trump, at times, has called into numerous shows from Trump Tower, which is located just blocks from the networks' studios.
"Fox News Sunday" hasn't allowed Trump to appear by phone, but the other Sunday shows have, including CBS's "Face the Nation."
"I think there's enormous interest in Donald Trump as a candidate," Mary Hager, executive producer of CBS's "Face the Nation," told HuffPost in September. "I think if he is only available for a phone interview, we need to be able to help our viewers out in understanding him."
TV executives have long defended the outsize attention Trump's received given his front-runner status and accessibility when compared with other candidates.
"Morning Joe" co-host Mika Brzezinski pointed out Tuesday that other candidates are similarly welcome to call in.
"If Hillary Clinton, Marco Rubio or Ted Cruz would like to call into the show, we would take their call at any time," she said. "Donald Trump has proved himself to be the most accessible candidate, like it or not, but don't blame us if the other candidates are not as accessible."
It's true that Trump is the Republican front-runner and accessible. But he's also been very good for ratings, and as CBS Chairman Les Moonves admitted last week, "damn good" for business.
Trump is well-aware of how his ratings prowess gives him leverage with the networks, allowing him to typically call in when desired.
"I go on one of these shows and the ratings double," Trump told Time magazine last week. "And that gives you power. It's not the polls. It's the ratings."
Support HuffPost
The Stakes Have Never Been Higher
Related
Popular in the Community