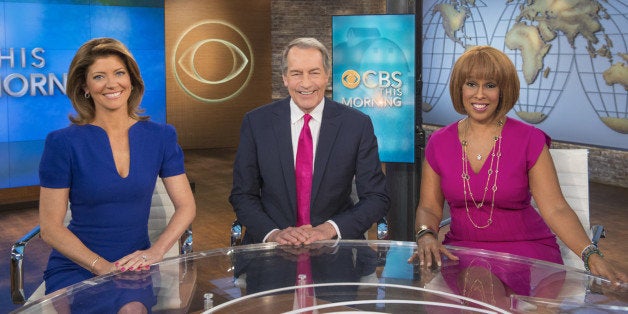 Friday marked the three-year anniversary of the launch of "CBS This Morning," a daily news program created in order to compete with morning show powerhouses like NBC News' "Today" show and ABC News' "Good Morning America." Co-hosted by Charlie Rose, Gayle King and Norah O'Donnell, "CBS This Morning" had a difficult mission from the onset -- to challenge two long-standing programs while attempting to bring harder news to the often-fluffy morning show genre.
"The news is back in the morning.""The sheer intent here was not to simply do something different than what other people were doing," Rose said during an interview with The Huffington Post Friday. "It was to recreate the morning, to take what was a fresh canvas and say, 'What is it we would like to do?'"
The answer has manifested itself largely in the show's tagline: "The news is back in the morning." The phrase has become something of a mantra among the anchors, and an editorial mission statement for the program.
"We do about 20 affiliate teases in the morning and we end every tease by saying the 'news is back in the morning' and it's really become kind of our banner phrase," said O'Donnell. "We say it and it's what we mean."
"I think we have a distinct identity in the morning that's in alignment with the values of CBS News," she continued. "In that regard, I think we've succeeded, although we know we have a long way to go."
While the hosts try not to focus too intently on the competition, they admit to keeping a watchful eye on the numbers ("Of course we care about ratings," said Rose) and take pride in what they believe to be a unique take on the morning show format.
"One of the best examples I have for you is we were doing the 40th anniversary of Watergate and on one of the other networks, who shall remain nameless, they were doing the Kardashians," King said. "Now, there's nothing wrong with the Kardashians, it just wasn't our particular sensibility on that particular day."
"The CBS tradition of original reporting and story telling still continues on 'CBS This Morning,'" she continued. "It's great when you can be part of something that is turning the ship around. And you can't put a price and you cant put a formula on chemistry."
The pairing of Rose -- a veteran talk show host lauded for his in-depth, one-on-one interviews -- with O'Donnell and King, however, may have struck some as an odd combination in the early days of the show. "You can't put a price and you cant put a formula on chemistry."But "CBS This Morning" executive producer Chris Licht says the chemistry between the co-hosts has evolved over the past three years in a way few could have anticipated.
"If you put these three names on a piece of paper and say these people are going to connect with each other and thus the audience in a unique and successful way, they would laugh you out of the room," Licht explained. "And I think that's why it has actually been successful, because you couldn't focus-group this."
While "Good Morning America" continues to lead in the ratings, "CBS This Morning" boasted one of their best fourth quarter viewer deliveries ever in December 2014, showing a promising future for years ahead.
"The program that we're doing is just beginning to have its possibilities fulfilled," Rose said. "Yes, it's been three years, but we're just getting up to the kind of speed that we think we can operate at, and we think a lot more will follow."


REAL LIFE. REAL NEWS. REAL VOICES.
Help us tell more of the stories that matter from voices that too often remain unheard.