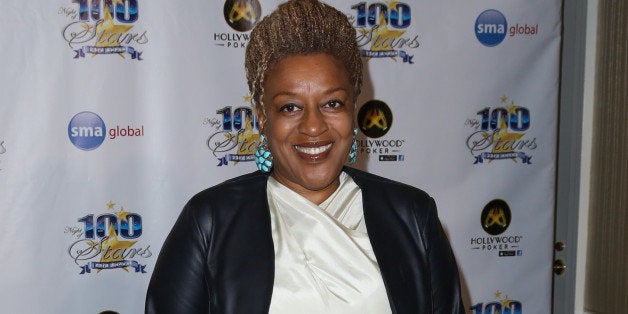 CCH Pounder has been lots of things throughout her career -- detectives, aliens, lawyers, doctors and so much more -- but chances are none of it would have happened if it wasn't for a childhood accident.
"When I was a kid, a pickleball hit me in the back of the head and I had memory problems," Pounder told The Huffington Post in a phone interview. "I was in a boarding school and the nuns gave me poems to remember, to try and get the memory going again. After a couple of weeks there would be a couple of nuns, and then four, then six, then it was like, 'Oh, I think they like me.' At first I thought they were checking on my accuracy with the words, but then I realized that they were being entertained. I liked it."
After her boarding school incident, Pounder, now 60, said she started doing poetry competitions and plays. Her feature film debut was as Nurse Blake in "All That Jazz." She said Bob Fosse held her hand throughout the process -- almost literally. "He was literally sitting right below me almost throughout my entire scene and giving me moment-by-moment activity of how to do this," Pounder said.
After showing Fosse her various Caribbean accents, he gave her the part, but she was resistant to take it. "He said something like, 'Look you silly little girl, let me tell you what this can do for you!'"
She did the job and returned to theater work for the most part. It wasn't until "I'm Dancing as Fast as I Can" in 1982 -- a role she fondly recalls as a favorite -- that Pounder said she started getting the hang of film acting. She credits the late actress Jill Clayburgh for that.
"By the time I got to LA with 'I'm Dancing As Fast as I Can,' I thought I knew so much. I remember saying to myself, 'Wow, Jill Clayburgh, she's not doing anything at all. I don't understand why they even cast her.' Here we were in a mental institution, we were over-the-top mad people, and when we saw the dailies I finally got to see the difference between acting in the theater and acting on film," she said. "It was clear, embarrassing, enlightening and Jill Clayburgh was sublime, exquisite. She didn't have to speak even because she was present and her eyes did all the work. It was one of my great acting lessons."
From there, she went on to do some of her favorite roles, including "Booker" and "Bagdad Cafe." In "Bagdad Cafe," released in 1987, Pounder played Brenda, the owner of a small truck-stop cafe.
"'Bagdad Cafe' was a film that changed many, many people's lives ... how they saw themselves and how they looked at their life situation," she said. "I thought I made a little movie. All the mail that I get is about how it changed lives and that's wonderful."
In the late 1980s, Pounder's career veered toward TV gigs. There were episodes of "Cagney & Lacey," "227," "Miami Vice" and "Hill Street Blues."
"When I first started, I played lots of victims, lots of broken women. I very quickly realized how powerful television was because of those roles and how un-empowering they were," she said.
Pounder said she went out for a victim role on "L.A. Law" and got it, but later called her agents and asked to read for the role of the judge instead. They balked, but she countered with a list of black judges in urban areas. She won the battle and was allowed to read for the role. "I remember the reactions: 'Oh, you can be a judge!' I said, 'Yes, I can!' That's how that started." She appeared in four episodes of "L.A. Law" as Judge Roseann Robin.
Since then, Pounder has played both sides of the law, from detectives to attorneys. "I didn't want to do the weak, unfulfilled, miserable crying, selling your kids for dope, being beat up by your husband types of roles anymore," she said. "I think as an actor it kind of stunts your growth in a funny kind of way because you've attained what you wanted, but you lose a little bit of the artist spirit, I think, when you choose to be an advocate."
The roles on TV stayed pretty much in the authoritarian realm, with gigs on "Cop Rock" ("You found that one, did you?," she said with a laugh), "ER," "The X-Files," "Law & Order: SVU" and, eventually, as a series regular on FX's "The Shield." Pounder was nominated for an Emmy for her portrayal of Claudette Wyms on "The Shield," opposite Michael Chiklis (pictured together, below). She said the beginnings of Claudette came from her roles in "The Disappearance Of Christina" and "Sliver," two projects where she played police officers.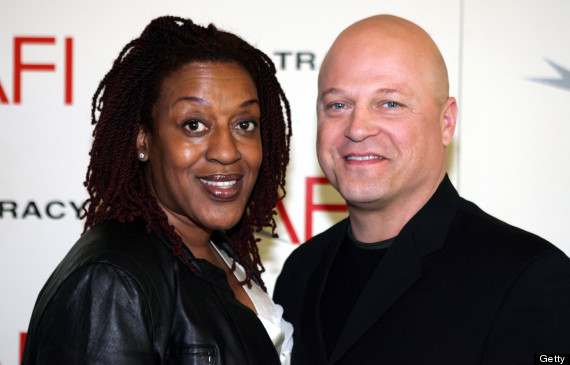 "Television has been very, very good to me in terms of character development," she said. "Yes, I have started a character in a film and finished her off on television ... Claudette Wyms came along and I thought, 'OK, now we'll get to see who she is as opposed to a cop in a trench coat.'"
It's her roles in "The Shield" and "SVU" that Pounder said she's most recognized for, but she also has an extensive resume of voicework credits, including "Avatar" and "Justice League Unlimited." She said it's not uncommon for her to be recognized by her voice.
"My shock is always that I'm recognized by my voice by 13- and 14-year-old boys," she said. "It's like, 'Huh? Hey, lady, are you Amanda Waller?' And I'm like, 'What!? You've got to be kidding me.' That actually blows my mind. I am recognized by my voice a great deal by lots of people, but the teenage boys always just throw me because I just never think in those terms that they'd be that clever, I guess. I hear this a lot: 'As soon as you opened your mouth, I knew who you were.'"
"I don't have a problem with recognition ... It's very, very rarely about who I am, it's always, 'I love your work.' ... It's always in relation to my work, which I think is a really lucky thing to have happen as opposed to, 'Oh, you're a famous personality,'" she said with a laugh.
When Pounder was a student in England, she made a list of accomplishments she hoped to one day check off. One item on the list: "I want to be a working actress." Check!
"I wanted to do roles that made a significant difference in people's lives," she said. "I believe I've done that because of the response I get when I walk into a room."
But she said she still doesn't consider herself successful in Hollywood.
"I'm not successful in Hollywood and I probably would never be," she said. "I think Hollywood has such an interesting model for success and it creates those successful people. I'm not in that chosen category, but what is successful for me is that, in spite of that, I've been able to work and do the things that I wrote down that I wanted to do and be. The only thing I never attained, I suppose, was sort of a financial freedom that I thought surely, by now, that would happen in a Hollywood way ... Whatever it works out to be, I can turn it into something really positive and I can make it work for me."
CCH Pounder can next be seen in Season 6 of "Sons of Anarchy," premiering Tues., Sept. 10, at 10 p.m. ET on FX.
Tell us: What is your favorite CCH Pounder role?
Calling all HuffPost superfans!
Sign up for membership to become a founding member and help shape HuffPost's next chapter
BEFORE YOU GO
PHOTO GALLERY
2013 Renewal Index: Canceled, Renewed & On The Bubble Shows