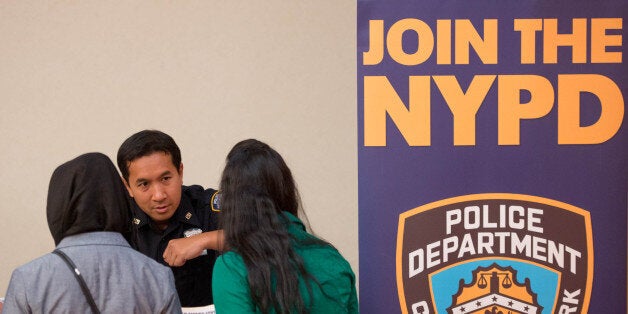 NEW YORK -- A civil liberties lawyer challenged members of a New York City Police Department oversight board on Wednesday over an apparent city investigation into a leaked stop and frisk memo.
At issue is a memo that allegedly hamstrings the ability of investigators on the Civil Complaint Review Board to investigate stop and frisks that occur when police are issuing summonses for minor violations, such as public consumption of alcohol.
Someone at the agency leaked the memo to New York Civil Liberties Union attorney Christopher Dunn, who raised it at a March board meeting. The city Department of Investigation apparently launched an investigation into the leak after that, and Dunn wants to know whether anyone at the board asked for the investigation.
"It would be a serious issue if the board, or the agency, or frankly the city were investigating people within the CCRB who made available to the public a policy memo about a significant police practice issue: namely the frisking of people in conjuction with a summons," Dunn told the board on Wednesday.
The CCRB is an independent city agency charged with investigating allegations of police misconduct. Board members oversee investigators handling civilian complaints who can then make recommendations for the police force about whether officers should be reprimanded. Between 20 and 25 percent of complaints to the board arise from stop and frisk encounters.
At Wednesday's monthly public meeting, Dunn said three different agency employees have told him the DOI is investigating the leak of the memo and challenged the board to explain how the investigation began. None claimed responsibility, and no one was willing even to acknowledge that an investigation is occurring.
"If there's an investigation, nobody is going to answer your question," board member Daniel Gitner said in response to questioning from Dunn. "Nobody here is going to comment on whether or not there is a Department of Investigation investigation, which by its nature is confidential."
Dunn shot back, asking why no board members were prepared to say there is no investigation.
The exchange became so heated that board member Alphonzo Grant at one point accused Dunn of standing "in a threatening manner."
Catapano-Fox said, "I haven't heard anything from DOI about an investigation." But she did not deny that one is underway, or that she knows about it. CCRB spokesperson Linda Sachs declined to comment, as did DOI spokesperson Diane Struzzi.
"There is nothing that is unlawful or improper" about leaking a policy memo, Dunn said, questioning why such an action would spark a city leak investigation.
"It is the longstanding instinct of people who run government to go after leakers," he told HuffPost.
The stop-and-frisk memo itself is dated January 28, just a few weeks after Mayor Bill de Blasio was inaugurated. It concludes that "a court is likely to determine that a frisk incident to a lawfully-issued summons for a non-traffic violation would be permitted under state and federal law."
That conclusion would seem to limit the CCRB's ability to substantiate complaints about stop and frisks. Last year de Blasio powered past his opponents by criticizing the NYPD for relying too heavily on the tactic, so the memo's conclusion would seem to be at odds with his general stance on the issue. Police Commissioner William Bratton has curbed the use of stop and frisk since his appointment, but he has not abandoned the technique altogether.
Dunn said he does not believe the memo represents a policy change coming from the new administration -- but he is surprised that the board has not specifically embraced or repudiated its conclusions.
"You would think that if there was any issue that the board would be paying attention to under the new administration, it would be things related to stop and frisk," Dunn told HuffPost. "Stop and frisk is the single biggest policing issue that the mayor ran on, and I would have thought the agency would have been very, very conscious about any position it was taking about stop and frisk."
The board's members appeared to take no position on the memo's conclusions during Wednesday's meeting. Board member Gitner said it was produced during the course of a single investigation, and applies only to that investigation.
"It's just one lawyer's opinion, and frankly a well-written memo, in the context of a single case," he said. "That's all it is, and it wasn't distributed. It's not, as you keep saying, some sort of recommendation to the board to adopt a policy."
But Dunn believes that with the memo being distributed within the agency, the frontline investigators who handle civilian complaints are effectively discouraged from aggressively examining allegations of unlawful stops when summons are issued.
READ: The Civilian Complaint Review Board's stop and frisk memo.
CORRECTION: This story has been corrected to reflect that it was board member Alphonzo Grant, not Daniel Gitner, who accused Dunn of standing in a threatening manner.
Popular in the Community