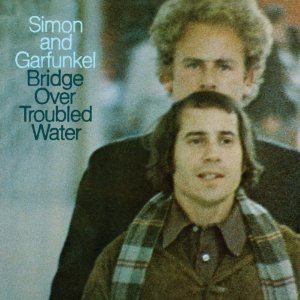 Yes, it seems like all the major record labels do anymore is package and repackage albums to get fans to buy them again. But every once in a while they take extra care with an important album and it does become an essential purchase for devotees and newcomers. What Springsteen fan didn't want to get the Darkness boxed set? And what S&G fan won't want to check this out?
The album of course is their crowning work. What makes this modestly priced CD ($15 on Amazon) a really good buy, however, are the extras. Along with the CD comes a DVD with more than two hours of bonus material. Songs Of America is a politically-charged hour-long special that aired on CBS right before the album came out. And The Harmony Game is an exceptionally good making-of documentary.
Of course, it begins with the music and as Paul Simon reveals the song that came first was "The Boxer."
A wealth of detail emerges in The Harmony Game. Producer Roy Halee tells a great story about setting up a drum kit in the hallway right near the elevators to get the booming sound that distinguishes that track -- and practically giving a heart attack to a night watchman in the process. The basic rhythm track for "Cecelia" -- hands thumping on blue jeans and an out of tune guitar -- was pulled out of a jam session Art and Paul had with friends on Blue Jay Way (the street made famous by George Harrison) when in Los Angeles during the summer of the Manson murders.
Many of the stories will be familiar to ardent fans. But what producer and director Jennifer Lebeau captures so well -- by interweaving archival footage with new interviews -- is the chemistry between the two, their shared sense of humor and give and take. Halee is handed his due as well, with both Art and Paul appreciating the ground-breaking work he did for them. (I love the image of Halee wandering through a recording studio and clapping his hands until he finds the echo he's looking for and know where he wants to place the drums and other instruments for a certain song.)
By staying tightly focused on the making of this album and going almost track by track over the recording, the movie neatly encapsulates their entire career. Even a grace note at the end is nicely handled: instead of a voice-over saying their breakup wasn't permanent and detailing their subsequent tours and the like, the movie just flash forwards to the concert in Central Park. This making-of truly is one of the best of its kind I've seen, especially for one simply offered as a bonus on a CD reissue. Now go make one for Joni Mitchell's Blue or Court & Spark.
Songs of America -- the TV special -- is more of a curio, but it's a fascinating one. It begins with almost an apology by the sponsor explaining that Simon & Garfunkel speak for the kids and have earned the right to tell us what they think -- in other words, don't blame the sponsor for what they're about to say. The film was conceived and directed by Charles Grodin (yes, that Charles Grodin) with Simon and Garfunkel. The sum total of his directing career up to that point was being fired from Candid Camera three times in a six week period. That's it. And yet, he helmed the special and CBS let Simon & Garfunkel deliver not a concert film or entertainment special, but a quiet, thoughtful look at their America, extolling Cesar Chavez, mourning JFK and Bobby and MLK (footage of Bobby Kennedy's funeral train was accompanied by "Bridge Over Troubled Water," the first time the public would hear the tune), showing a plane sky-writing a peace symbol in the air (during the Vietnam War, of course), and on and on. They sing a little and talk a little, but it's as much a tone poem about the state of the country as it is about them. It's simply not conceivable that anything similar would happen on a major network today. And it's also not bad, in a wistful sort of way. This sort of earnest fare can date quickly. Yes, Songs Of America is a time capsule; quite a good one.
And then there's the music. Plenty of stories are told about the title track: how Paul wrote it and knew right away it was special, how Art and Roy pushed him to write a third verse and make the song BIG, how audiences reacted to it when they performed it in concert before the album was released and thus were hearing the tune for the first time and so on. And yet I don't think anyone ever answered my burning question: who had the genius idea to take what was clearly a grand finale and put it at the beginning of the album? If ever there was a song that begged to be the final cut, surely it was this one.
It's funny. In the back of my mind, I've never liked the vague, odd lyrics in that third verse ("Sail on, silver girl...."). Intellectually, it bothered me, but emotionally of course I went for it every single time. Placing the song at the beginning of the album somehow worked brilliantly. But it did create the huge problem of deciding what song would follow it. The choice was Paul's precursor to his work on Graceland. "El Condor Pasa (If I Could)" is an existing tune he wrote English lyrics for; it's so other-worldly and quiet -- and yet with an insistent spirit -- that it eases you back down from the heights of "Bridge."
And then they're off. The romping "Cecelia" -- we learn from Paul -- blew the minds of soldiers in Vietnam with its reference to casual sex. The smarts of "So Long, Frank Lloyd Wright," the epic feel of "The Boxer," the sheer sonic beauty of "The Only Living Boy In New York," the joy of "Bye Bye Love" and the gentle "Song For The Asking" come tumbling one after the other.
Very few bands can walk away at the peak of their game both creatively and commercially. Obviously, the Beatles did it. So did the Police and arguably The White Stripes (though their commercial success was very modest compared to the others). And Simon and Garfunkel did it with Bridge Over Troubled Water.
Tell me, what's your favorite Simon and Garfunkel song? And can you name any other acts that chose to walk away from it all at their peak?
SOME BEST CDS OF THE YEAR/DECADE LISTS:
NOTE: Michael Giltz is provided with free copies of CDs or digital downloads by numerous labels to consider for review and feature coverage. He typically does not guarantee any coverage in exchange for these CDs and indeed receives far more albums than he ever comes close to covering in his various outlets.
Popular in the Community