Staff members of the U.S. Centers for Disease Control and Prevention (CDC) are continuously deployed to the countries affected by the Ebola outbreak in West Africa. We asked seven of them -- from infection control specialists to people helping to screen for potential cases -- to share their experiences working in these countries. For a full library of the CDC's photos from the front lines, check out its Flickr page here.
Katrin S. Kohl, Global Migration and Quarantine, Sierra Leone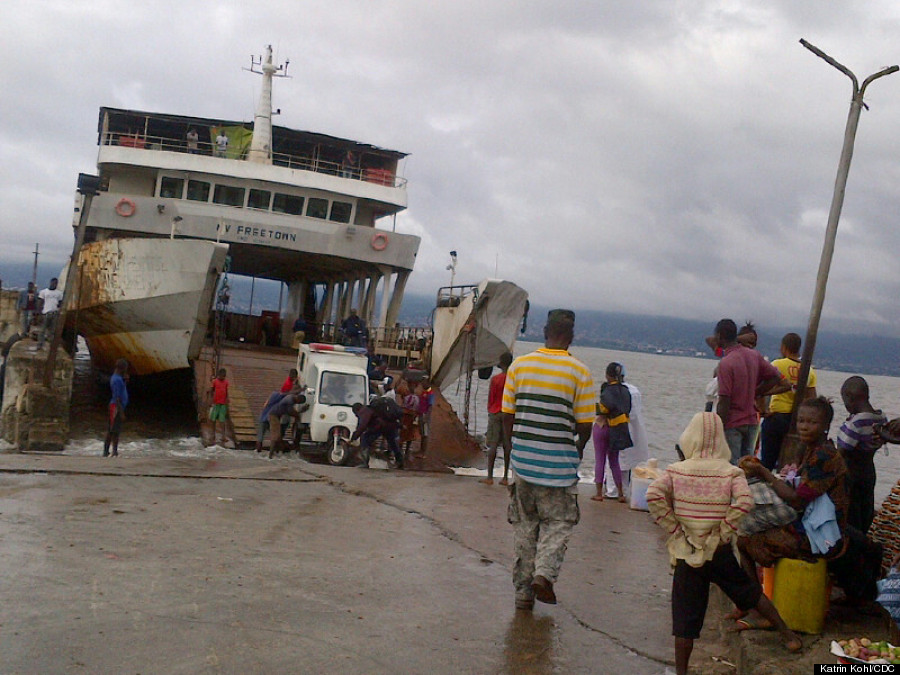 A tricycle ambulance is used to transport suspected Ebola patients during airport screening in Sierra Leone on Aug. 20, 2014.
This photo was taken to show the delivery of the tricycle ambulance donated by UAE [the United Arab Emirates] to Sierra Leone for the transport of "suspect" Ebola travelers from the airport to the nearby government-run hospital. There was no patient in the ambulance. The airport also has another ambulance, but they thought it was important to have another ambulance at the airport designated to transport suspect Ebola travelers from the airport to the hospital. The only international airport in Sierra Leone can be reached from the capitol only by ferry, or water taxi or a 3+ hour car ride.
On daily life in Sierra Leone:
My colleague and I would often leave the hotel at 6:45 a.m. to drive (with a driver) to the Ferry at Kissy Ferry Terminal to catch the 8 a.m. ferry to go to the airport. The ferry ride took an hour, and then it was another 30 minutes or so from the ferry to the airport. At the airport we would meet with people who performed entry and exit screening to identify passengers with signs or symptoms of Ebola or an exposure history (airport authorities, the civil aviation authority, aviation security, aviation ground handling, military, airline officials, Ministry of Health staff and medical doctors and students). Our role was to make sure that entry and exit screening (i.e. temperature checks and administration of screening forms asking for signs/symptoms and exposure history) was performed consistently and safely.
On the biggest challenges faced while working there:
The people we worked with were incredibly welcoming and grateful that we came to help and very open to any suggestions we made to further improve their exit screening program at the airport.
The biggest challenge to me was the overall exhausting way of life in the country. There are visible wounds from the civil war and the extreme poverty everywhere (e.g., burned down buildings, young men without hands or feet who were clearly children during the civil war, lack of reliable electricity or any electricity or lack of sufficient running water or any running water) and the difficulty of transport/traffic with bad roads.
On the most prevalent concerns expressed by the people of Sierra Leone:
I felt that the Sierra Leoneans we worked with were overworked and personally affected by the outbreak. No matter how hard they worked and how good the system was they had in place (for exit screening at the airport, and reports written by airline medical directors or us from CDC) airlines still pulled out, NGOs not working on Ebola were pulled from the country because of the international transport uncertainty, expats and locals alike were separated from family members who were sent out of the country, financial resources were dwindling at the airport as revenues diminished, shipping companies that are essential for the economic survival of the country began to pull out.
Doctors were also very concerned about patients not seeking treatment for many treatable illnesses. We were there during peak cholera and malaria season and the hospital close to the airport that normally is filled with patients with cholera or malaria during August was empty.
Jennifer Brooks, Border Health Preparedness and Response, Sierra Leone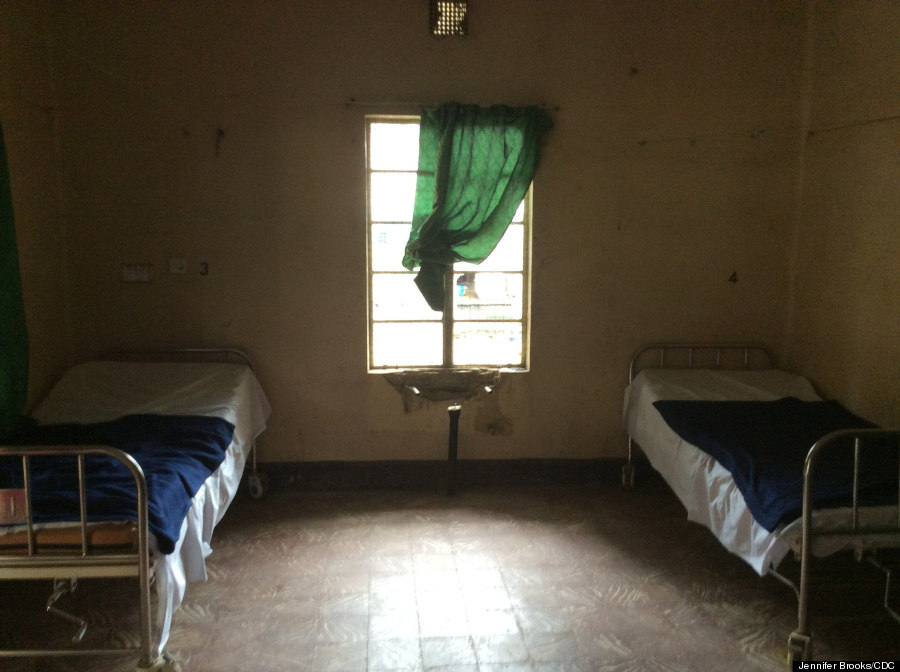 An observation unit for suspected Ebola patients who were awaiting test results at the Lungi Government Hospital in Lungi, Sierra Leone, on Aug. 14.
This was the initial observation unit identified by the Ministry of Health and government hospital medical staff to hold suspected Ebola patients identified during exit screening at the Freetown International Airport. After our team discussed the set-up and asked about access to private toilet facilities, the hospital made modifications and moved the unit to another location within the hospital. This quick response to a suggestion for improving their response speaks to the nature of the collegial relationship we quickly developed with our colleagues in Sierra Leone.
On the most prevalent concerns expressed by the people of Sierra Leone:
We (Jennifer and Katrin) were usually up by 5:45 a.m. to prepare for our long commute to the Freetown International Airport. There is no straightforward way to reach the airport, so on days we worked there, much of our time was spent in transit. Most days, we snacked on protein bars and other snacks we packed, as taking time for lunch required too much effort and took valuable time from our schedule. We are so used to our "convenience lifestyle," but in Sierra Leone, you can't "run out" to grab something for lunch -- convenience stores and restaurants don't exist in the same context that Americans know.
On the overall mood:
It runs the gamut. We worked with educated, committed, visionary colleagues. They were highly motivated to implement whatever it takes to curb the epidemic and restore economic growth to their country. They expressed frustration at the portion of the population who still believe Ebola is not real or who perpetuate rumors and myths or refuse to take action to address the epidemic. Airport and seaport authorities are frustrated and saddened at the prospect of years of hard work establishing profitable air and sea routes now lost and setting them back economically. They shared with us their strategic plans for contributing to Sierra Leone's growing economy and how the Ebola epidemic tragically disrupted these plans.
On what the American public needs to understand about this outbreak:
[It] would be great for Americans to understand there are vast differences in our health care systems in the U.S. and in West Africa and why the current epidemic there would not replicate in the same way here. I experienced some mild stigma upon my return from people who still don't fully understand what the disease is and how it's transmitted.
Rebecca (Bex) Levine, Epidemiologist, Freetown, Sierra Leone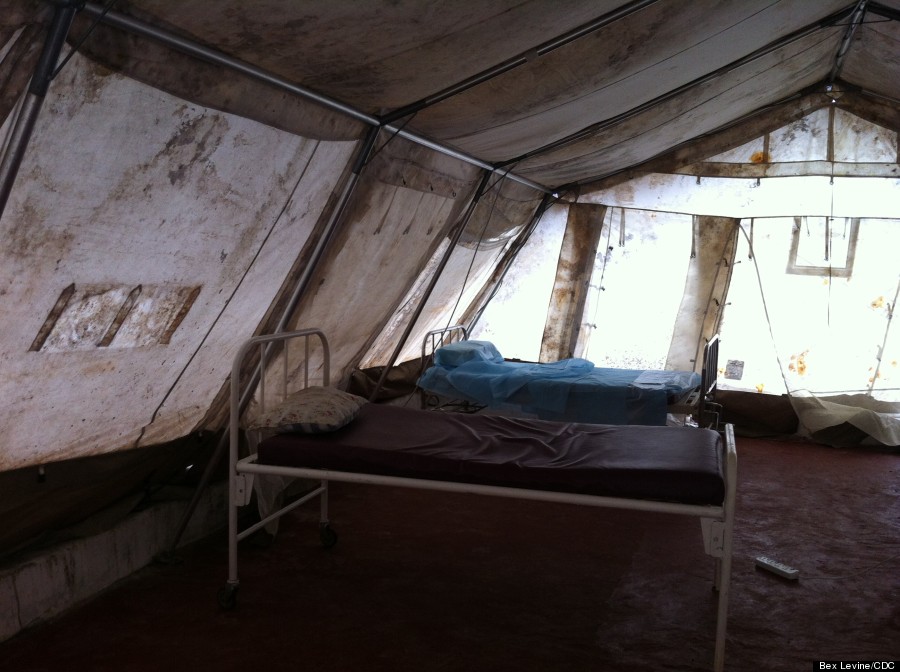 A new Ebola isolation center in Freetown, Sierra Leone, on Sept. 4. This will almost double the capacity for isolation that is currently available in the city.
This is a brand new 20-bed isolation center. The isolation and treatment centers are indeed very stark, so this is typical. They are little more than tents with small metal beds inside of them. There is no climate control, the temperature inside is warm and would be warmer once filled with sick people. It is very difficult for those of us used to the standards of care in modern medical facilities to imagine going to a clinic with these types of facilities to seek treatment for such a serious disease.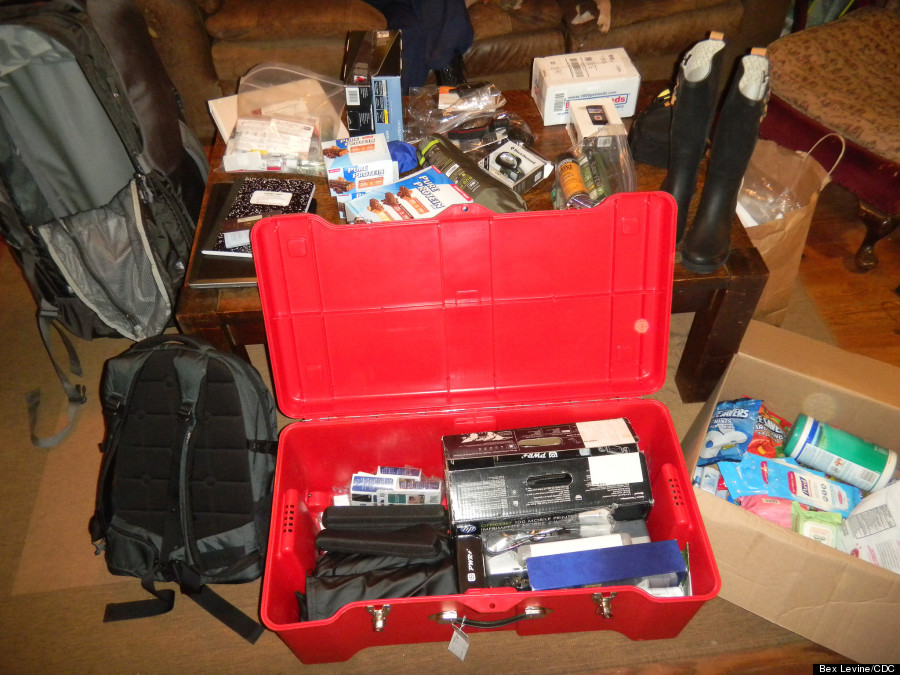 Some items Levine packed for her trip to Sierra Leone, including supplies from the equipment team in the CDC's Emergency Operations Center. Levine's personal items include boots, protein bars and some going-away gifts from friends.
In the red trunk are a printer, five handheld scanners and a lot of extra batteries, which are supplies I was asked to bring for use in the field. On the table is bug spray, sunscreen, a mosquito tent, headlamp, video camera, camera, handheld GPS, EOC laptop, water filter, bag of medicines, rain poncho, notebooks and an unlocked cellphone (for local use in country). There is also a bag of PPE (personal protective equipment: gloves, gowns, booties, respirators and face shields) next to the table.
On the overall mood:
The overall mood is grim. Everyone is working hard and trying to make progress, but also recognizing the dire need for resources -- particularly isolation and treatment centers each with hundreds of beds and trained staff (doctors, nurses, janitors, etc.) to run them safely -- which will allow us to start catching up with the pace of the outbreak.
On what the American public needs to understand about this outbreak:
I want the American public to know just how badly we need resources and personnel to help control the outbreak. There is tremendous effort being made by both international partners and dedicated health workers in Sierra Leone, but without the resources needed to communicate, move patients, house patients, care for patients, trace contacts and bury the dead, all of our abilities are limited.
Emily Jentes, Exit Screening, Guinea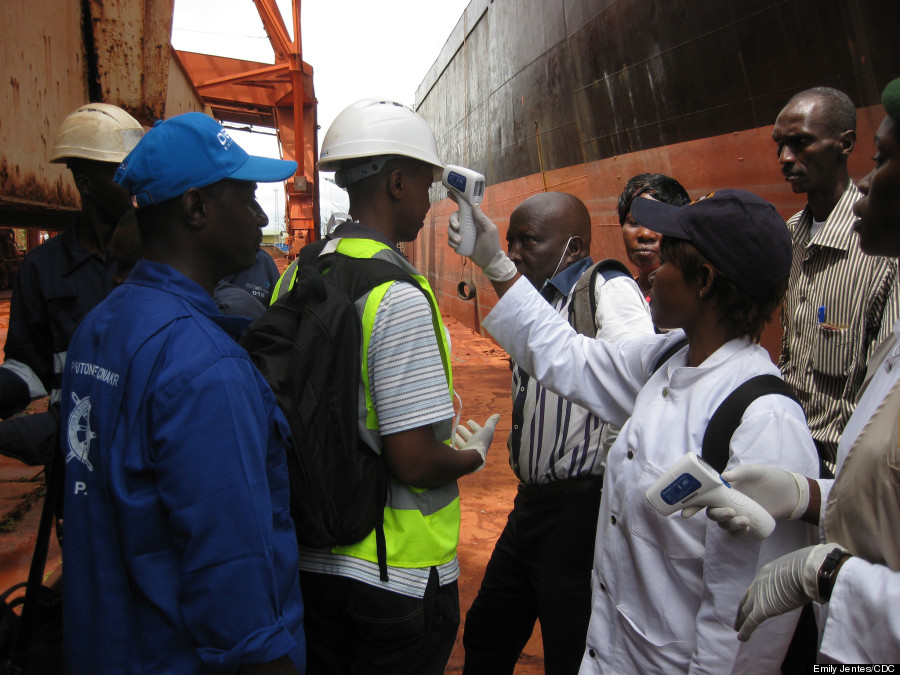 The CDC team observes health screening at the Conakry Maritime Port in Guinea on Aug. 24, 2014.
The Port of Conakry medical team is taking the temperature of port workers before the workers board a cargo ship. This medical team also takes the temperature of all port workers as they arrive for work. All personnel coming into the port are also required to wash their hands. Because of the Ebola outbreak, ship workers are not permitted to leave the ships while in port.
On daily life in Guinea:
We woke up around 7 a.m., had breakfast around 7:45 a.m. and were usually heading to the WHO [World Health Organization] office at 8:30 a.m. At the WHO office, we would print or send documents or work on logistical issues such as ordering posters or other supplies. At 9 a.m. we went to the airport, port or civil aviation administration for meetings with local Ministry of Health staff where we often reviewed and discussed protocols, needs or conducted training. If there was time, we would grab lunch at our hotel and then head back to the airport in the afternoons to observe the exit screenings during times of high passenger traffic. In the evening at the hotel we would have conference calls with CDC Headquarters in Atlanta or write reports. This work would usually go on until 10:00 p.m., 11:00 p.m., or midnight!
Ben Monroe, Health Communication Specialist, Liberia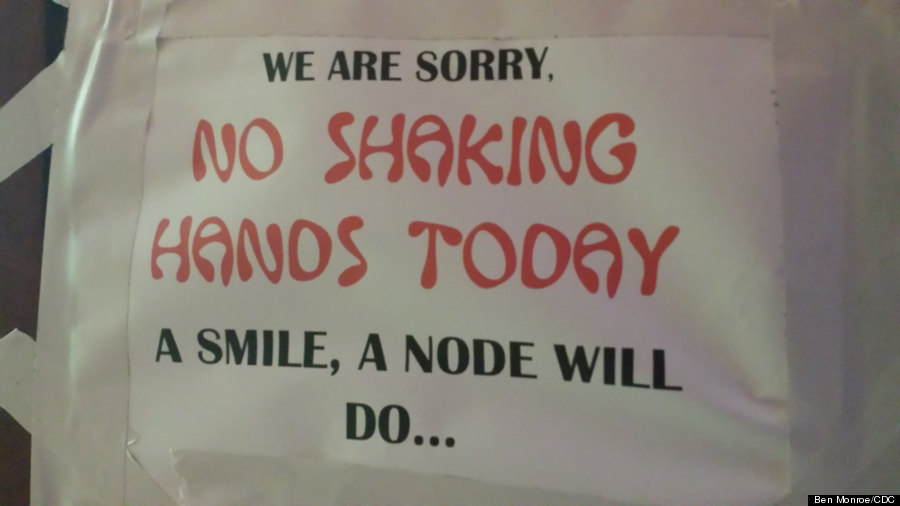 A sign posted at a Monrovia radio station on July 28, 2014. Hand-shaking is an important cultural tradition in West Africa that has been halted due to concern for Ebola transmission.
This was the only sign time I saw a sign posted like this, but this sentiment was omnipotent for most of my time in Monrovia. In my experience, handshaking is a much honored custom in West Africa. Business and traditional meetings often involve shaking hands with everyone in the room.
During my time in Liberia (late July to early August) people really started adjust their behavior regarding touch. There were lots of awkward introductions because nobody knew what to do with their hands. There was also a weird elbow bump that never caught on. MSF [Médecins Sans Frontières, or Doctors Without Borders] had a "no touching" policy that others (including the CDC) also copied. Newspapers and radio shows noted that taxi drivers crowded too many people in cars and buses. People sat with empty chairs in between them when possible. I heard (but never saw) that some churches were implementing spacing on pews. People left space if possible, but most cannot afford to ride in uncrowded cars. Funerals were also common and also brought lots of people together in close quarters.
On the overall mood:
I felt a dramatic shift in mood in Monrovia while I was there after several international medical staff members were infected and Patrick Sawyer traveled to Nigeria. It definitely shifted from being the government's problem to being everyone's problem. Businesses put up handwashing stations, police started wearing masks, government buildings were closed for disinfection, bodies started showing up in the streets, counties were closed and the ministry building was set on fire. Ebola posters covered the city, and it was all the radio talked about. There was a tangible sense of fear... yet many just went about their lives. Women continued to sell produce in the market, kids hawked goods on the streets and people traveled on crowded buses and cars. There was lots of mistrust aimed at the government.
On the most prevalent concerns expressed by the people of Sierra Leone:
In August in Liberia, if you wanted the government to pick up and bury your dead relative, you had to drag the corpse to the street for it to block traffic to get noticed. During my stay this was on the radio every morning. People had to adjust their morning commute to avoid all the bodies causing traffic jams.
There was a lot of misinformation as well. People believed the government made up Ebola to skim money from foreign aid. I also heard that government officials were trying to collect the blood of 2,000 Africans to resurrect the Queen of Sheba to aid them in winning elections. Some people thought the white people were trying to steal organs.
On what the American public needs to understand about this outbreak:
This may seem like a movie to Americans -- perhaps the start to a scary one where eventually a killer virus takes over the word. But in Liberia, this is real life. People are dead, children are orphaned, families and communities are destroyed. Pregnant women are dying in childbirth (and thrown in isolation wards for morning sickness), children are not being vaccinated for preventable diseases, there is no treatment for HIV, etc.
Athalia Christie, Deputy, Global Health, Center for Global Health, Liberia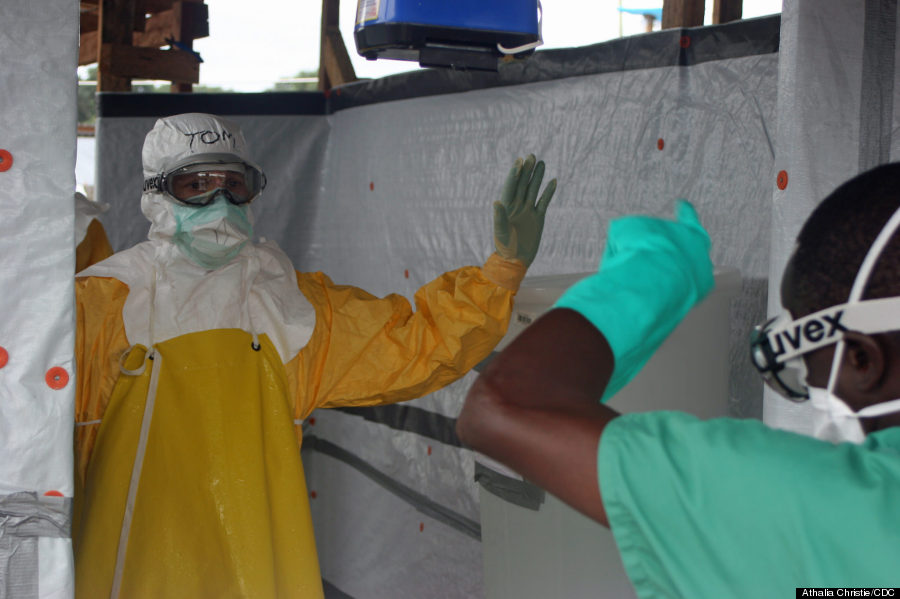 Tom Frieden, M.D., the director of the CDC, is decontaminated by Médecins Sans Frontières/Doctors Without Borders staff after visiting their Ebola treatment unit ELWA3, on Aug. 27, 2014.
CDC's Director Dr. Frieden is exiting the high-risk area of the ELWA3 (Eternal Love Winning Africa) Ebola Treatment Unit. Undressing must be done in a way that prevents the body from being exposed to infectious material. The order of removing contaminated clothing is critical. The sprayer is decontaminating each layer with chlorine as Dr. Frieden removes his personal protective equipment.
On the biggest challenges faced while working there:
The toughest days were when I felt like we were not getting traction or moving things forward. It helped to measure our actions in hours -- focus on what we could accomplish that morning or that day.
On the strength and courage of the people facing the epidemic every day in Liberia...
I wanted to make the point that while it was a tough assignment -- the work is nonstop, the team is stressed, and the epidemic is outpacing us -- our experience does not begin to compare with what Liberians are dealing with every day:
- The healthcare worker who burst into tears when I commented on a photo of her children. She sent her children to the U.S. in July and did not know when she would see them again. "They are young and they need me," she said, "but I am a hospital administrator, how could I ever leave?"
- The medical director that lost seven health care workers to the virus, closed the facility and then re-opened, only to begin losing staff again.
- The healthy mother that entered an Ebola treatment unit with her sick child because no mother on earth could let their child go to a place like that alone.
Their courage and resolve inspired all of us to do more, do better and do it as fast as we could.
On what the American public needs to understand about this outbreak:
If conditions remain unchanged the situation will rapidly become worse. In Liberia, the number of cases is doubling every 15 to 20 days. Any delay will be devastating. We know how to stop the epidemic -- we must isolate patients to reduce disease transmission and bury people safely. We must urgently accelerate the response. We need to ensure a strong and coordinated USG [U.S. government] response and encourage additional assistance from partners.
Bryan Christensen, Epidemiologist, Infection Control Team, Lagos, Nigeria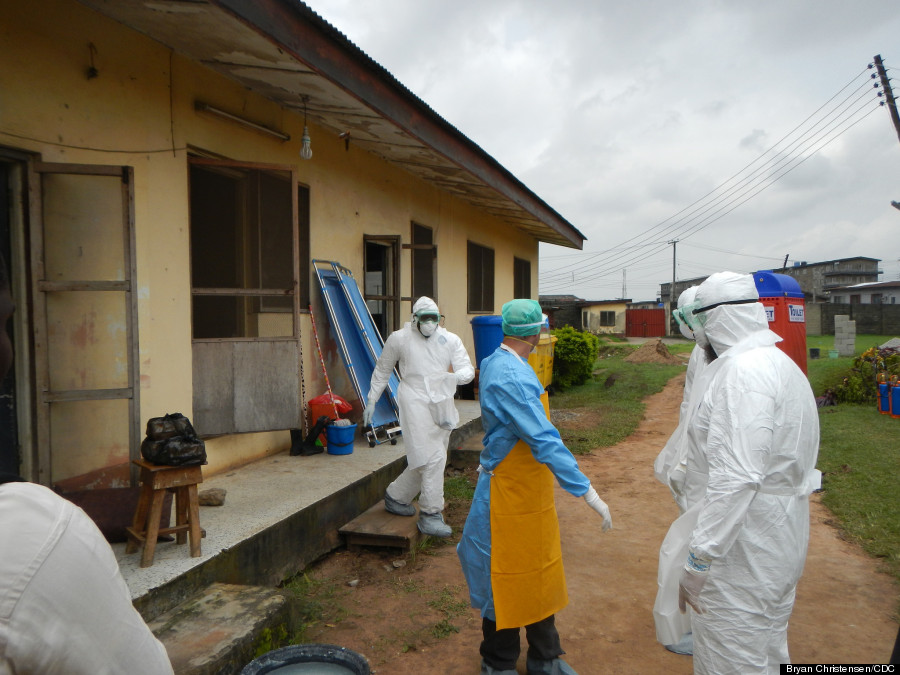 World Health Organization workers gear up to go into an old Ebola isolation ward in Lagos, Nigeria, on Aug. 19, 2014.
Patients stay in the "suspect" ward if they meet the suspect case definition. The length depends on multiple factors. There is usually only a room or tent. For safety concerns of the staff and patients, rooms have an open-floor plan with only privacy dividers. Sufficient space is required between patients.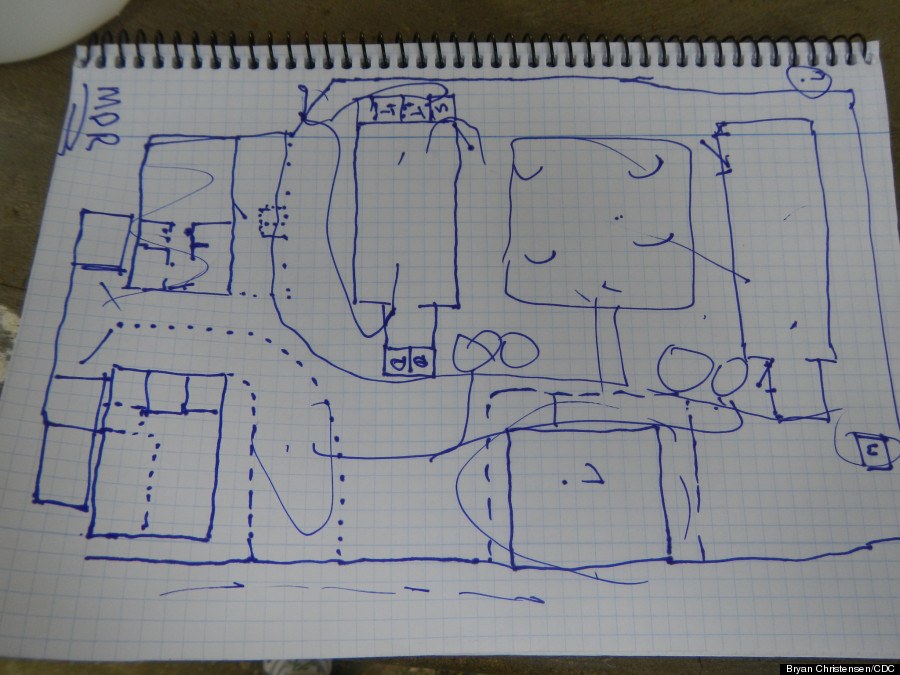 Responding to an Ebola outbreak requires rapid planning. Here is a rough sketch by a Doctors Without Borders logistician of plans for a hot zone in Lagos, Nigeria. A hot zone is an area where patients are being treated and where occupants are at highest risk of being infected.
This sketch was to help provide the layout for Ebola Treatment Unit (confirmed ward, suspect ward, staff station, decontamination area, burn pit).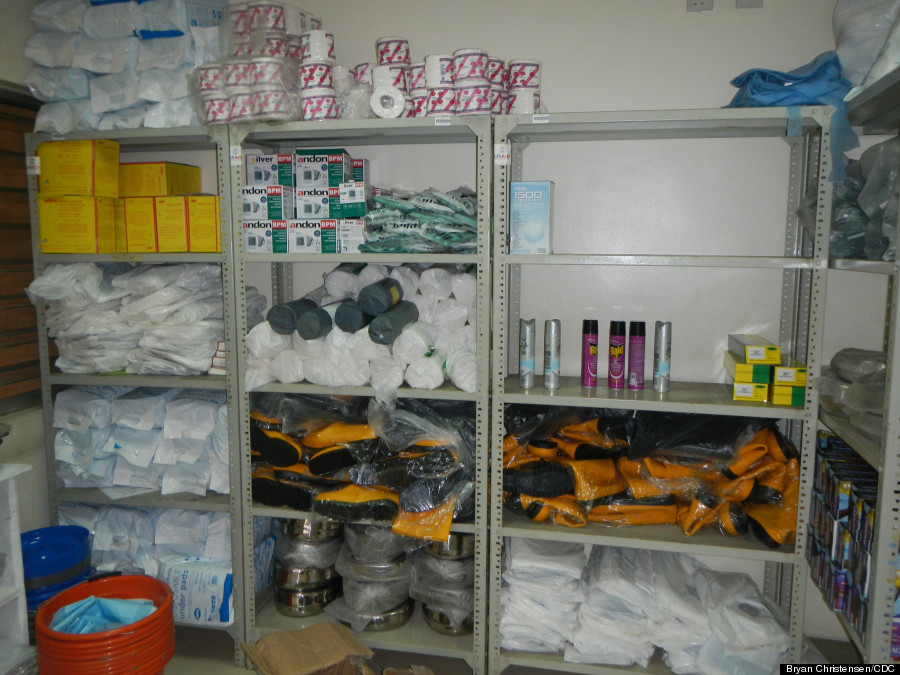 Supplies and personal protective equipment (PPE) for the Ebola isolation ward in Lagos, Nigeria, on Aug. 19, 2014. Medical supplies include lines, catheters, fluids, antibiotics and anti-malarials. Personal protective equipment includes gloves, gowns, face masks, goggles, shoe covers, aprons.
On daily life in Nigeria:
Breakfast meeting at the hotel. Travel in armored vehicle (at all times) to Emergency Operations Center. Morning meeting with teams. Travel to Ebola treatment unit to work with WHO and MSF on infection control issues and devise plans for scaling up the response for preparedness. Clif Bar for lunch. Some days included training local clinicians on best practices for infection control. Days ended late. Often work days hit 16 hours or so. Team would often meet for dinner back at hotel.
On the biggest challenges faced while working there:
Fatigue. Getting important messages out to the public. The laws around communication are much different in Nigeria. We worked very well with the Nigerian Government, WHO, MSF and local clinicians.
These interviews have been edited for length and clarity. Additional research by Damon Dahlen.
This story is part of "Inside an Outbreak," a HuffPost series taking you to the front lines of the world's worst Ebola outbreak. For more information on how you can help, visit HuffPost Impact.