The Centers for Disease Control and Prevention has loosened its longstanding advice that people wear face masks outdoors, saying that Americans who are fully vaccinated against COVID-19 no longer need to wear masks outside if they are walking, jogging or biking, or if they're having small outdoor get-togethers with family and friends. The same goes for outdoor dining.
Even those who are unvaccinated can go mask-free when walking, jogging or biking outdoors with other members of their household, the CDC now says.
The new guidance reflects substantial scientific research that shows the risk of outdoor coronavirus transmission is low — and also happens to be closely aligned with what many Americans are already doing.
Eager to get outside this spring and summer and reconnect with friends and loved ones? Here's what the new precautions mean for you.
If you're fully vaccinated, you no longer need to wear a mask outside for the most part ...
If you're fully vaccinated — meaning it has been at least two weeks since you received the second dose of the Pfizer or Moderna vaccine, or it has been two weeks since you got the Johnson & Johnson shot — then you "no longer need to wear a mask outdoors, except in certain crowded settings and venues," the CDC now advises.
The CDC categorizes outdoor activities like walking, running or biking with members of your household as low-risk. The same goes for small outdoor gatherings with fully vaccinated family members and friends.
That change in guidance around outdoor mask-wearing is rooted in the fact that, now, more than a year into the pandemic, scientists know much more about how the coronavirus spreads and where transmission risk is highest.
"We know that indoor transmission is probably about 20 times higher than outdoor transmission," Dr. Jarod Fox, an infectious disease specialist and chairman of Orlando Health's Infectious Disease Group, told HuffPost, pointing to a systematic review of several studies that measured rates of outdoor transmission.
"Less than 10% of global cases over the past year have been associated with outdoor exposure, so the vast majority of cases have been from some sort of indoor, close-proximity exposure," Fox added. Fresh air helps move and disperse the droplets that spread the coronavirus, and UV light may also play a role.
Fox noted that the research looking at outdoor transmission was conducted before widespread vaccination. That means the transmission risk outdoors now is likely even lower, particularly in areas where a large percentage of the population has been vaccinated.
... But fully vaccinated people *do* still need to wear masks in crowded settings.
Although fully vaccinated people can participate in outdoor recreation without wearing a mask, you should absolutely wear one if you're going to be in a crowded outdoor setting, the CDC says. That might include a live performance, a parade or any kind of sports event.
That is because even though "breakthrough" cases of COVID-19 are extremely rare in those who have been fully vaccinated, they are possible. And in crowded settings, it's difficult to maintain social distance, another key risk factor.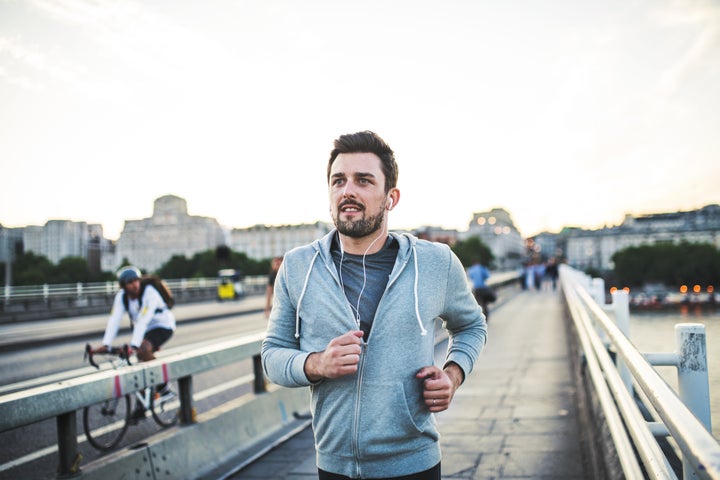 Unvaccinated people can also ditch the mask in certain outdoor scenarios.
Earlier CDC guidance basically said that masks were necessary outdoors unless you were by yourself and away from others, or with people from your household.
Now the CDC says that unvaccinated people can safely go mask-free outdoors when they're walking, running, or biking with members of their household, or if they're attending small gatherings where every other attendee is fully vaccinated.
However, if you're going to a small gathering where some people have not yet been vaccinated, you should continue to wear your mask. And you should absolutely continue wearing a mask if you're in a crowded outdoor setting where you cannot maintain social distance.
"Social distancing is always a good thing to follow," Fox said.
Also, it's important to remember that the amount of time you spend in a crowded setting is an important consideration in determining risk. So, jogging on a crowded sidewalk is different than sitting at a relatively crowded outdoor music festival for a longer period of time — both in terms of the risk to yourself and others.
"When you're going to be in long-term close proximity with other individuals is when your risk — even in outdoor settings — goes up," Fox said.
These guidelines can change ― and they probably will.
The CDC has been slowly rolling out new guidelines for what vaccinated people can do ― like gather together indoors sans masks under certain conditions, and fly relatively safely domestically if they need to. (Though the public health agency still says travel should be exercised with caution, and its updated recommendations were not aimed at giving a broad green light to widespread domestic travel.)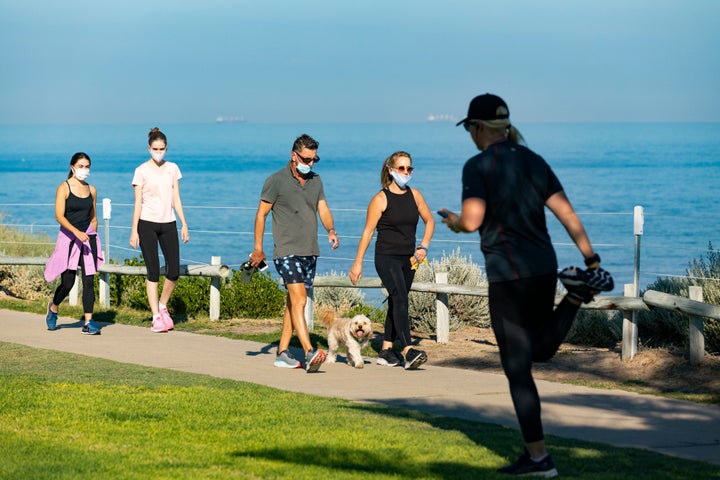 All of these public health guidelines have changed — and will continue to — as health experts learn more about the virus, the COVID-19 variants, and as the number of vaccinated Americans continues to rise. That's not to suggest that earlier recommendations were based on bad science; rather, public health guidelines shift based on new evidence.
But experts also note that if you're most comfortable wearing a mask outdoors — whether you're fully vaccinated or not — you should absolutely feel free to continue doing so. It definitely remains an added layer of protection.
"There's not any negative to continuing to wear a mask, so if you feel more comfortable wearing it, I would say to continue doing it," Fox said. "But for those who are looking to get rid of their mask, outdoor settings are the ideal place for that — especially if you're vaccinated. The environment is helping to dissipate the virus."
Experts are still learning about COVID-19. The information in this story is what was known or available as of publication, but guidance could change as scientists discover more about the virus. Please check the Centers for Disease Control and Prevention for the most updated recommendations.
Popular in the Community