Talk about a rough case of puppy love.
The U.S. Centers for Disease Control and Prevention announced Monday that 39 people contracted a bacterial infection from contagious puppies at the pet store chain Petland.
Of the 39 people who have sought treatment for Campylobacteriosis, 12 are Petland employees, while the other 27 people either visited the store, purchased a dog from the chain or simply come into contact with a Petland puppy. Nine people have been hospitalized so far.
Campylobacter, a bacterium found in the gastrointestinal tract of animals and people alike, is one of the most common causes of diarrhea in people and generally linked to contaminated food like raw milk, poultry and meat, according to Jeanette O'Quin, an assistant clinical professor at Ohio State University's Department of Veterinary Preventive Medicine.
"[But] contact with animal (or human) feces containing campylobacter can also spread the disease through accidental ingestion," she told HuffPost.
According to the CDC, people infected with Campylobacter experience bloody diarrhea, fever, stomach cramps, nausea and vomiting with two to five days of coming into contact with the bacteria. It cannot be passed from person to person.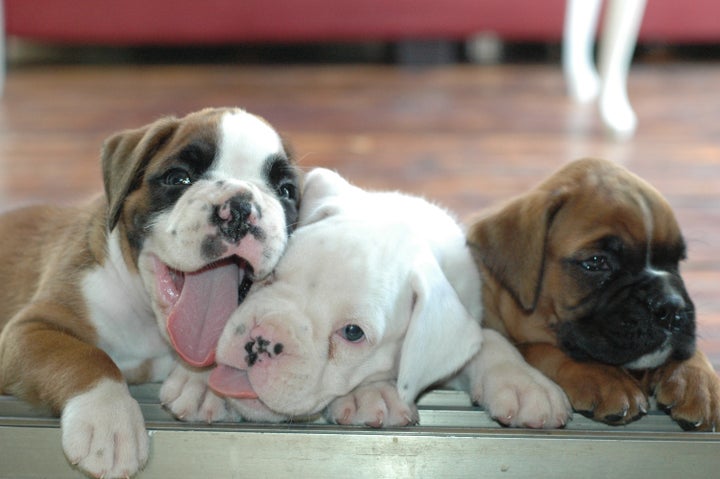 Puppies that have Campylobacter can experience vomiting, loss of appetite and low energy levels, though O'Quin says even seemingly healthy puppies without symptoms can be contagious. According to the Veterinary Centers of America, most veterinarians prescribe antibiotics to help get rid of the infection.
"Not all puppies from pet stores are infected with campylobacter," said O'Quin, but she stressed that dogs housed together in cages where they also poop may be more prone to contracting and spreading these infections.
"The bacteria can be easily picked up during play with other puppies or from the environment, and is then ingested during grooming."
"Petland immediately provided the CDC with complete access to our stores, our staff, our consulting veterinarians, our operating procedures and our pets," the statement said. "The CDC has not identified any failures of Petland's operating system that would lead to any campylobacter infection."
In order to prevent coming into contact with Camplyobacter, the CDC advises potential pet owners to look for "bright, alert and playful dogs" free of feces and schedule a visit with the veterinarian shortly after purchasing a dog. People should not let dogs kiss their faces and should wash their hands every time they come into contact with dogs, taking special care when handling dog poop.
The agency also advised using disposable gloves when picking up or throwing away feces and disinfecting the area, if possible.