Health officials warned Tuesday that all romaine lettuce should be thrown away amid a new multistate outbreak of E. coli bacteria.
The advisory from the Centers for Disease Control and Prevention follows 32 confirmed cases of the bacteria in 11 U.S. states and Canada.
Of those cases, 13 people have been hospitalized, including one person who experienced a type of kidney failure. No deaths have been reported.
"Consumers who have any type of romaine lettuce in their home should not eat it and should throw it away, even if some of it was eaten and no one has gotten sick," the CDC said.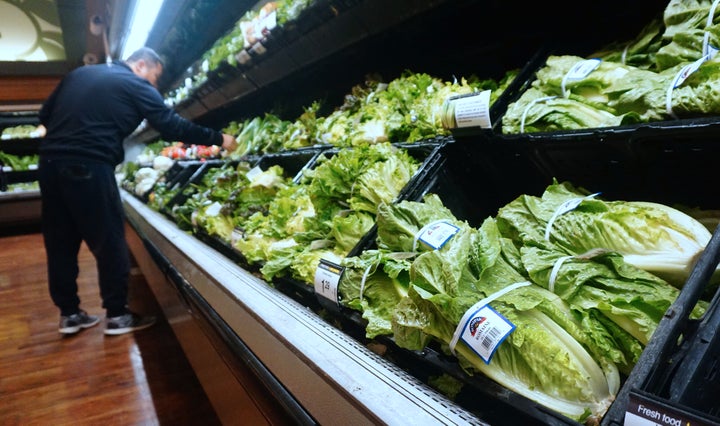 Restaurants are also urged not to serve the produce, and people are encouraged to avoid bagged, chopped and mixed lettuce that contains romaine. If the type of lettuce is not known, the CDC advises to throw it away out of caution.
The latest illnesses linked to the lettuce began between Oct. 8 and Oct. 31. As of Tuesday, the grower, supplier, distributor and brand of the infected lettuce is not known, the CDC said.
"Illnesses that occurred after October 30, 2018, might not yet be reported due to the time it takes between when a person becomes ill with E. coli infection and when the illness is reported. This takes an average of two to three weeks," the CDC said.
The advisory is not linked to another multistate outbreak of the same bacteria in romaine lettuce, which sickened at least 53 people across 16 states this past spring. In April, the CDC similarly urged the public to avoid eating the produce amid that scare.
The specific strain detected in the current outbreak is related to a strain that infected people in 2017 in the U.S. and Canada, the CDC said.
Symptoms of E. coli infection, which typically begin three to four days after the bacteria is ingested, include severe stomach cramps, diarrhea and vomiting. Most people recover within five to seven days, though in some severe cases the illness can be life-threatening, according to the CDC's website.
Individuals should seek medical help if diarrhea lasts for more than three days or if it is accompanied by high fever, blood in the stool or an inability to keep liquids down because of vomiting.
Popular in the Community