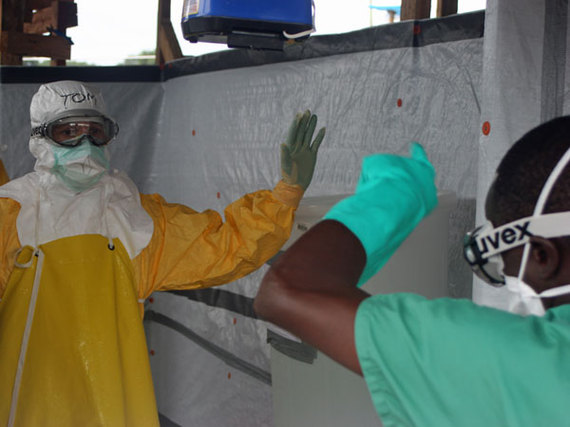 There is no doubt Ebola will rank as the biggest public health story of 2014, both here in the United States and around the world: more people sickened by Ebola than ever before in history, more people dying, and more understanding of how the health of one nation affects the health of us all.
Today, more than 170 of CDC's top health professionals are in West Africa working to stop the current Ebola epidemic and leave behind stronger public health systems. Many hundreds more support their work at home.
Leaving behind better capacities to find, stop, and prevent health threats in affected countries will help prevent the next epidemic, protecting the people of West Africa and the world. I am proud of the work that CDC employees are doing to contribute to this challenge.
But there is still much more to do. CDC will continue to fight the Ebola epidemic until the last spark is extinguished. We cannot bring the risk to zero in the United States until we stop Ebola at its source in West Africa.
But fighting Ebola is only one of the things CDC has done this past year to protect the health of Americans.
Here in the United States and internationally, we have partnered with organizations and individuals in the government and private sector to improve public health on a wide range of issues.
Antibiotic resistance -- bacteria outsmarting the drugs designed to kill them -- and healthcare-associated infections are two of the biggest health threats facing us today, and have been a major focus this year. CDC's Antibiotic Use and Resistance reporting module released in July enables us to create the nation's first antibiotic prescribing index, benchmarking antibiotic use across health care facilities and supporting healthy change to make our hospitals safer. In September, the President issued an Executive Order directing additional specific actions to further combat antibiotic-resistant bacteria. Every day, CDC staff work with the nation's healthcare facilities to improve their infection prevention procedures.
When clusters of severe respiratory illness in children caused by enterovirus D-68 (EV-D68) appeared early this fall, CDC quickly responded by developing a new, faster lab test. Cases have significantly tapered off this year. And thanks to CDC's strength in science and innovation, EV-D68 can now be more quickly diagnosed.
We've been closely watching Middle Eastern Respiratory Syndrome (MERS) since it was first reported in Saudi Arabia in 2012. This past May, we confirmed two cases in the United States, both in health care workers who had lived and worked in Saudi Arabia. We improved domestic lab testing capacity for MERS and developed guidance for state and local health departments to address future cases.
Through the President's Emergency Plan for AIDS Relief (PEPFAR), CDC has helped support life-saving antiretroviral treatment for 7.7 million people and HIV testing and counseling for more than 56.7 million people. We are beginning to turn the tide on the HIV pandemic, and saving millions of lives in doing so.
In late March, India and the other 10 countries in WHO's South East Asia Region - home to 1.8 billion people - were certified polio-free. This was personally meaningful to me as I spent five years in India working on tuberculosis control, and saw the Herculean efforts of the polio eradication campaign first hand.
Eighty percent of the world is now free from polio, a remarkable achievement that was seemingly out of reach when CDC joined Rotary International, WHO, and UNICEF to pursue polio eradication in 1988. But there are three places in the world where wild poliovirus has never stopped killing and disabling children: Afghanistan, Pakistan, and Nigeria.
This year, CDC worked with the Nigerian government along with the Bill and Melinda Gates Foundation, WHO, UNICEF, and Rotary International to strengthen polio immunization services, develop outreach programs to underserved populations, improve outbreak response and disease tracking, and establish an emergency operations center in the effort to eradicate polio. These steps played a critical role in Nigeria's response to its first case of Ebola. Because of this infrastructure, health officials were able to quickly identify contacts of suspected Ebola cases and stop the spread of Ebola. If Nigeria hadn't stopped Ebola, the impact on Nigeria and many areas of Africa could have been devastating.
Two incidents this year showed that we had to take a critical look at our laboratory safety practices. As a result, we established a single point of accountability for laboratory safety, created internal and external groups to help us review procedures, and conducted intensive reviews of all high containment laboratory facilities. What we've learned here is being applied to help strengthen safety at other laboratories throughout the country.
We've also continued our work to reduce the number of preventable deaths here in the United States.
Nearly 800,000 Americans die each year from heart disease and stroke, accounting for one in every three deaths. Million Hearts is encouraging health care systems to use evidence-based methods to better detect and control blood pressure nationwide - with the goal of preventing more than 1 million heart attacks and strokes by 2017.
Smoking remains the leading cause of preventable death and disease in the United States, killing nearly half a million Americans each year. CDC's "Tips From Former Smokers" advertising campaign introduced a series of new hard-hitting ads on smoking's impact on pregnancy and babies, gum disease and tooth loss, and stroke caused by smoking. We also analyzed the cost effectiveness of our first Tips campaign which ran for 12 weeks and was responsible for at least 100,000 smokers quitting permanently and helping to prevent at least 17,000 premature deaths. With a campaign cost of roughly $48 million, the Tips campaign cost $393 per year of life gained, and less than $3,000 per life saved--far less than standard benchmarks of $50,000 per year of life gained and $10 million per life saved.
Overdoses involving heroin or opioid pain relievers were the leading cause of injury death for those 45 to 54 and overdose deaths from these drugs nearly quadrupled from 1999 to 2012. CDC continues working with partners and states to improve prescription practices through many programs including drug monitoring systems which collect and analyze prescribing data. Using the prescription drug monitoring system makes doctors and pharmacists aware of other medications a patient may be taking before prescribing or dispensing opioids, and helps reduce inappropriate use of multiple prescribers by patients.
CDC is America's health protection agency. Along with our many governmental and private sector partners, we're working 24/7to find, stop, and prevent disease - in every state, throughout our nation, and in many countries around the globe.
This is our passion and what makes us feel fortunate to do the work we do.
Calling all HuffPost superfans!
Sign up for membership to become a founding member and help shape HuffPost's next chapter