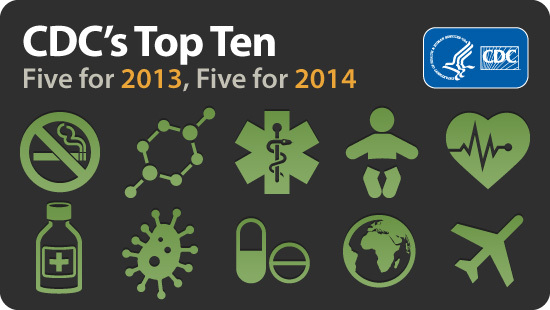 Best Use of Cool New Tools: We stopped a listeria infection in its tracks with Advanced Molecular Detection tools; we need more to keep you safe.
Best Way to Help Hospitals Get Safer: You can walk into more than 12,000 healthcare facilities in the United States and know they're paying attention to reducing infections.
Best Chance for Life for Kids Born to HIV-Infected Women: Over the past 10 years we've prevented HIV infection in 1 million babies around the world.
Best Way to Save Even More Lives: New resources will keep us on track to prevent 1 million heart attacks and strokes in the U.S. in five years.
The Vaccine Too Few Are Getting: We've got to increase uptake of the HPV vaccine -- it's an anti-cancer vaccine.
The Antibiotics We're Losing: Antibiotic resistance is increasing for many microbes, we've got to preserve antibiotics for ourselves, our kids, and our grandkids.
The Deaths Caused by Prescription Pain Killers: We've got to reduce the risk of overdose but still make sure patients with pain are treated safely and effectively.
The Chance to Stop a Disease for All Time: Wiping out polio will be forever, and for every child.
And how will we do all this? It's a good question since in the past four years CDC's budget authority has been cut close to $1 billion.
Despite the cuts, we continue to protect and improve the health of individuals, families, our communities, our country and of people across the globe. It's our passion and what makes us feel so fortunate to do the work we do.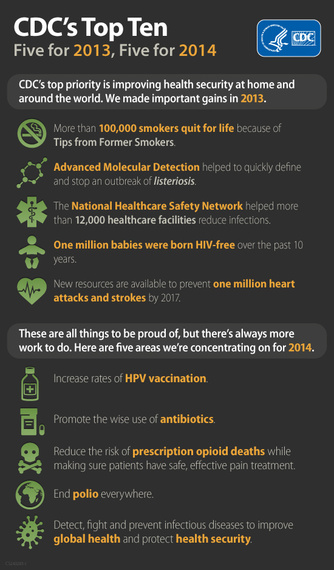 Popular in the Community