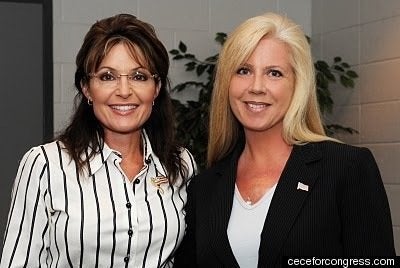 Sarah Palin-backed House candidate CeCe Heil finished third in the Republican primary race for Tenneessee's 5th Congressional District Thursday, handing the former Alaska Governor her second failed endorsement this week.
Back in July, Palin lent her support to Heil in a Facebook post that described the "mama grizzly" as a "small business owner, attorney, constitutional scholar, and proud mother of two" who would "fight tirelessly to protect our freedoms and rein in the excesses of an out-of-control federal government that seems set on spending away our children's future."
Heil, who prominently featured her Palin connection on her campaign website, tallied less votes than both Jeff Hartline, the second place finisher endorsed by Mike Huckabee, and the eventual victor, businessman Dave Hall. The top three finishers in the contest were separated by a mere 350 votes.
Hall will go on to face Democratic incumbent Jim Cooper, who has served in the House since 2003.
Earlier this week, Todd Tiahrt, Sarah Palin's candidate in the Republican battle for Kansas Senate, lost to Congressman Jerry Moran in a tight race that was likely to decide the state's next senator. A Democratic Senate candidate has not won there since 1932.
Palin will have more chances to test her mettle in August. Karen Handel will be on the ballot next week in Georgia's 's Republican gubernatorial primary runoff, while Gov. Jan Brewer of Arizona, former NFL tight end and Washington Senate hopeful Clint Didier, and Tea Party-backed Alaska Senate challenger Joe Miller will also face voters in primaries later this month.
Popular in the Community