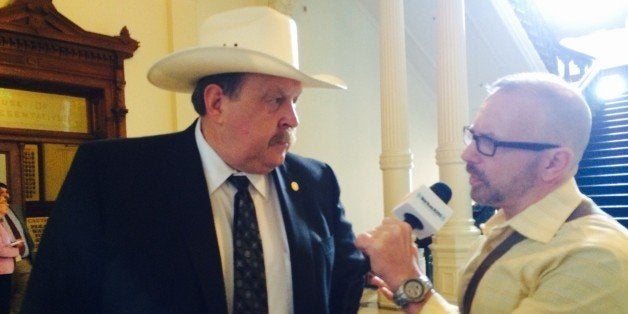 "I don't think any bill is dead as long as there's session left," Rep. Cecil Bell (R-Magnolia), a Texas state legislator, told me this week in the corridors of the massive Texas State Capitol, the largest of all the state capitol buildings, the dome of which, not surprisingly, is seven feet higher than even the U.S. Capitol. Because of security and metal detectors, there's often a line to get into the building when the legislature is in session — once every two years — though there's an express line with no metal detectors or screening if you have a concealed handgun license ( "CHL Access"). That line's acronym may slightly change, too: Days after the biker shootout in Waco last week in which nine people were killed, the legislature moved forward with a bill to legalize open carrying of handguns. Welcome to Texas.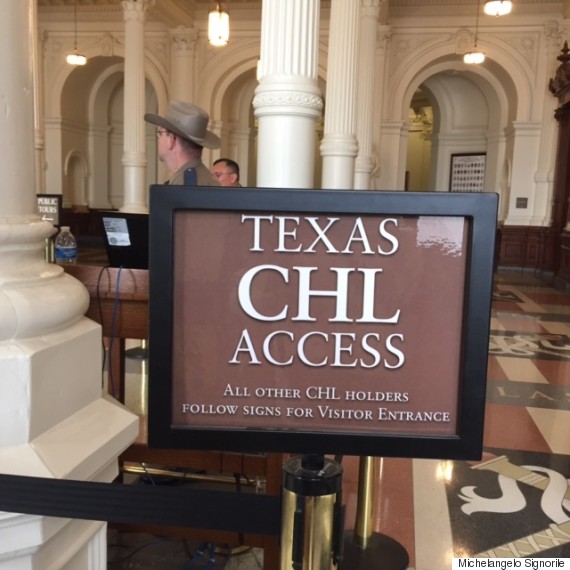 Like the capitol building, Bell, whom The Daily Beast likened to Yosemite Sam, is impressively Texas-sized. With his cowboy hat high atop his head, he seems to stand taller than everything else, like the dome itself. He spoke with me this week about a bill he sponsored — among the more than 20 anti-LGBT bills legislators had worked on in committees in recent weeks — that he says establishes the "sovereignty" of Texas by barring funds for marriage licenses for gay and lesbian couples if the Supreme Court rules in favor of marriage equality.
Bell, who represents a district in a conservative suburban area of Houston, claims his bill simply asserts what U.S. Supreme Justice Anthony Kennedy expressed in his decision for the majority striking down the Defense of Marriage Act (DOMA) in 2013. In a creative twist he actually uses the pro-gay U.S. v. Windsor decision to back up his anti-gay bill, House Bill 4105, The Preservation of Sovereignty and Marriage Act. In a victory, Democrats stalled the bill, and HB 4105 failed to get a vote last week as the clock ran out on bills originated in the Texas House. Activists warn, however, that, as Bell says, anything can happen while the legislature is still in session -- and Governor Greg Abbott could call a special session that could drag things out through the summer. Bell is in fact vowing to find another bill to which he would attach his as an amendment in the 12 days left in the session.
"I think if you look at the issue at hand, at least from my perspective, you have Justice Kennedy in his affirm in Windsor saying that it is the sovereign right of the separate states and of the people to define and regulate marriage," Bell told me in an interview for SiriusXM Progress.
But for Cecil Bell and Republicans in the Texas GOP, the Supreme Court's rulings only appear to matter when they suit them — or when they can twist the words of the justices to serve them. After Bell's bill ran out the clock, 93 of 98 House Republicans signed a pledge stating they would defy the Supreme Court if it ruled for marriage equality. And Bell says even if he doesn't get to add his bill as an amendment to another bill in this session, he can pass it at any time in the future.
"4105 can be brought in any session, because it doesn't usurp any Texas case that might be heard on the matter of same sex marriage," he stated. "The elements of [the bill] are capable of being asserted by any future legislature -- or this one, as indeed there is still time left."
Bell claims his bill is not about "ideology," though he does refer to Texas voters' "Christian" values being upheld by "sovereignty." But when asked about the issue of divorce -- including about his own little-known divorce -- which represents a literal disintegration of marriage, and if divorce should be banned if the people decided so, Bell demurred.
"Well, I think that would be an interesting conversation, but no one's brought up that legislation," he said about the issue of banning divorce, before quickly excusing himself to get back on the floor to vote.
Meanwhile, the Pastor Protection Act, an odious bill that activists believe could allow county clerks and justices of the peace who also happen to be ordained ministers to turn away gay couples seeking to marry, passed the Senate and may be voted on in the House today, where it's expected to easily pass. The governor has said he would sign the bill, which could allow public servants to discriminate.
Listen to clips from the interview:
Popular in the Community